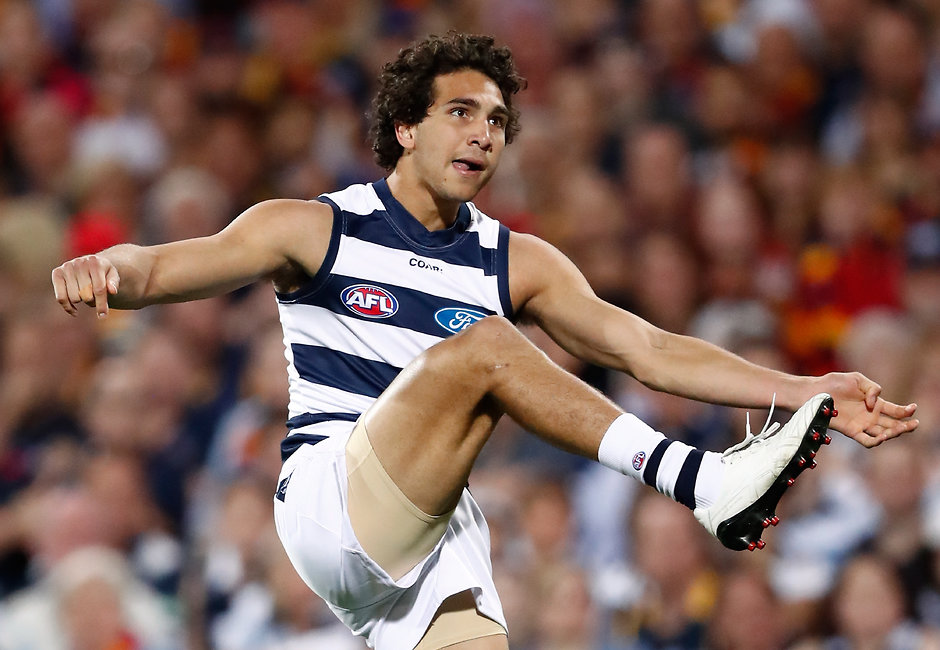 WHEN Geelong makes its first first-round selection in four years at next week's NAB AFL Draft, it should mark a shift from the top-up recruitment strategy the Cats have aggressively pursued since 2015.
Geelong appears a team on the slide.
NAB AFL DRAFT HUB Latest news, video and more
Its comprehensive elimination final loss to Melbourne stands as the latest and strongest proof.
Watching the Demons cruise to a 29-point victory on the back of a five-goal-to-none opening-quarter blitz, there was an unmistakable sense of two teams headed in opposite directions.
PHANTOM FORM GUIDE Cal Twomey's latest update
The vibrant young Dees, on the back of their umpteenth draft-based rebuild, looked set for an era of sustained success with genuine premiership promise, while the ageing Cats seemed to be finally feeling the gravitational pull of the AFL's draft system.
Geelong has retained just two first-round picks since the 2008 draft. Grand finalists West Coast and Collingwood have seven such picks on their lists, while preliminary finalists Richmond and Melbourne have five each.
Geelong has enjoyed one of the most remarkable runs of the modern era, having missed the finals just twice since 2004 – when Gary Ablett, Matthew Scarlett, Jimmy Bartel, Paul Chapman, Corey Enright and Steve Johnson first tasted September action together – and won three premierships during that stretch.
However, since winning the 2011 flag the Cats have won just three of 12 finals.
BEST OF THE BEST Combine's standout performers
Since 2015 they have also neglected the draft like no other team as they topped up with experienced talent via trades and free agency, bringing in the likes of Patrick Dangerfield, Lachie Henderson, Scott Selwood, Zach Tuohy and Ablett, after a seven-year stint with Gold Coast.
Dangerfield has taken his game to another level since joining the Cats. Picture: AFL Photos
Over that three-year stretch, the Cats were the only club not to take a single first-round draft pick.
But the blame for Geelong's decline can also be traced back to its calamitous record with early selections since it hit pay dirt with Joel Selwood at pick No.7 in 2006 and Harry Taylor at No.17 in 2007.
INDICATIVE DRAFT ORDER Your club's latest picks
From 2008-14, the Cats used their first-round pick every year save for 2011, but their hit-rate was dismal.
Of the seven players they took in the first round, just two remain: Cameron Guthrie, pick No.23 in 2010, and Nakia Cockatoo, 2014's No.10 pick.
WHO'S LEAVING YOUR CLUB? All the latest retirements and delistings
And serious doubt remains over whether Cockatoo can fulfil the talent that convinced the Cats to trade up the 2014 draft order to snare him, with a horror run of hamstring and knee injuries cruelling his development.
Injury has also been a significant mitigating factor in some of Geelong's first-round misses.
Although Daniel Menzel's ability to come back after four knee reconstructions has deservedly been lauded, it's easy to forget what a rare talent 2009's No.17 draft pick was before his body failed him.
Similarly, Jackson Thurlow, pick No.16 in 2012, looked on track to become Enright's long-term successor across half-back.
However, the Tasmanian was unable to re-establish himself in Geelong's senior team after rupturing an anterior cruciate ligament in a 2016 pre-season game, and the Cats gave him away to Sydney in this year's Trade Period for pick No.70.
Geelong's other three first-round selections from that time, Mitch Brown, Billie Smedts and Darcy Lang, also had their share of injuries while at the club.
For all the bad luck the Cats have had with their first-round draft picks and despite the success of their recent trade conquests, it's time for them to reinvest in elite youth.
They only need to look at the clear list advantage this year's top-four teams have on them in this area.
While Geelong has retained just two first-round picks since the 2008 draft, grand finalists West Coast and Collingwood have seven such picks on their lists, while preliminary finalists Richmond and Melbourne have five each.
The Cats are also the only one of those teams that has not taken a top-five pick over the past decade, with Cockatoo their earliest pick.
In the same time, Melbourne has had a staggering seven top-five picks, while the Eagles have had two, and the Magpies and Tigers one each.
Collingwood (four), Richmond (three) and Melbourne (two) have also had more additional top-10 picks than Geelong (one).
The Cats will again head to this year's draft without a top-10 selection, but they hold pick No.12, which, the Cockatoo pick aside, will be the earliest call they've made since taking Joel Selwood in 2006.
They rejected West Coast's offer of picks No.20 and 22 and a future second-round pick for Tim Kelly at last month's Trade Period, but if the West Australian pushes for a move home again at the end of next season the Cats should jump on the opportunity to bring in an early pick or picks.
Before then the Cats can make an early start on preparing for life after Dangerfield, Joel Selwood, Tom Hawkins and Gary Ablett with this year's No.12 pick.
They not only have to make it count, they have to make it the first of a string of early selections over the next few years.
GEELONG v 2018'S TOP-FOUR TEAMS
First-round selections since 2008
| | | | | |
| --- | --- | --- | --- | --- |
| | Total | Top-five picks | Picks 6-10 | Still listed |
| Geelong | 7 | 0 | 1 | 2 |
| Collingwood | 9 | 1 | 4 | 7* |
| Melbourne | 11 | 7 | 2 | 5 |
| Richmond | 9 | 1 | 3 | 5 |
| West Coast | 8 | 2 | 1 | 7 |
*Tim Broomhead is included in this list despite being delisted given Collingwood is committed to redrafting him as a rookie.
FIRST-ROUND SELECTIONS
| | | |
| --- | --- | --- |
| | Most recent | Total since 2015 |
| Geelong | 2014 | 0 |
| Adelaide | 2017 | 4 |
| Brisbane | 2017 | 6 |
| Carlton | 2017 | 7 |
| Collingwood | 2017 | 1 |
| Essendon | 2016 | 3 |
| Fremantle | 2017 | 3 |
| Gold Coast | 2016 | 6 |
| Greater Western Sydney | 2017 | 8 |
| Hawthorn | 2015 | 2 |
| Melbourne | 2015 | 2 |
| North Melbourne | 2017 | 3 |
| Port Adelaide | 2016 | 2 |
| Richmond | 2017 | 2 |
| St Kilda | 2017 | 3 |
| Sydney | 2017 | 3 |
| West Coast | 2017 | 2 |
| Western Bulldogs | 2017 | 3 |