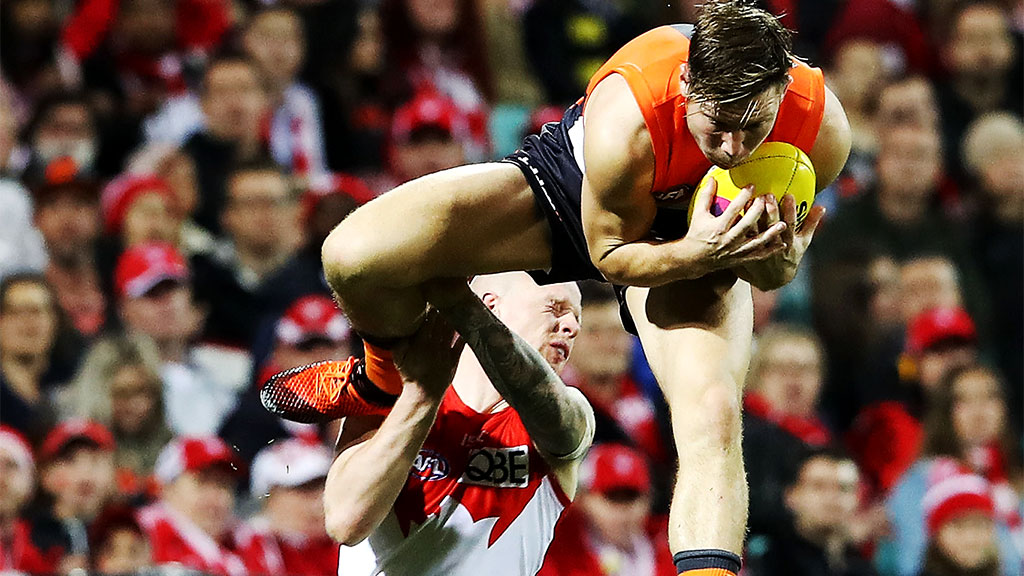 KEVIN Bartlett and Toby Greene have plenty in common.
Two of the smartest small forwards of their respective generations, the pair share brilliant goal sense, super-competitive natures and an ability to terrify opposition defences.
This week their comparison stepped up a level when Greene joined Bartlett among a rare group of players who have forced rule changes or interpretations after the AFL Commission's latest round of rule crackdowns were announced.
AFL.com.au takes a look back at some of the players who have forced rule changes over the years.
Toby Greene – 2018 – Karate kicks
Greene's use of his studs in several marking contests during the Giants' elimination final win over Sydney brought outrage from all corners early in this season. Protecting space with his outstretched leg, Greene worked within the existing rules to take a series of marks – with only one penalised. It brought about a tighter interpreation into 2019 where free kicks and fines/suspensions, depending on severity, will be paid for use of studs in marking contests and open play. Even Greene's open-play work against Luke Dahlhaus in 2017 came into the reckoning (he was fined $1500 for taking the Dog high with his studs).
Ryan Burton – 2018 – Head high bumps
Burton's bump on North Melbourne's Shaun Higgins divided the competition like no other before it. Cleared under the technicality of an 'accidental' head clash, Burton was free to play as Higgins missed one match through concussion. Match review officer Michael Christian said Burton "couldn't reasonably foresee that there was going to be an accidental clash of heads". It brought about a change ahead of 2019, with rules reverting back to the bumper holding the liability.
Burton was cleared over this bump that concussed Higgins. Picture: AFL Photos

Mason Wood – 2016 – Shot clock on the scoreboard

The North Melbourne forward beat the system when he used his full 30 seconds lining up for goal to allow the clock to tick down in the Roos' win over St Kilda. Holding a one-point lead, Wood stood idle at the top of his mark watching the scoreboard count down his 30 seconds in the win at Etihad Stadium. The AFL then removed the clock from the screen for the final two minutes of matches, with the change lasting only year before it was reinstated from siren-to-siren.
Mark Blicavs – 2015 – 'Third man up' rule
Former steeplechaser Mark Blicavs looked set to take the competition by storm with his approach to 'third man up' at ruck contests around the ground. Playing as a 198cm onballer, Blicavs would leave his man to enter the ruck – recording 195 hit-outs in 2016. However ahead of the 2017 season, the tactic was banned in a radical rule change. Blicavs, in a light-hearted approach, even feared for his own career.
Officially announcing my retirement from the game effective immediately #threesacrowd @seekjobs

— Mark Blicavs (@MarkBlicavs) December 21, 2016
Bryce Gibbs – 2015 – Dangerous tackles
The AFL introduced a "stricter adjudication of tackles with a lifting, slinging or rotating technique" after several incidents during 2015 – most notably Bryce Gibbs' tackle on Robbie Gray at the MCG. It left Gray unconscious and Gibbs suspended for two weeks.
Lindsay Thomas/Joel Selwood – 2013/2016 – Shrugging a high tackle
Thomas and Selwood were the two most notable exponents of drawing high contact by lowering themselves at the knees and shrugging off their opponents mid-tackle. At the end of the 2013 season, the AFL announced any incidence of a player 'ducking' into a tackle causing high contact would be called play on, while the interpretation was made stricter at the end of the 2016 season. As for Luke Shuey's free kick won for head-high contact that led to the winning goal for West Coast in the 2017 elimination final over Port Adelaide? That's a conversation for another day.
Selwood is no stranger to a high-tackle free kick. Picture: AFL Photos

Lindsay Thomas – 2012 – Sliding rule
Players throwing themselves on a loose ball and being praised for courage was common practice prior to 2012. However, Thomas' action to take out Gary Rohan's legs in round four – resulting in a horrific season-ending broken leg for the Swan – brought about change within a month in-season. Originally offered two matches for 'severe' rough conduct, Thomas' case was thrown out at the Tribunal in a controversial judgment. However, there was industry-wide acceptance when four weeks later umpires were called to pay a free kick against a player sliding and making contact below their opponent's knee – a rule that stands today.
Joel Bowden / Hawthorn – 2008 – Rushing behinds
Essendon fans will never forget Tiger Joel Bowden's tactic in their round 16 clash in 2008. Protecting a slender lead with time ticking down, Bowden was kicking in after a behind cut the margin to six points. He kicked to himself and walked the ball over the goalline twice in the dying moments, killing time to clinch a famous four-point victory. It was a tactic used in that year's Grand Final, with Hawthorn rushing 11 behinds to allow better defensive set-up, and help cause a massive upset over Geelong. Prior to 2009, the League stamped it out, saying the defender must be under pressure to legitimately rush a behind – resulting in more open play and exciting goal-saving moments on the last line of defence.
Matthew Lloyd – 2006 – 30 seconds for set shots
Lloyd was so central to the rule, he even revealed the AFL called him to notify of the change the night before it was announced. Meticulous in his preparation before taking a set shot, the League's most accurate kick for goal would regularly take 35-40 seconds when lining up for goal. The AFL's idea to "improve the flow of the game" saw umpires instructed to call play-on after 30 seconds.
Lloyd's famous grass throw before lining up for goal. Picture: AFL Photos

Michael Gardiner/Beau McDonald – 2004 – 10m circle for centre bounces
Just two of a long list of high-profile ruckmen who suffered serious knee injuries during the 2004 season. McDonald missed the entire campaign and Gardiner managed just three matches thanks largely to the long run-ups allowed at centre bounces, with no limitations inside the larger centre square. The change ensured ruckmen were required to start within a circle – 10m in diameter – which remains today.
Kevin Bartlett – 1970s – Bouncing while tackled
Always one step ahead of the game, Bartlett's bursts away from opponents often included an act that is now outlawed in the game. When attempting to break free, Bartlett would dispossess the ball at the same time as being tackled, winning a free kick for holding the man. In a rule that was overhauled – thanks to Bartlett – a player is deemed to be still in possession of the ball while taking a bounce, and is therefore adjudged holding the ball if tackled in the act of bouncing.