• Judd's cruel exit creates opportunity
• Tributes flow for modern legend
• ACL rupture confirmed
• The day I played on Juddy
A KNEE injury has forced Carlton champion Chris Judd to retire, bringing to an end one of the most celebrated careers in AFL history.
Judd, 31, made the announcement on Tuesday after rupturing his ACL in the first quarter of Saturday's game against Adelaide at the MCG.
The injury stunned the 32,000 fans at the time, with Judd receiving a standing ovation as he was taken from the field on a motorised cart.
"I gave everything for the two clubs I represented," the champion midfielder told a packed media conference at Ikon Park.
"I couldn't say it was an easy decision to just walk away from something that has been my life's passion," said Judd, although he stressed he had no second thoughts once it was confirmed he had ruptured his ACL.
"I knew the end was coming, so in that sense it hasn't been a huge surprise but it's the suddenness of it that has caught me a little off guard."
"It was a disappointing finish to my career but I don't lose sight of the fact about how fortunate I've been to play for two such wonderful football clubs."
The Judd file: Career facts and figures
Judd thanked Carlton and West Coast fans for their support over his storied career.
"The Carlton fans have been incredible to me, very kind over the journey. We did our best and I will be eternally grateful for your support," he said.
"To the West Coast fans, the reason my time over there was so special is thanks to you guys."
Judd was also clearly touched by the applause he received from Adelaide fans at the MCG on Saturday as he was taken off the ground.
"It was a really trying time for me as a person, so to be shown that level of respect as I was carried off was amazing," he said.
Judd admitted that with hindsight the decision to play another year had been a mistake, but that his motives had been "pure".

Chris Judd with son Oscar, wife Rebecca and baby Billie at Princes Park. Picture: Michael Willson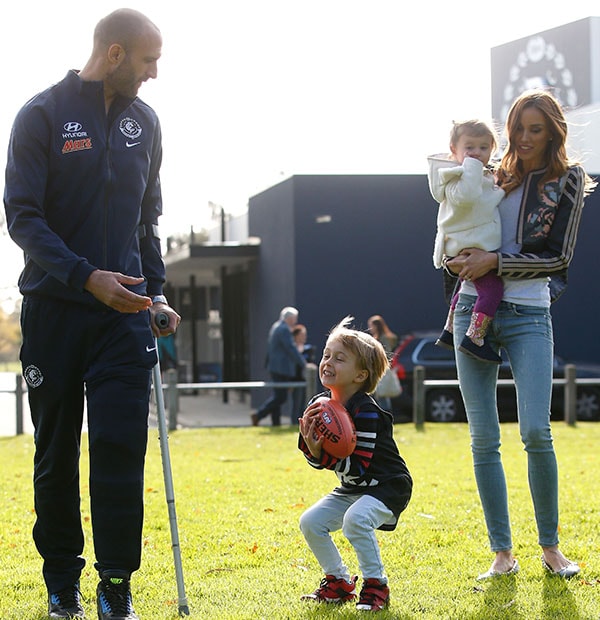 "Clearly it was the wrong decision to go on ... as it turned out it was the wrong decision, but it was very much made for the right reasons," he said.
Judd said it had become increasingly difficult in the last couple of years to prepare his body for the rigours of being an AFL footballer.
The veteran had said on Sunday he would take a couple of days to think before deciding on any future plans, but opted to pull the pin when it became clear the injury would take 12 months to return from.
Judd's decision marks a sad end to a brilliant career.
The dual Brownlow medallist will be remembered as one of the greatest midfielders the game has seen. He won five best and fairest awards across his 279 games for West Coast and Carlton and was named All Australian six times.
Not what we want to see - @CarltonFC star Chris Judd has been helped from the field after this incident. http://t.co/ZZxAGh5yLb

— AFL (@AFL) June 6, 2015
Judd was captain of the Eagles in 2006 when the club won its first premiership since 1994 and won the Norm Smith Medal in 2005 in the club's four-point loss to the Sydney Swans.
Bit of a sad day today, but a big thank you to this lot and everyone else for the memories along the way. pic.twitter.com/sU1R6iONxn

— Chris Judd (@cjayfive) June 9, 2015
Congrats to the best player I've seen @cjayfive unbelievable career well done on everything you have achieved ...

— Buddy Franklin (@Buddy_Franklin) June 9, 2015
Juddy, congrats on an outstanding career. Thoroughly enjoyed the two years I had working with you. A champion player & an even better bloke.

— Alan Richardson (@AlanRichardson) June 9, 2015
One of the greatest ever! Congrats on an amazing career @cjayfive ... always wished he was a demon

— Nathan Jones (@nathan2jones) June 9, 2015
It was a pleasure playing against one of the greatest to play our game. Well done on a magnificent career @cjayfive.

— Luke Hodge (@LHodge15) June 9, 2015
Congratulations @cjayfive on your amazing career! Gutted we won't get to see your brilliance on the football field again!

— Sharrod Wellingham (@SharrodW_21) June 9, 2015
Privileged to have played alongside Juddy. Absolute legend of the game and even a better bloke. #juddstar

— Mitch Robinson (@MitchRobinson05) June 9, 2015