IT'S a sight we may never see ever again.
COST-CUTTING Assistant coaches made redundant as clubs deal with corona fallout
With football department spending to be slashed across this season and next, the gameday coaches' box is set to take on a different look when football resumes. 
The soft cap each club spends on its football department will be cut by $1million this season and then $2million for 2021.
Right now, while the game is in shutdown, clubs have been advised they can spend just $25,000 per week on football staff while 70-80 per cent of employees are stood down.
AFL RESTRUCTURE League stands down majority of workforce
Some clubs will also make individuals redundant to deal with the horrible financial fallout from the shutdown due to the outbreak of COVID-19.
AFL.com.au looked at Collingwood's game day structure during a game with Carlton last year, but it is a common set-up across the entire competition.

On this occasion the Pies had 25 staff alongside Nathan Buckley, from assistants and analysts to physiotherapists and sports scientists between the box and the bench.

Former Fremantle coach Ross Lyon told Channel Nine the tighter soft cap could see the gap shorten between a 2020 structure and the one he had in his first year at St Kilda. 
In 2007, Lyon was joined by forward, midfield and backs coaches, as well as an IT assistant and board man in the box.
Dual premiership coach Malcolm Blight said a 'purer' game could also emerge from less voices. 
"I think the amount of money being wasted inside football clubs, particularly in coaching departments, has been excessive ... I hate people losing their jobs, but this is going to be a reality check for everybody," Blight told SEN on Thursday.
More than 30 per cent of the soft cap will be reduced from the start of this season to next so change is inevitable
So who were all these people, and what did they do? 
1. Nathan Buckley, senior coach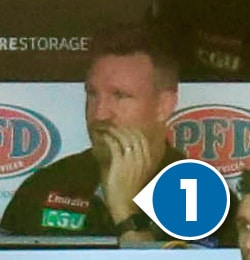 The boss on match day. Everything in Collingwood's box is funneled to Buckley, though the eighth-year coach is said to be delegating more than when he first took the reins. Preferring the phone over the headset, Buckley has a direct line to Marcus Wagner (22), who is the central point of contact on the bench and will chat to players several times per quarter. Buckley leans most on Ash Collins (2), Anthony Stoitsis (7) and Ash Close (26) for stats to back up his messaging and what he's seeing.
2. Ash Collins, game intelligence manager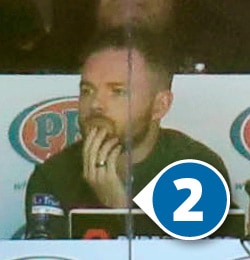 The steady voice next to Buckley with statistical nous. Works closely with Garry Hocking (6) during the week to scout the opposition, and provides that data-informed insight when required on match day. Sits among the other assistant coaches to support and clarify their messaging, and liaises with the other performance managers. Collins joined the Pies at the end of 2011 and has been with Buckley for his entire stint as senior coach. He has also filled the position of runner in recent weeks.
3. Robert Harvey, midfield and transition coach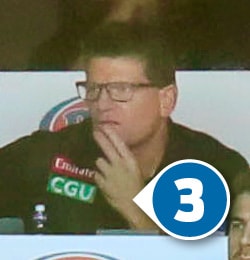 Now into his eighth year at the club, Harvey is Collingwood's longest-serving assistant coach and assumes a spot in the row with Buckley. Works closely with Garry Hocking (6) during the week to work through stoppages with the midfield, and on game day is in charge of the entire midfield brigade. Has put his hand up should a senior coaching job present.
4. Brenton Sanderson, forward line and ball movement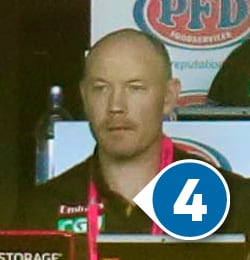 Goes to work each day guiding the likes of Jordan De Goey, Mason Cox and Jaidyn Stephenson. The former Adelaide coach is accountable for everything that happens when the Pies have the ball going forward, liaising with midfield coach Harvey (3). Close friends with Nathan Buckley, but like the rest of the assistant coaches, will challenge moves and decisions in the box on match day before it is relayed down to the bench. Now in his third year at the Pies, Sanderson is said to be a familiar face in the Collingwood gym.
5. Justin Longmuir, backline and team defence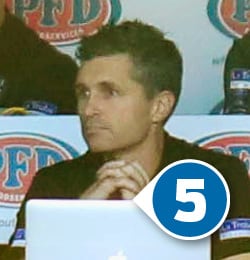 Now in his second year at the Pies, Longmuir is responsible for everything that happens when the Pies don't have the ball. Has simplified the defensive structures, making them easier for players to implement. The former Docker is calm in his communication to players during breaks, and is seen by many players and fellow coaches at the Pies as a senior coach in waiting.
6. Garry Hocking, stoppages and opposition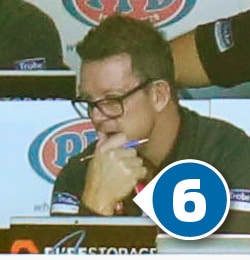 Works closely with Robert Harvey (3) on stoppages and has a big focus on the Pies' opponents, including identifying their performance indicators. Most of his work is done during the week, and he can be spotted analysing vision while commuting on the train between Geelong and Melbourne. Like a number of rival clubs, the Pies trust the bulk of their opposition analysis to an assistant coach rather than solely to an analyst. Hocking needs to be across the matchday data being crunched by senior performance analyst Anthony Stoitsis (7).
7. Anthony Stoitsis, senior performance analyst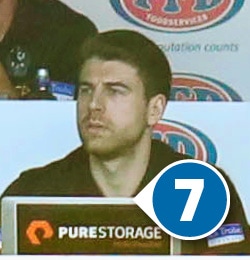 Sitting next to Hocking, Stoitsis focuses on the midfield and keeps a close eye on in-game stoppages. He started at the club as a recruiting analyst poring over vision, and has worked his way up to senior performance analyst. He was called into extra-curricular duties when this picture was snapped in round eight against the Blues, attempting to use his jacket to subdue an unruly pigeon.
8. Anthony Rocca, development and ruck coach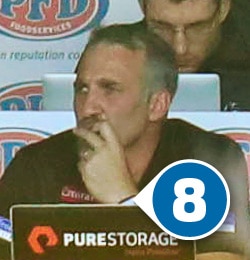 Moved from the bench to the box this season thanks to the AFL's move to reduce the maximum number of officials on the bench from 16 to 12. Working in development during the week, the former star forward keeps a close eye on Magpie ruckman Brodie Grundy's match.
9. Matthew Foster, performance analyst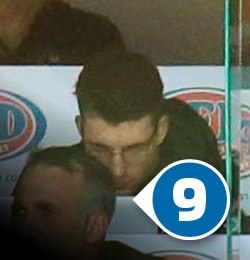 Codes the game as it happens to allow vision to be shown to players during breaks. Also has a strong focus on contest stats. Like several of his colleagues and fellow performance analysts across the AFL, Foster started as an intern and has worked his way up.
10. Damien Gattuso, data coordinator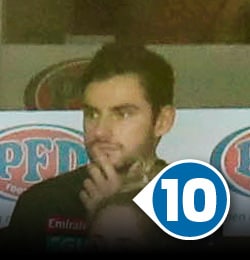 Working mostly in the club's recruiting division during the week, Gattuso is the Pies' latest addition to the data/performance analysis team. He works with the IT division on match day to set up equipment and data tracking, ensuring it's fed to the performance analysts and assistant coaches with ease.
11. James McQuellin, IT systems administrator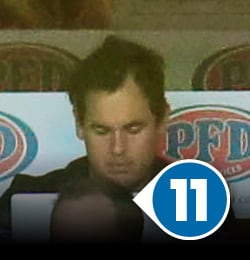 Part of the data team separated from the other coaches and analysts by a pane of glass (seen next to Rocca and Foster). Is key to running the systems the Pies use to track in-game trends and code every kick, mark and handball to align with vision. As seen on the back of the data team's laptops, the club works with Pure Storage, a California-based provider which houses Collingwood's data from playing stats through to GPS numbers.
12. Sinead Freeman, football performance intern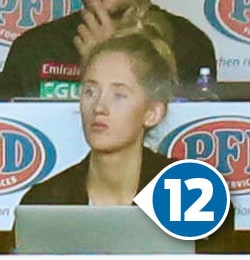 The envy of millions of football fans, intern Sinead has the best seat in the house while learning how the Pies' matchday team operates.
13. Marc Alexander, IT systems administrator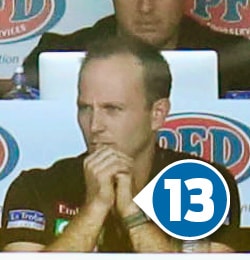 Software and technical guru who works with McQuellin (11) and Gattuso (10) to ensure everything is running smoothly on match days. While the team's laptops and software need to be cutting-edge, a fast printer in the box is just as important to ensure Buckley has his numbers ready for his quarter-break addresses.
14. Brendan Lazarus, sports scientist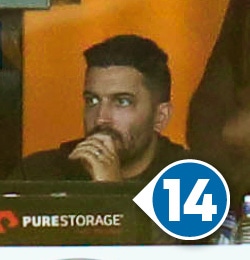 Every GPS device in the back of players' jumpers reports straight into Lazarus on match day. While the coaching box has access to all the basic numbers, Lazarus can dig down further to identify trends and monitor loads to help prevent injuries and exhaustion. Works closely with Kevin White (21) and the high-performance team.
15. Jess Burger, performance analyst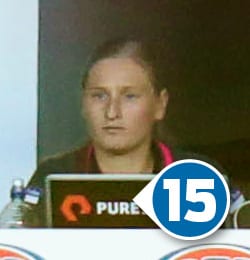 Sitting next to forward line coach Brenton Sanderson (4), Burger is the brains behind the team's moves in attack. She deals directly with Sanderson over what's going right or wrong in attack and pulls out key statistical data to aid decision-making. Arriving on an internship in 2016, Burger splits her time during the week, playing a key role in Collingwood's AFLW list management team.
16. Rohan Bownds, head trainer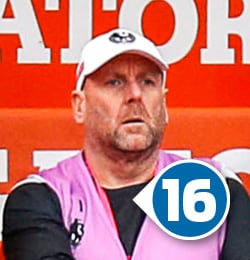 The go-to man when it comes to all things strapped ankles and massages. Frequently seen on camera attending to players when they're in desperate need of a soft-tissue rub down during quarters. He also leads the other trainers, who each take up the four pockets at the MCG. Bownds is part of Collingwood's fabric, having been with the Pies since the 1980s.
17. Ruben Branson, club doctor
Has the ultimate say on how injuries are managed. Working alongside fellow doctor Greg Shuttleworth (not pictured), Branson will attend to players on the field but also accompany them to the rooms to oversee strapping, administer injections or deliver fitness tests. Like many AFL club doctors, Branson sees public patients during the week, fitting consultations around his work with the Pies.
18. Wayne Connor, property steward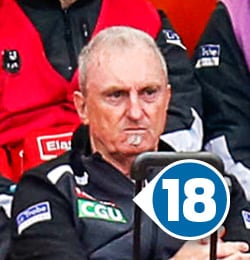 Has seen his fair share of exercise bikes, massage tables and eskies. As property steward, Connor works with the Pies' match assistants Neil Price and Craig McGrath (not pictured) to ferry in all the equipment from the team truck. While Connor really comes into his own on interstate trips, the 1.5km trip from the Holden Centre to the MCG changerooms also presents its challenges.
19. Lachlan Fooks, physiotherapist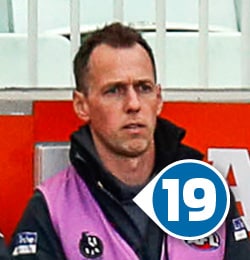 Often first on the scene for injuries on the field, working alongside the club's doctors to diagnose injuries. Will be seen testing injured players' range of motion on the boundary line to assist in getting them back on the park. Often accompanies the doctor downstairs for any treatment behind closed doors.
20. David Francis, physiotherapist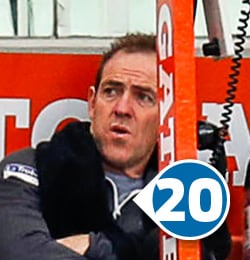 Shares duties with Fooks (19).
21. Kevin White, strength and conditioning coach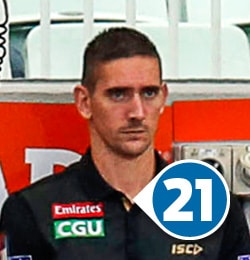 Once the warm-up is complete, White is largely hands-off during the match. Most of his work is done during the week to prepare the players to perform. He consults with the medical team over injuries and also keeps a close eye on players' loads to flag those at risk of potential injuries.
22. Marcus Wagner, performance and strategy manager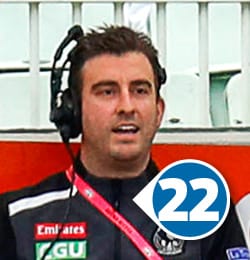 The man in charge of the bench. Has a direct line to the coach's box via his headset and also has an iPad in front of him, monitoring match-ups. Liaises closely with Nick Maxwell (24) and Shannon Collins (23) to ensure the correct interchange rotations are being implemented. Collingwood through and through, Wagner started at the club in IT and performance analysis and has been closely aligned to the VFL team. Now seen as an AFL general manager of football in waiting.
23. Shannon Collins, football operations coordinator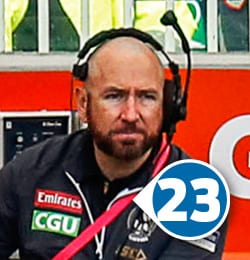 Started as a graphic designer at the Pies and now finds himself in the thick of action on the bench on match day. Another conduit with the upstairs coaches' box on the headset, Collins is responsible for making sure the correct rotations get carried out. Will be seen holding up the board that carries up to four different players' numbers to signal who's due for a rest.
24. Nick Maxwell, leadership and culture manager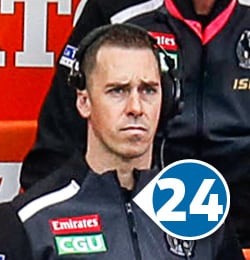 The most vocal Pie on the bench. Pictured with his notepad he uses to jot down coaching notes, former Premiership captain Maxwell is also the most hands-on when it comes to delivering messages to players not in direct contact with the coach. One of four officials on the bench with headsets, Maxwell tends to work closest with the runner (26) as Wagner (22) and Collins (23) organise match-ups and rotations from the back row.
25. Geoff Walsh, general manager of football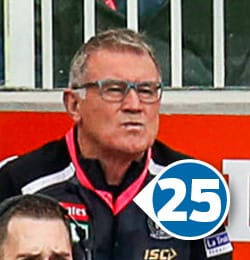 Has moved into more of an overseeing role on match day, allowing Wagner, Maxwell and Collins to deal with most of the communication on the bench. Where Walsh once had a direct line to Buckley in the coach's box, he now sits back with a wider lens and mixes time between the boundary and box. Is consulted on key injuries but spends most of the game watching from the back of the bench.
26. Ashley Close, runner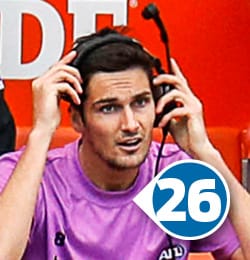 Spends his week in a football analyst role, focusing on defence and working alongside Justin Longmuir (5), before turning to runner on most match days. Close has also set up a monster touch screen in the football department that gives players vision and information on each individual opponent for the upcoming week. Has spent more recent weeks in the coach's box with Ash Collins (2) acting as runner. A former Collingwood VFL player himself, Close also plays local football for Northcote Park.