THE AFL is weighing up whether it will argue for a heavy fine or a one-match suspension for Hawthorn captain Ben Stratton after he was cited for pinching Orazio Fantasia.
It's understood the League is yet to confirm which direction it will take at Tuesday night's hearing, with it being made to submit what it deems an appropriate punishment.
'HE LET THE CLUB DOWN' Hawks CEO condemns skipper's behaviour
The Tribunal will then consider both the submissions of the AFL's legal counsel and Stratton's representatives, before deciding on what it believes is a suitable penalty.
It's also believed that the League is still considering whether it will argue for a one- or a two-match suspension for Stratton stomping on Shaun McKernan later in the game.
Ben Stratton has been sent directly to the Tribunal for this stomp on Shaun McKernan. Details: https://t.co/ZbjmEdrDxb pic.twitter.com/6eRYxVWOOh

— AFL.com.au (@AFLcomau) June 15, 2019
Stratton was sent directly to the Tribunal for both incidents stemming from Friday night's fiery encounter, while he was also fined $1000 for making an obscene gesture to the crowd.
The AFL's Match Review Officer, Michael Christian, said on Monday that he had considered handing Stratton multiple fixed financial sanctions for each pinch laid on Fantasia.
Pinching and pushing.

How have you perceived Stratton's treatment to Fantasia? #AFLDonsHawks pic.twitter.com/ECsZzvei9e

— AFL.com.au (@AFLcomau) June 14, 2019
While it is not known exactly how many times Stratton pinched Fantasia, the Match Review does have the option of fining players $1000 for a first offence of pinching an opponent.
That fine raises to $1500 for a second offence and $2500 for each subsequent offence.
However, such was the relentless nature of Stratton's actions, Christian instead opted to charge the defender with 'serious misconduct' and sent him straight to the Tribunal.
THINGS WE LEARNED Time to make some big calls, Clarko
The act of stomping does not come under the Match Review's 'classifiable offences table', leaving Christian with no choice but to send Stratton straight to the Tribunal for that charge.
It's also understood Christian had assessed vision involving Stratton and Brisbane's Charlie Cameron from a fortnight ago, following criticisms of excessive niggling from the Hawk.
However, he found that there was no clear vision of Stratton pinching Cameron, nor was there any official complaint laid by either Brisbane or the AFL's umpiring department.
Fantasia was left with bruising and welts on the back of his left arm. Picture: Channel Seven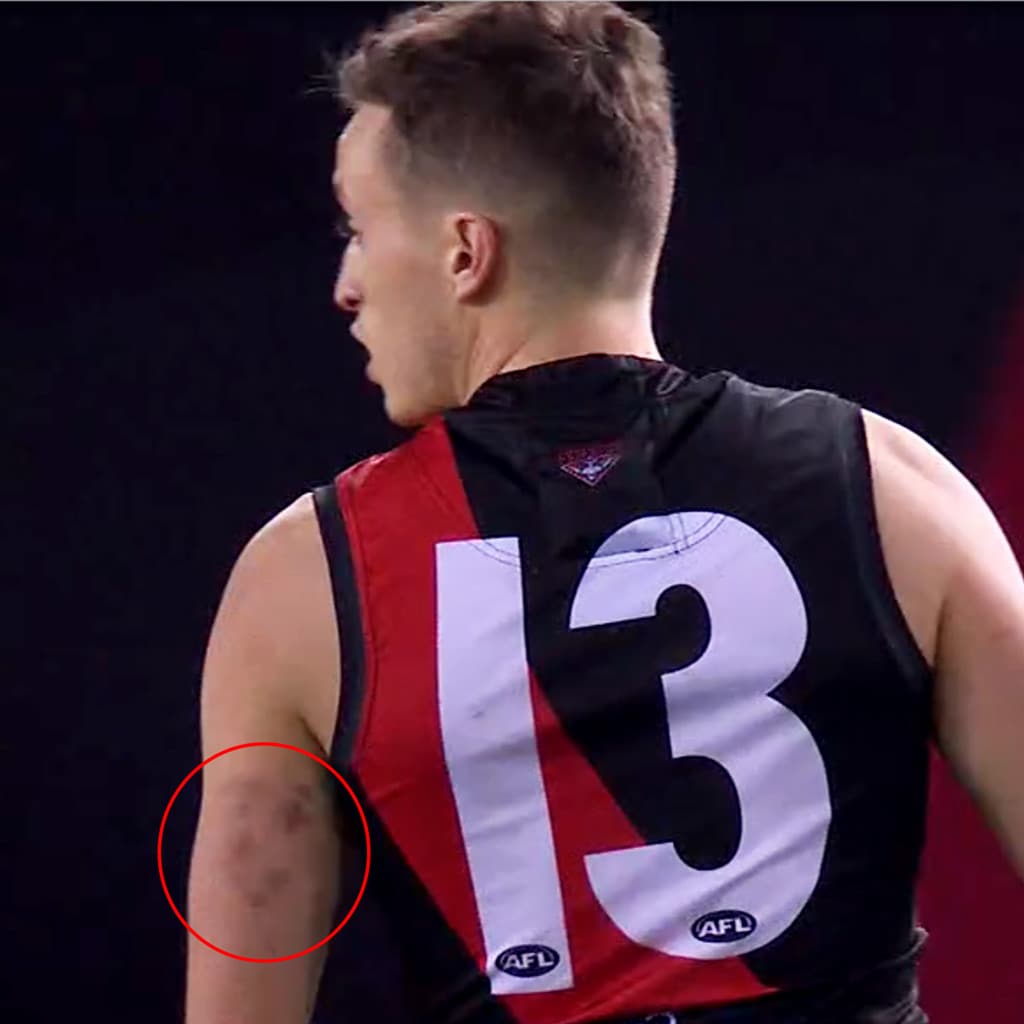 Despite this, Christian did consider sanctioning Stratton for repeatedly punching the arm and the back of Cameron, but opted against a punishment due to insufficient force.
Fremantle tagger Ryan Crowley was the last player cited for pinching back in 2013, fined $900 for an incident involving North Melbourne star Brent Harvey.
Fremantle forward Hayden Ballantyne was also fined $900 for pinching in 2010, while Geelong champion Steve Johnson was fined $900 for the same action in 2009.
Find In the Game on Apple Podcasts, Google Podcasts or Spotify