TAYLOR Walker's decision to resist testing the free agency market has left next year's pool of key forwards looking decidedly thin.
Walker's new deal with the Crows is reportedly worth about $700,000 a season, but the 24-year-old could have commanded far more on the free agency market.
As you would expect, there was considerable opposition interest in the player who kicked 63 goals from 19 games in 2012 and who late last season looked to be back to his best after suffering a ruptured anterior cruciate ligament early in 2013.
Those jilted rival clubs – if they haven't already – will now turn their attention to Geelong's Tom Hawkins.
Hawkins is the standout key forward in the 2015 free agency pool and, as long as he remains unsigned, clubs will go hard at him.
They will do so knowing that Geelong has lost just one key player in his prime over the past decade, Gary Ablett. And that was to a Gold Coast team armed with an inflated salary cap ahead of its entry into the AFL.
However teams targeting Hawkins will also do so knowing that Geelong has been a firm believer in player payment relativity over the Mark Thompson-Chris Scott era and will be unlikely to match any Godfather offers to Hawkins.
AFL.com.au understands the Cats and Hawkins have had very preliminary contract discussions, but the spearhead is in no real rush to accelerate those talks.
Industry sources suggest Hawkins is widely seen as being a dyed-in-the-wool Geelong person who's extremely unlikely to leave the Cats.
However, those same sources suggest that if rival clubs get the sense Hawkins might genuinely consider a change of club, the big-money offers would flood in fast.
If we look beyond Hawkins, the key forward stocks in next year's free agency market become very thin.
Essentially the only tall forwards still in their mid-20s are North Melbourne's Robbie Tarrant and Western Bulldog Jarrad Grant, although Carlton ruckman/forward Matthew Kreuzer could appeal to some clubs in need of a marking target in attack.
All three of these players have had injury problems, especially Tarrant and Kreuzer, and Grant has struggled to break into a Bulldogs' team that's long been crying out for a focal point.
So clubs might look to next year's uncontracted player market, instead.
Heading that list, of course, is Giant Jeremy Cameron.
If Tom Boyd can command a massive deal, then what is Jeremy Cameron worth? Picture: AFL Media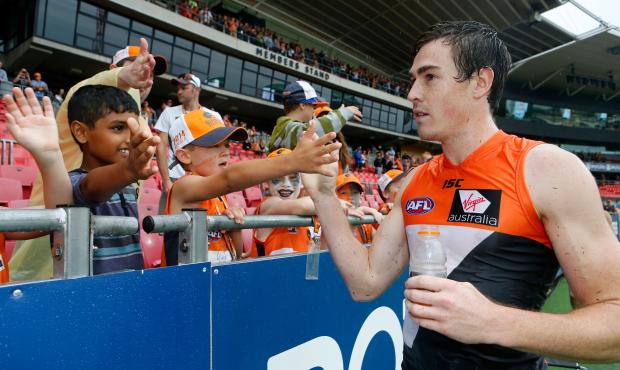 But if the Boyd trade is any guide – and it has to be given that, unlike Boyd, Cameron has already proven himself in the AFL – Greater Western Sydney would only let him go for an exorbitant price.
Given Cameron is not a free agent like Hawkins, that price would include not only his salary but also the trade deal to satisfy the Giants.
Anything less than very early draft picks and/or a star player would not even get the Giants to the bargaining table.
Jake Carlisle, Lachie Henderson and Jeremy Howe are also due to come out of contract, but, again, would come at a high price. Especially Carlisle.
Of course, clubs could also try to poach a contracted spearhead like the Dogs did with Boyd – Gold Coast's Sam Day, for example – but that player's existing club would have the whip hand in any trade negotiations.
Asked about next year's lean market, one list manager told AFL.com.au it was part of an ongoing trend where key forwards – especially elite ones – are becoming a rarer and more valuable commodity.
"If you want one, you're going to have to pay a pretty big price," he said.
The Swans and, especially, the Bulldogs have set the competition benchmark with the extraordinary deals they put together for Lance Franklin and Boyd in the past two player exchange periods.
For rival clubs to snare Hawkins or Cameron, they will have to conjure up similar multi-year, multi-million dollar deals.