GEELONG is believed to have entered the race for Melbourne's unrestricted free agent James Frawley.
He would provide an opportunity for the Cats to bolster their star-studded but ageing backline, with Frawley versatile enough to play a range of roles.
The 26-year-old Frawley carries the perfect profile for the Cats as they attempt to maintain their position as a contender beyond 2014.
The Cats will benefit from the maintenance of the veterans allowance until 2016, as they already have six players earning $118,380 that sits outside the club's salary cap.

Frawley denies $800,000 price tag
Frawley has also shown an ability to play forward this season, kicking 11 goals in 11 games, taking his career tally to 14.
Although the All Australian defender would be most likely earmarked to play defence at Geelong as it has potential sidekicks for Tom Hawkins, such as Shane Kersten and Josh Walker, his presence would provide the Cats to be flexible in their use of Taylor.
Frawley is yet to play finals in his eight seasons at Melbourne but would be almost certain to do so at Geelong.
His former teammate Rivers is also performing well at the Cats after moving there as a free agent at the end of 2012.
As an unrestricted free agent, Frawley can choose to accept an offer from any club without Melbourne having the option of matching the offer.
James Frawley clunks one during the Queen's Brithday clash against Collingwood. Picture: AFL Media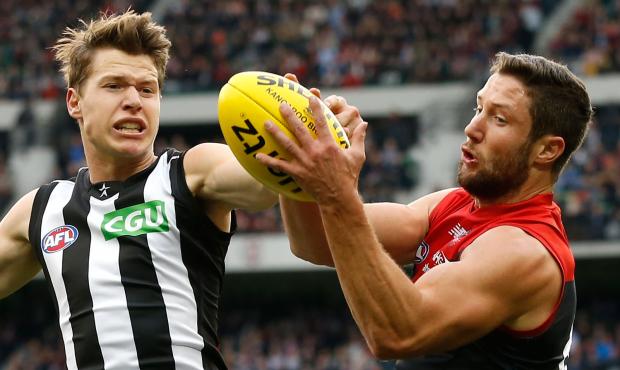 He qualified as a free agent because his previous four-year deal was heavily front-ended.
Frawley has already told Melbourne he wants to hold off from re-signing with the Demons until he has considered all his options.
He has played under seven coaches in eight seasons and although happy under Paul Roos, he knows that Roos' tenure is limited until the end of 2016 at the most. 
Earlier this month
Frawley told AFL.com.au
he was unsure what contact, if any, his management had received from other interested parties. 
"I'm in no rush to do anything," Frawley told AFL.com.au
"I'm contracted until the end of the year and I'm not going to make any rash decisions.
"I want to make sure the club is heading in the right direction.
"It (the lure of playing in a flag) plays a part, you always want to win and play finals.
"I've been here [at Melbourne] eight years and haven't played any finals and haven't got close really. It'd be great to play finals.
"At this club we've seen massive improvement over the last few years and if we keep going in the right trend, we'll hopefully be playing finals really soon."
Frawley has also indicated he is keen to know who will succeed Roos before making a decision.
If Frawley was to depart Melbourne, the club would be hopeful of receiving a first-round draft pick as compensation.