THE POLICY of calling out racism on social media has been "imperfect", AFL boss Gillon McLachlan says, but he has seen improvement.
At the Indigenous All Stars Summit this year, players made an agreement, in conjunction with the clubs and the AFL, to call out racially vilifying comments.
"Social media provides a unique challenge. We are clearly in a process of calling people out," McLachlan said.
"I think we are encouraged by other people on those platforms then calling out behaviour that's unacceptable, and also we're trying to work with the regulators, with government and the platforms themselves to moderate it. That's our approach.
"Clearly it's imperfect in the sense that there continues to be issues but we keep tackling them. We don't shy away from it and call them out to the extent we can and hopefully we continue to have conversations and improve as an industry."
'WHEN WILL IT STOP?' AFL, Crows, union, players slam racist abuse of Betts
AFL general manager of inclusion and social policy Tanya Hosch applauded those who called out derogatory remarks.
"As we know, racism isn't new. There's just more vehicles to project that ugly set of attitudes, behaviours and beliefs," Hosch said.
"Every institution is battling with how to manage people having the freedom to put that sort of aggression and what I consider racially driven violence on those platforms. It's up to all of us to hold those people to account.
"It's been fantastic to see people who aren't being vilified picking up that responsibility, and that is important as [indigenous people] are three per cent of the population, so if we have to do all of that heavy lifting, then it's an unfair burden."
'ABHORRENT, DISGUSTING' Eagles lash racist Instagram taunts
Gillon McLachlan, Tanya Hosch, Michael Long and Aunty Pam Pedersen. Picture: Dylan Burns, AFL Photos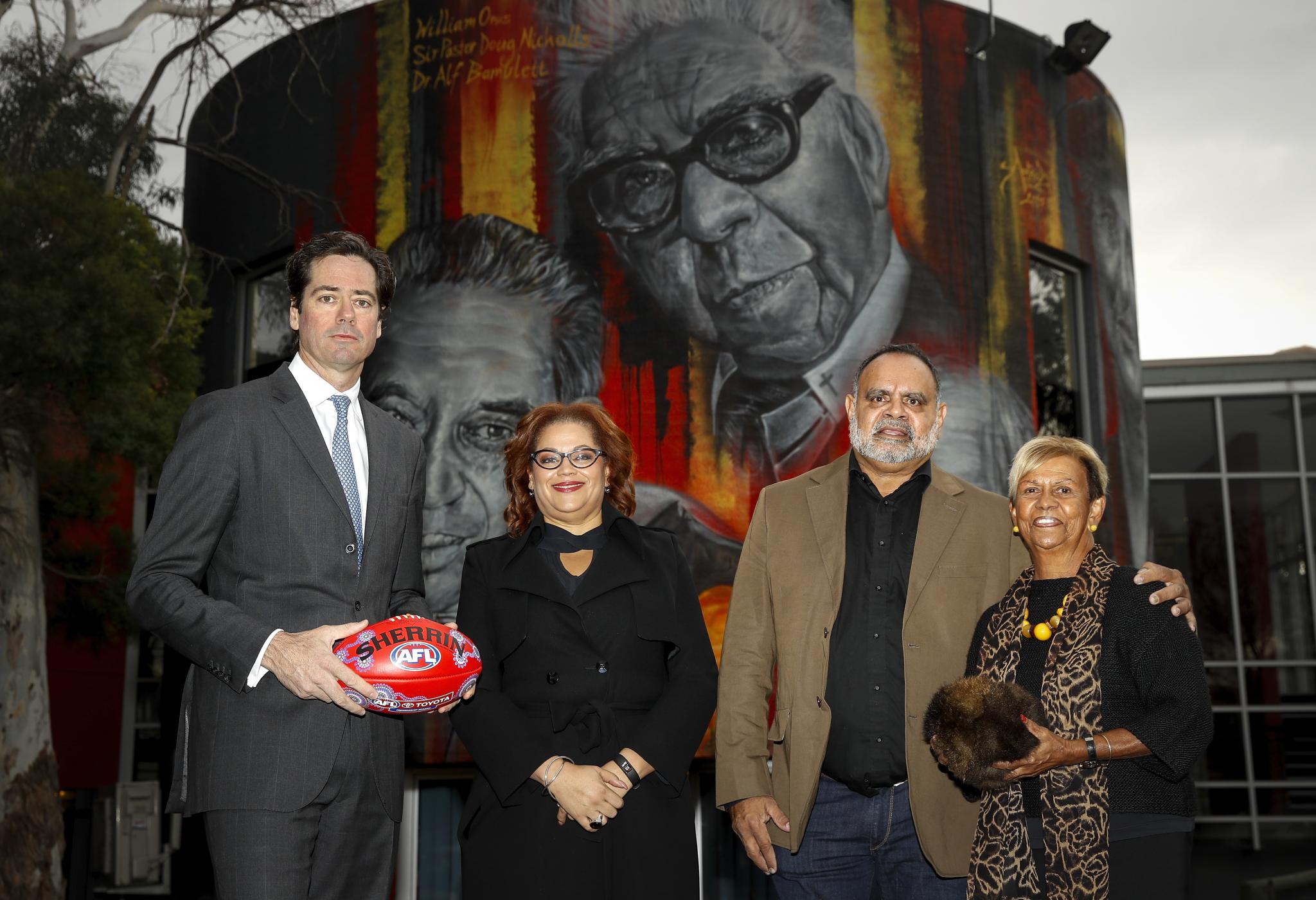 The Adam Goodes documentary, which looks at the Sydney champion's bitter end to his playing career because of the racism he suffered, will be released to the public in June.
However, several people in the football industry have seen it, including McLachlan and club CEOs.
"It's been an emotional response. It's a very powerful film … it tells the story of that time really clearly and succinctly," McLachlan said.
For Essendon great Michael Long, the documentary will help when it comes to tackling racism, harking back to the 1995 incident that saw then-Collingwood ruckman Damian Monkhorst make a racist remark to Long.
"We're not going to shy away from it. I think it's good to have that discussion," Long said.
"We didn't shy away from it in '95. We took it head on.
"Some of the things that came out of the documentary, I think it's also about action, putting things in place. How do we stop it?"
The trio spoke at the Aboriginal Advancement League building in Thornbury for the launch of the Sir Doug Nicholls round.