It follows a
post-game war of words
between Buckley and Kangaroos counterpart Brad Scott after Thomas' sickening head clash with Magpie Ben Reid on Sunday.
"I think under the letter of the law, there's obviously some grey area there. I think Lindsay's got away with one," Buckley said on Triple M.
But Buckley conceded he went too far in describing Thomas' behavior as "pretty average."
"If I had my time again, with the way it's gone, clearly I wouldn't make the comments," Buckley said on Monday.
"I understand where Scotty's coming from and I understand his reaction to it, as I'm pretty sure he might understand mine - I'm looking after my boys he's looking after his.
"If we lose that territorial nature out of our game we're struggling aren't we?
"I've got no animosity at all towards North Melbourne."
But Buckley said he wouldn't be calling Scott to clear the air.
"I'm not the one with the problem," he said.
Earlier North Melbourne chairman James Brayshaw said he was "filthy" over Buckley's post-match outrage.
"We would never do that - it's totally inappropriate," Brayshaw said on Triple M.
"You also don't want to publicly hang someone, before they have a trial."
Brayshaw claimed Buckley had broken an "unwritten rule," pre-empting the MRP process.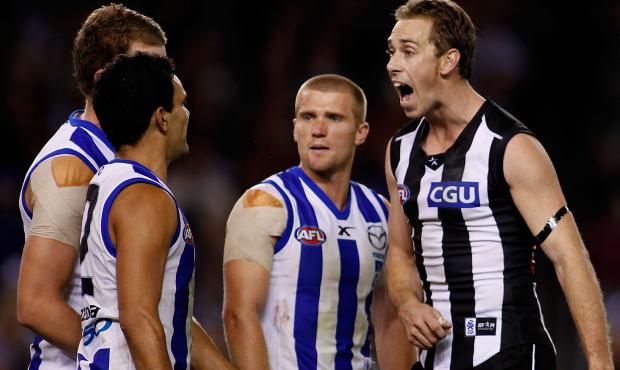 Nick Maxwell shares his thoughts with Lindsay Thomas on Sunday. Picture: AFL Media
Reid arrived for recovery at the Westpac Centre on Monday showing no ill-effects from the big hit.
"I feel good, and it was good to have a win," Reid told reporters.
Thomas didn't escape unscathed, suffering bruising to the right side of his jaw and swelling, despite being able to play out the game.
But the third-term collision ended Reid's day, with the defender suffering concussion and bleeding from the mouth.
Magpie fans booed Thomas after the incident, in which he clashed heads with Reid after suddenly changing direction and attempting to lay a shepherd.
Collingwood skipper Nick Maxwell earlier moved to ease tensions at the Westpac Centre on Monday.
"It's part of the game; we go to war (when) the first siren goes, and the last siren goes, that finishes it," he said on Monday.
"It's all part of the game, so I'm sure everything will be dealt with in due course.
"[I'm] very proud of the boys and the way they went about it."
Both Thomas and Reid are expected to be declared fit to play in round two.
Matt Thompson is a reporter for AFL Media. Follow him on Twitter @MattThompsonAFL