IT'S LATE at night in Shanghai. Liam Jurrah is in a nightclub taking a swig from a bottle of Moet, half a world away from another place and another time where alcohol would ruin his life.
A quiet, shy, unassuming indigenous footballer from Central Australia, he became the hero of the Melbourne Football Club's 2010 visit to China - a trip now shrouded in claims of excessive drinking.
As Jurrah's destiny hangs in the balance ahead of his court trial in Alice Springs, those close to the indigenous star have told
AFL.com.au
he didn't regularly consume alcohol until after he was drafted by the Demons.
Jurrah camp confident of not gulity verdict
Youth worker Liam Campbell has spent 20 years, on and off, in the township of Yuendumu.
He confirmed to
AFL.com.au
that Jurrah wasn't into the 'boozy culture' that was prevalent in the remote community, particularly among men.
While Jurrah's father, Leo, had problems with alcohol, it was his grandmother Cecily and mother Corrina who kept him on the straight and narrow.
"He sort of had this quiet ability to just get stuff done, very confident but very quiet, a bit shy," Campbell said.
Jurrah's grandmother was one of the "strongest women in Yuendumu", a fully qualified teacher and a role model for the town, Campbell explained.
"And then his mother was a really intelligent person who'd done schooling as well, so he had good role models."
But once Jurrah arrived at the Demons, those role models were no longer a constant, guiding influence.
Whether that trip to China was where Jurrah's taste for alcohol intensified is up for debate, but it was clearly a significant time in his life.
"You effectively got off the bus from the airport and they were giving you free spirits," one source said, speaking on the condition of anonymity.
It was October 2010 when the forward played a starring role in that Shanghai exhibition match win over the Brisbane Lions, kicking five goals and taking a classic mark, and there was plenty to celebrate in the aftermath.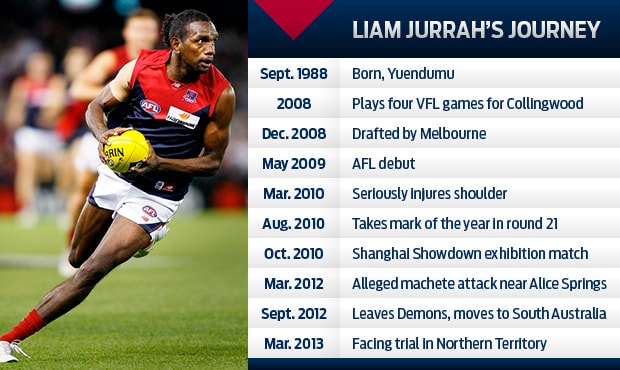 Rumours of what happened on Melbourne's China trip have swirled in AFL circles for years. Those who were there openly admit there was plenty of booze.

The idea from Melbourne's hierarchy was to build club spirit, with a lot of Demons' front-office staff making the trip as well.

The reported amount of drinking on the trip was said to be too much for ex-Demon Tom Scully, who would later walk out on the Demons to take up a multi-million dollar deal with new franchise Greater Western Sydney.

In The Liam Jurrah Story – a biography by Jurrah's mentor Bruce Hearn Mackinnon – Melbourne chief executive Cameron Schwab refers to a 'sense of fate' about the young star.

"He's gone from the red dirt of Yuendumu to the green of the MCG to Shanghai in the space of 18 months … I get the feeling he is taking us on a journey – it's about where he is taking us," Schwab said.

Back in his hometown, an outback community in the Northern Territory, the high-flying forward was never considered to be a part of the 'party mob' as a teenager.

In fact, community leaders held Jurrah up as a role model.

In Hearn Mackinnon's book, Yuendumu footy club president Brett Badger – incredibly close to Jurrah – speaks of the footballer "helping me at 2am if a young fella was especially drunk, upset or in trouble and in need of support."

One of Jurrah's first links to city life was via former Magpie Rupert Betheras – leading to a short four-game stint in Collingwood's VFL side in 2008.

While Betheras recognised binge drinking was not uncommon in football environments, he emphasised Jurrah "chose not to drink" at that time.

It was his return to Alice Springs, during a tribal dispute and family tragedy, where a drunken Jurrah was arrested and charged over an alleged machete attack.

By that stage he was 23, and, with his community in the midst of what some describe as akin to 'civil war', he became a pawn.

Some of his family wanted him to give football away, he was threatened, and felt compelled to return to attempt to unify the tribe.

Almost 12 months later, Jurrah's football career is in tatters ahead of a trial in the Northern Territory Supreme Court.

He's been de-listed by Melbourne, is facing multiple alcohol-related charges in South Australia, and squandered an opportunity with Port Adelaide.

Those close to him are understandably worried about his mental health, and fearful about what might happen next.

"We're all quite worried about him," Campbell said.

Betheras hopes this raft of setbacks doesn't cost Jurrah his football career.

"I know he's under pressure because of the court case," he said.

"Perhaps he can turn it around … hopefully refocus him on what he wants to do and if that's football, great, and if not, see what else he wants to do."

But as it stands, whether it's football or family, Jurrah's future is in the hands of the law.

Matt Thompson is a reporter for AFL Media. Follow him on Twitter @MattThompsonAFL