RHYCE Shaw wrote the number on the whiteboard in North Melbourne's rooms, waiting for his victorious players to return from acknowledging their supporters at Marvel Stadium.
Quite simply, it read: "1995."
The number was symbolic. It was the year the last time Collingwood was kept to a score as low as the 5.7 (37) it was limited to by North Melbourne on Saturday night.

The Roos are supporting each other and hunting in packs. Picture: AFL Photos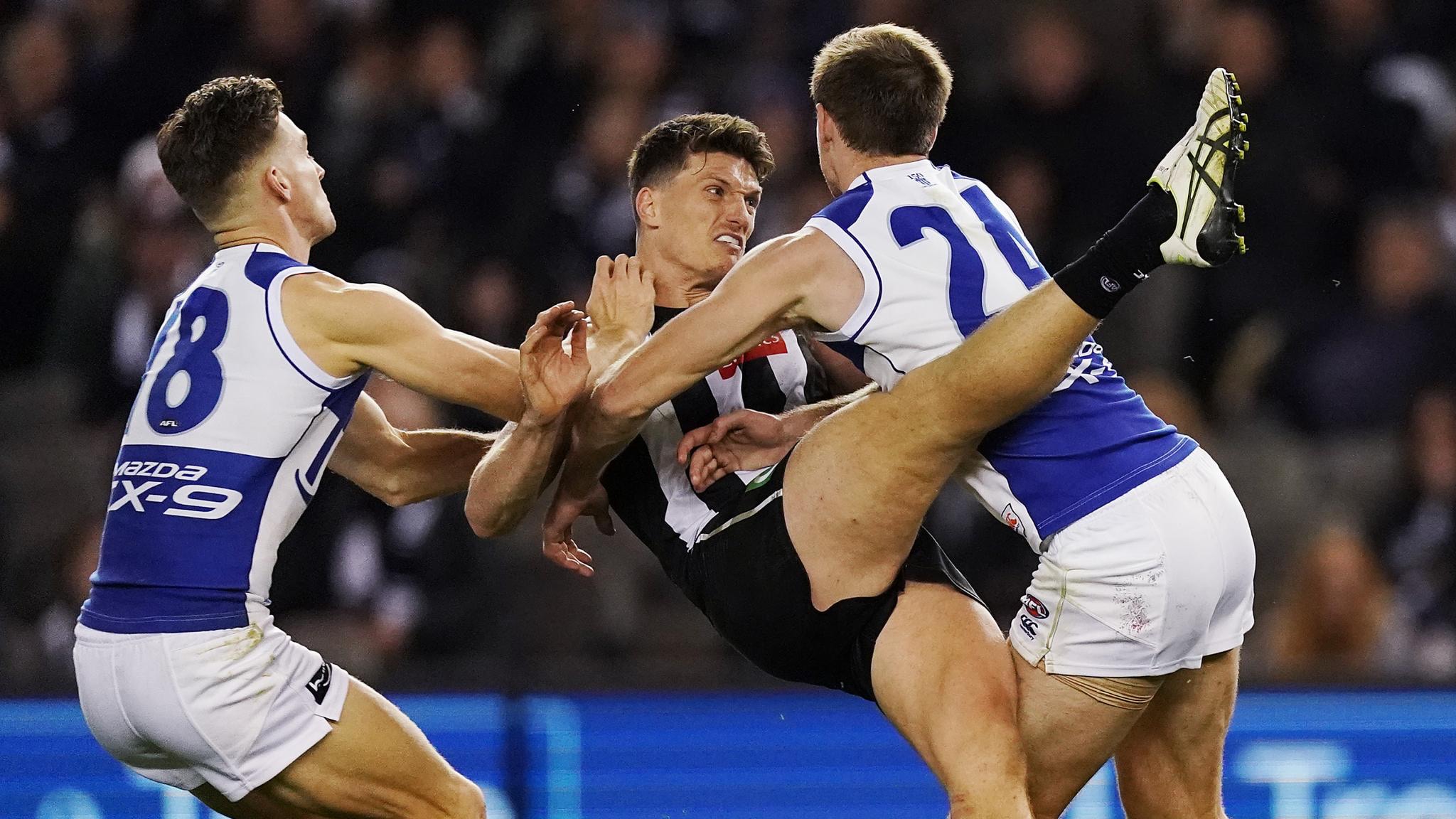 For the Kangaroos' interim coach, a self-described "defence-first" operator, it was a number to be proud of. His players, who executed his vision, were just as chuffed.
"It's huge for us," North Melbourne midfielder Trent Dumont told AFL.com.au.
"We focus on our defence because we reckon everything is set up from there. If we defend well, get our defensive slide going, the rest happens from there.
"We've got a lot of defensive guns in our team, so that's the first focus for us."
THE RUN HOME Is Port too unreliable to play finals?
North Melbourne was leaking scores at an alarming rate under Brad Scott.
The average of 93.1 points conceded per game throughout the first 10 weeks of the season was the most in the competition. That has dropped dramatically under Shaw.
Now conceding nearly five goals per game fewer than they were (down to 65.5 points per game under Shaw), the Kangaroos are the second-best defensive team during that period.
For the caretaker coach, it's the result of individual performances and a new system.
While he pointed to the efforts of Robbie Tarrant over the weekend, North Melbourne is also playing a safer brand out of the back half – without losing any verve going forward.
The Kangaroos have gone from conceding 49.5 points per game from turnovers under Scott in the first 10 weeks, to just 28 points under Shaw – from 14th in the League to first.
NINE THINGS WE LEARNED Star Crow's fall defies belief
"The guys have bought in," Shaw said after Saturday night's match.
"To their credit, they limited Collingwood's scores very well (on Saturday night). There were times when I thought they might break it open, but the boys held steady.
"Our defenders have gone a little bit underrated in that regard. I look at Robbie Tarrant, who has dominated a lot of top-quality opponents this year and not much has been said about him. But he's an exceptional player and an exceptional leader.
"They all played their part … it's really important that those guys stick together and keep playing that footy, because they've gelled really well as a group."
But while Shaw can credit his players and his system for that defensive improvement over the last five weeks, perhaps some of the turnaround comes down to intangibles.
LDU!

The Roos are on fire! #AFLPiesNorth pic.twitter.com/pzzqQg4Gyo

— AFL (@AFL) June 29, 2019
Maybe – just maybe – they simply really like playing for their caretaker coach.
"He's so tight with the boys," Dumont said.
"He's got really, really high standards, so he'll let you know if you're not up to scratch. But he'll also chuck his arm around you and give you all the support you need along the journey.
"We love him, we just love him. Hopefully we can continue to play this way for him."
Listen to the AFL Fantasy Podcast with The Traders at Apple Podcasts, Spotify and Google Podcasts.