A FAMOUS football match contested by Australian soldiers in World War I will be commemorated in London on Saturday (May 6) afternoon.

To mark the centenary of the 'pioneer exhibition game' in London in October 1916, the local AFL London competition will open its season with a Grand Final rematch in which the teams will don replicas of the guernseys worn in the original match.

In that game 100 years ago – which provided a virtual blueprint for modern Anzac Day football – the Third Division took on the Combined Training Units at Queen's Club, West Kensington, in the first organised game of Australian Football played overseas by predominantly elite-level players.

From 3pm on Saturday, AFL London's reigning premiers West London Wildcats will take on 2016 runner-up Wandsworth Demons at Chiswick Rugby Club.

West London will wear the Third Division's navy blue jumper featuring a white map of Australia (including Tasmania, which was inexplicably excluded from the original design), while Wandsworth will don will the Training Units' red strip with a white kangaroo.

Below: The Third Division in their navy jumper, sans Tasmania. Picture: Australian War Memorial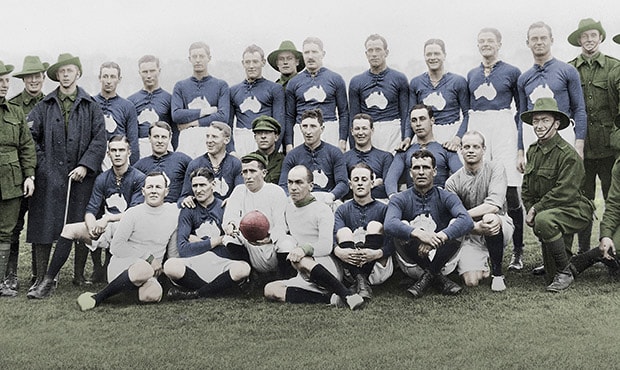 The commemoration concept has been driven and financed by Lizzie Kirkham, a Perth-based freelance producer and location manager who, with Game On Productions, will film the game as part of a broader documentary on Aussie footballers in World War I.

Kirkham's production will focus largely on the French battlefield Villers-Bretonneux, where each Anzac Day a footy match is played between a French team and an Australian team.

To be eligible to play in the 'Anzac Cup', Australians need to prove they have an ancestral connection to Villers-Bretonneux; and at game's end they share their stories, an experience Kirkham described as "quite emotional".

Next Anzac Day will coincide with the 100th anniversary of the Second (and final) Battle of Villers-Bretonneux – and the 2018 Anzac Cup would conclude filming for the documentary.

"The (London) 100th anniversary game is just the icing on the cake. I felt it was an important part of Australian rules history," Kirkham, a West Coast fan, said.

AFL Europe's events and communications manager Ben Durance praised Kirkham's "incredible work" and said it was a privilege to be part of such an historic occasion.

"It's going to be a great honour for those taking part on Saturday to reflect on the sacrifice those before us made so that we can enjoy what we have today," Durance said.

"It's certainly going to be a special day, with the players and clubs involved thrilled to recreate and honour an incredible part of VFL/AFL history."