NORTH Melbourne defender Majak Daw is targeting a miraculous return to football on Sunday, six months after being rescued by emergency service workers under a Melbourne bridge.
North Melbourne staff were told on Monday morning about Daw's possible comeback to the VFL team this weekend.
Caretaker coach Rhyce Shaw also announced on Monday that Daw, who was out of contract at season's end, had re-signed for next year.
Daw and Shaw at Monday's media conference. Picture: Getty Images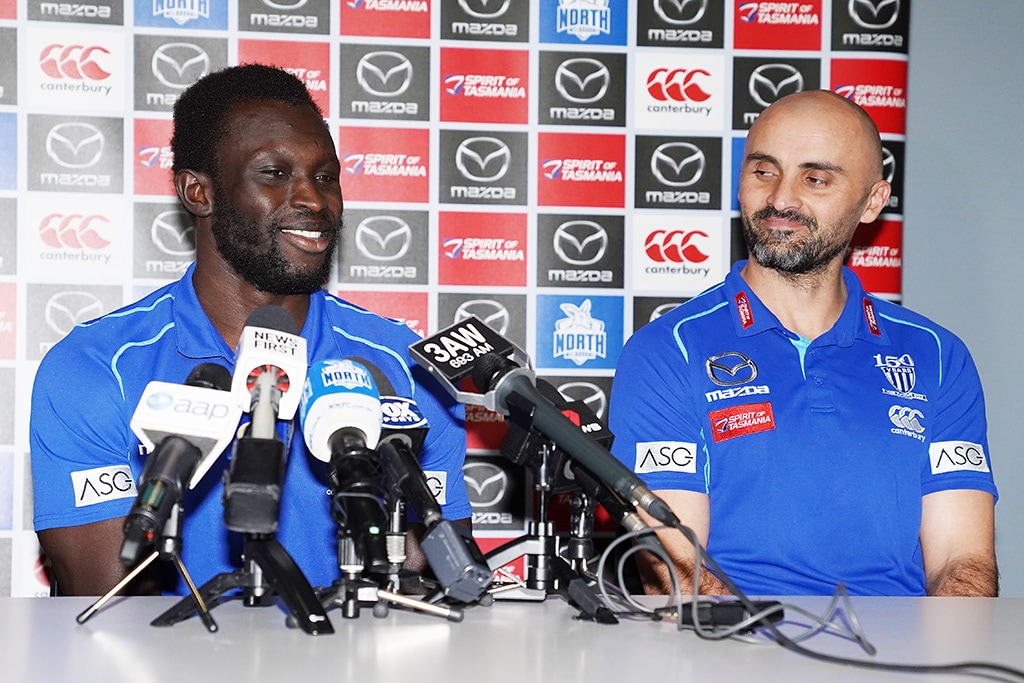 The 28-year-old broke his hips and pelvis when he fell from the bridge in mid-December, and was not expected to play football again – let alone barely six months later.
Daw, flanked by Shaw and head of high performance Alex Moore, said on Monday he didn't know how long it would take him to play football again, but that he never doubted he would make it back.
A senior AFL return remains his major goal – whether this year or next – and he was confident enough to say he sat "really comfortable in knowing I'll play AFL footy again".

"I'm pretty excited. I kind of wish the game was tomorrow. I suppose I've been waiting for this moment for a long time," Daw said.
"There's been a lot of work that's gone in to get me to this point, but I can't wait for Sunday.
"It's been pretty tough getting my body strong again. Believe it or not, I'm stronger than I've ever been.
"But knowing the expectation, and how hard it was going to be to get back, that was something I wanted to do (and) I'm almost there now."
FULL FIXTURE Every round, every game
Daw went through the agonising process of learning how to walk again, a process that started in January, and he has trained solidly for the past two months.
There were milestone moments, such as when he ran on the AlterG anti-gravity machine for the first time post-injury then progressing to running over ground at Arden Street.
"So something pretty amazing happened today ... I'm so thankful for all the support that's got me to this stage" - @majakdaw. #North150 pic.twitter.com/RpEQjLaTuI

— North Melbourne (@NMFCOfficial) March 14, 2019
Daw also announced in April that he and his partner, Emily McKay, were expecting their first baby this year.
He completed a rigorous session with a handful of teammates on Saturday morning, which involved high-speed running, change-of-direction drills, jumping into ruck bags, contact and tackling.
Daw joked with fellow Kangaroos to 'play me in Hobart this weekend', alluding to the AFL side's clash with St Kilda on Sunday.
Instead, he is set for limited game time in the VFL against Sandringham at Arden St the same day.

"It's been a pretty hard injury to put specific dates on," Daw said.
"I've still got a few things to tick off before Sunday but it's really nice to get to this stage, knowing the potential to play footy again is a possibility."
FULL INJURY LIST Who's ruled out and who's a test?
Moore, who's been alongside Daw for almost all the physical steps of his recovery, called it a "unique rehabilitation" but was full of praise for the way he had applied himself.
He described Daw's impending return as "bigger than footy" and said his genetic gifts had played a major role in him making it back as quickly as he has.
Daw in action against Ben Brown at training last week. Picture: AFL Photos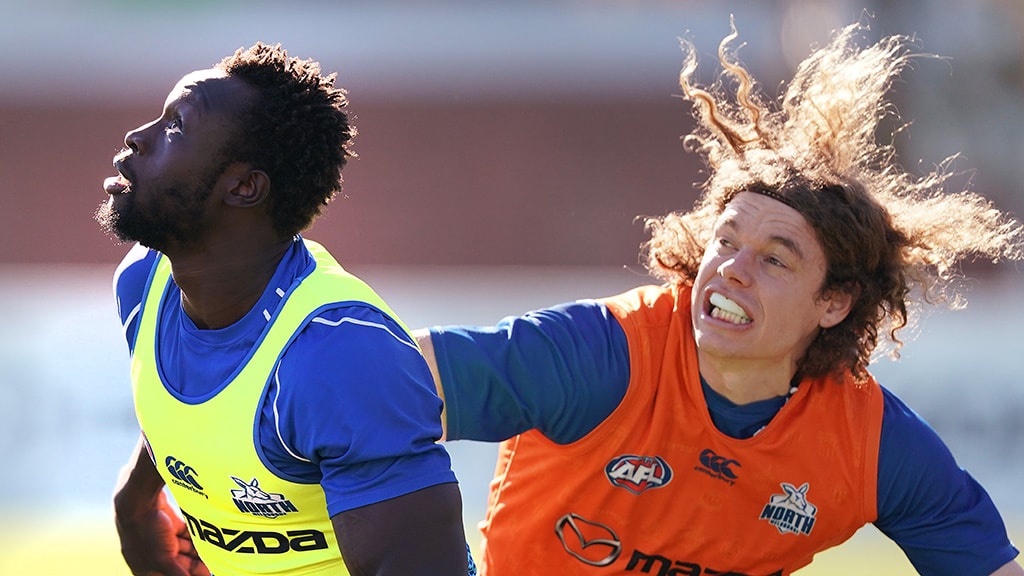 "It's kind of like having a Ferrari. You've just got to make sure you build the chassis properly along the way," Moore said.
"Six or seven months doesn't seem like a long time, but it's felt like a long time and we've had a few setbacks along the way.
"Part of this is we'll continue to have a few setbacks, so it's important to mention that moving forward, we don't have a set plan for what game time he's going to play at this moment.
"We've just got to go through some steps and it may be that he plays in a few weeks' time or it might be that he plays this weekend, then has a week off." - Alex Moore
Shaw was similarly in awe of Daw, calling him one of North Melbourne's most important players and saying his remarkable recovery had buoyed everyone at the club.
"Look at that smile, hey – it's just good to see him up and about," Shaw said.
"We all get a lift when we see Maj, and I know it's going to be pretty special when he does play, and I think it's going to give the whole club, and the AFL as a whole, a massive boost."
Find Trends on Apple Podcasts, Google Podcasts and Spotify
Daw thanked everyone from Moore, Shaw, former coach Brad Scott, his teammates, friends and family for the support he had received.
"Being in hospital for a month is a long time, and just having my teammates come in, if not on a daily basis, it got to a point we needed to turn people back, because I needed to rest," Daw said.
"But they were there for me right from the start, and always checking in.
"I came back to the footy club, and it's a great feeling, knowing how much you're loved in this environment, and to me, knowing how I meant to them (was a big deal).
"That was huge in my recovery, and that's why I really can't wait to build back up and get back out there and play, because nothing beats winning with your teammates."