HAWTHORN champion Jarryd Roughead bagged six goals in a 70-point drubbing of Gold Coast on Sunday but that might not have been enough for the key forward to extend his career.
Finals are within reach for the Hawks, but they need to beat powerhouse West Coast on the road next Saturday night to give themselves a shot.
The Hawks sit ninth, a win behind the Western Bulldogs in eighth, and if Mitch Lewis overcomes a shoulder injury, Roughead might have played his 283rd and final game.
The Hawks gave Roughead a rousing send-off in the club's last home game for the season. Picture: AFL Photos

The Dogs will face Adelaide on Sunday and Port Adelaide takes on Fremantle, and results need to fall Hawthorn's way if it is to make the top eight.
Coach Alastair Clarkson knows it wouldn't be a popular decision but as he's shown time and again, he won't shirk making difficult calls, even if he suggested in jest that if the 32-year-old was dropped, the blame will lay elsewhere.
HAWKS DO IT FOR ROUGHY Full match coverage and stats
"It'll be like shooting Bambi if we don't pick Rough next week, but if we don't it'll be all (football manager) Graham Wright's fault. It won't be my fault … but we'll see how all that unfolds," Clarkson said.
"Mitch Lewis has hurt his shoulder. We need to see how that comes up for next week. He's a big part of our future and we just need to make an assessment there.
"Rough's made it a little bit more difficult. There's a part of me that says 'Jeez, that would be a nice way to finish your career'. Six goals in a big win in front of your home fans is a pretty special way to finish up but we'll have a discussion about that during the week."
We can't get enough of the Rough! #AFLHawksSuns pic.twitter.com/1KLpwXJzhf

— AFL (@AFL) August 18, 2019
The Eagles will be smarting after going down to fellow flag fancy Richmond by six points in a Sunday afternoon thriller at the MCG.
While Clarkson wants to make September, the potential short-term success won't stop him from focusing on the future.
"It's going to be a pretty big ask. We've got to beat West Coast in Perth on the rebound and then the Crows have got to get up against the Doggies, I think is the equation," Clarkson said.
GAMEBREAKER We'll miss you, Rough
"That's a pretty remote chance I reckon but the big game really for us isn't so much about this week and finals, as much as it is getting games into some of our younger fellas, and some of our older ones like Rough."
The Hawks have seen several premiership heroes leave the club in recent years and ply their trade elsewhere, including Luke Hodge (Brisbane), Sam Mitchell (West Coast) and Jordan Lewis (Melbourne).
"It's tough. These guys, it's like losing a body part when some of these guys who have been such warriors for your footy club, but it's got to come to an end for all players," Clarkson said.
The Hawks faithful celebrate one of their champions before the game. Picture: AFL Photos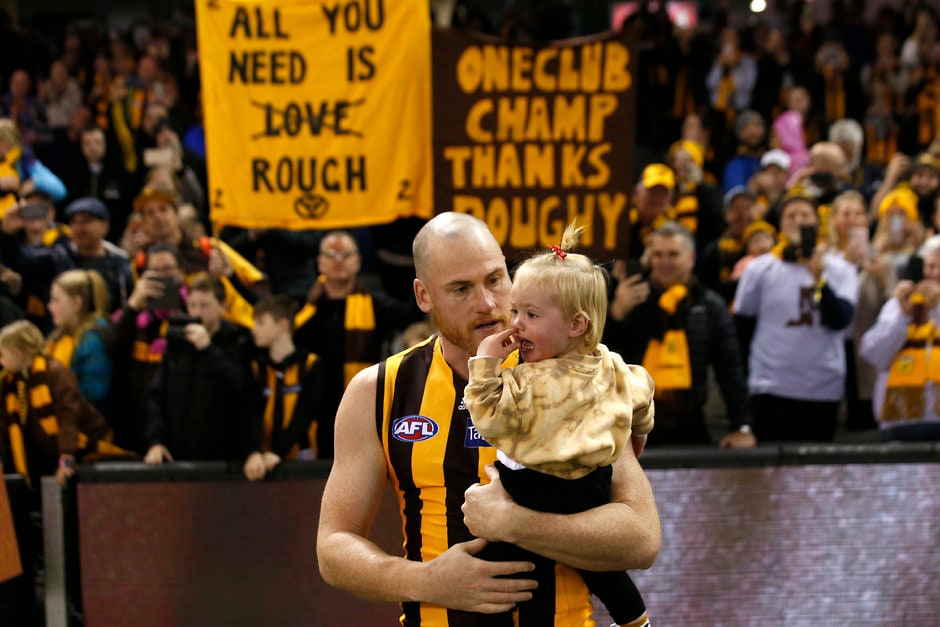 "Rough did particularly well tonight but there were two or three times, once where he was running across the arc and he got dragged down from behind and another one where he got a snap in the first quarter. Like, three years ago, goal.
"His body's just failing him now but it's hard to watch that because at different stages, he's capable of doing what he did today too and it's just like 'Why's he finishing up Clarko? He's kicked six'. But we need to look at the future of our footy club."
WATCH Alastair Clarkson's full post-match press conference
Clarkson has known for a while the end would be coming for Roughead, a dual All Australian, Coleman medallist and former captain.
"We had wave one (of players) that secured us the 2008 premiership, wave two gave us success in '13, '14, '15 and now we're trying to ride wave three," Clarkson said.
"We made a decision probably about this time last year that Rough is going to probably battle to be a big part of wave three and that would come as no surprise to either him or the football public."