IN ALEX Rance's mind, he's returning to football this season.
If he receives ultra-positive news out of a meeting with his surgeon late this week, he might even push for a comeback via the VFL next weekend.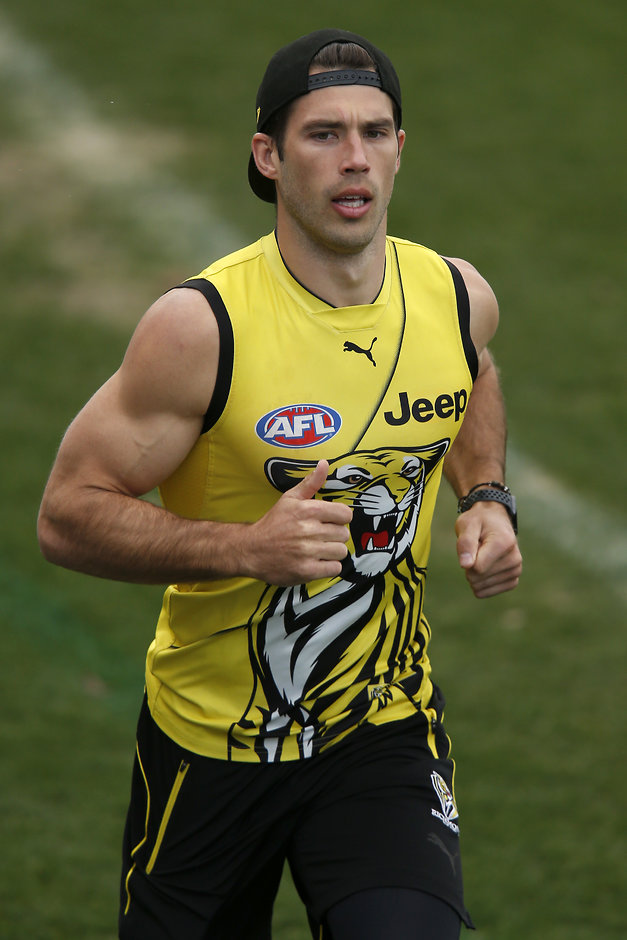 Richmond officials continue to talk conservatively about the chances of their five-time All Australian making the most incredible of returns, but they also know they are dealing with one of the most determined men to ever play the game.
Rance ruptured his ACL in round one this season. A fortnight ago, he hit his own top speed when running in a straight line, and it is believed his knee has more than coped with simple sideways-movement drills.
Rance's teammates are aware that he intends to go all-out in his bid to return for the finals. Some have seen enough of the desire in his eyes to be convinced he won't be able to be stopped.
Alex Rance has been helped from the ground and is receiving treatment in the rooms.#AFLBluesTigers pic.twitter.com/lZPElxc6W2

— AFL (@AFL) March 21, 2019
The Tigers won their sixth straight match on Saturday night, toying with Melbourne after half-time on Saturday night.
Soldo strikes!#AFLDeesTigers pic.twitter.com/NC1rWbd9H8

— AFL (@AFL) August 3, 2019
Their three remaining matches are at the MCG – against Carlton, West Coast and Brisbane.
THE RUN HOME Who'll play off for September glory?
Rance's comeback plans are high stakes for Richmond, as it already has a big decision to make on the return timeframe for captain Trent Cotchin.
Cotchin has missed nine matches this year with hamstring problems. Ideally, he plays before the side's first final, but a round 23 return would be cutting things fine given his problems this year.
A Queensland miracle is on the cards
The fairytale is unfolding in front of us.
The coach who turned 56 in his first season in charge. The team no one wanted to play for. Upon entry to season 2019, ladder positions (working backwards) of 15th, 18th, 17th, 17th, 15th, 12th, 13th, 15th, 13th.
On Sunday night after a round 20 match against Western Bulldogs, Brisbane was equal top of the ladder.
Lachie Neale!

His stellar season continues ⭐️#AFLLionsDogs pic.twitter.com/AZWQ2l9UXL

— AFL (@AFL) August 4, 2019
Now that things are getting real, the only potential flaw of this team is a fear of the big-time unknown, for within the team, there is no obvious deficiency.
NINE THINGS WE LEARNED Dons' stop-gap spearhead doesn't work
Star forwards, a budding All Australian back (Harris Andrews), a brilliant midfield.
Even more importantly after seven consecutive wins, a belief that anything is possible.

The AFL's most watchable player does it again
Liam Ryan will never take a more impactful mark than the extraordinary overhead one in the final two minutes of last year's Grand Final.
Because of the Dom Sheed goal that came moments after it, that one has become as famous as any mark ever taken in the game's history.
A thrilling Grand Final finish!

No doubt, the @AAMI last two minutes will go down in history.#AFLGF pic.twitter.com/LI7oUqlXVq

— AFL (@AFL) September 29, 2018
Ryan took another mark on Sunday, though, which, over time, deserves to be talked about in the manner in which the Nick Riewoldt and Jonathan Brown marks are lauded.
There's only one Nick Riewoldt pic.twitter.com/EZ3EB7Zt8Y

— AFL (@AFL) July 31, 2017
In the second quarter of the Eagles' win against Carlton on Sunday, Ryan ran with the flight of the ball and launched at it despite a wall of big men coming the other way.
On pure aesthetics with nearly everything he does on a football ground, Ryan is the AFL's No.1. Daylight is second.
Extreme courage from Liam Ryan! #AFLBluesEagles pic.twitter.com/iLrEY0J3BV

— AFL (@AFL) August 4, 2019
Finally, a bit of breathing space
In no particular order, Ross Lyon, Don Pyke and Ken Hinkley all entered round 20 under the most intense personal scrutiny.
All three coaches are contracted for 2020. None is actually assured of being in charge.
FROM THE TWOS Flag hero hurt, forgotten Cat returns
But wins on Saturday, respectively, for Fremantle against Geelong, Adelaide (St Kilda) and Port Adelaide (Essendon), pressed pause on negative possibilities.
Ross Lyon celebrates with Bradley Hill after the Dockers' win over the Cats. Picture: AFL Photos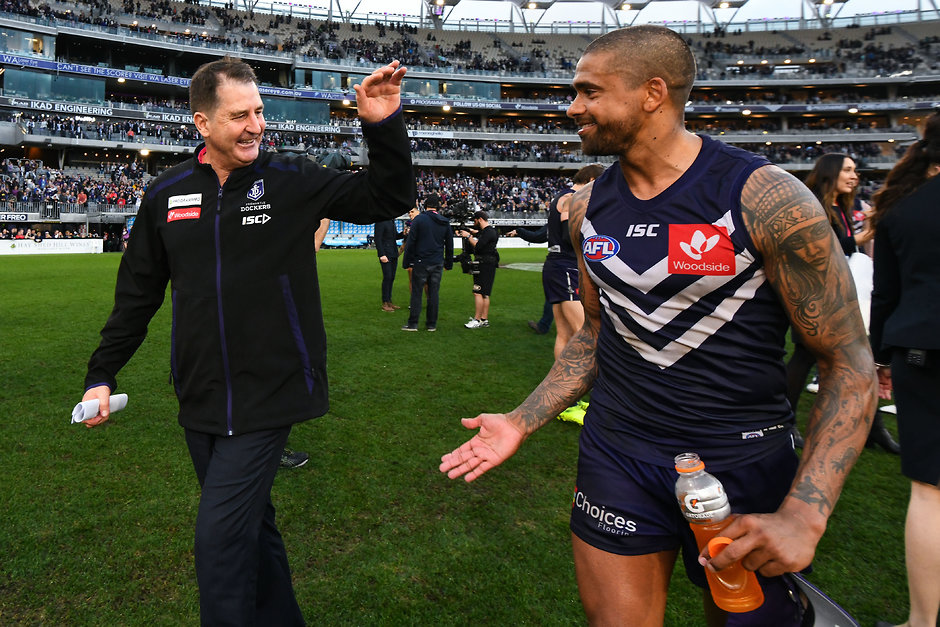 Lyon, Pyke and Hinkley are vying for the same finals berth. All have had excuses for indifferent form, and all haven't deviated from their true selves.
After a six-week patch of not being talked about negatively, Essendon's John Worsfold will find himself back in that bracket, following his loss to Hinkley.
Dylan Clarke's lost his bearings! #AFLDonsPower pic.twitter.com/8jpYfOU5Ye

— AFL (@AFL) August 3, 2019
With games against Western Bulldogs, Fremantle (in Perth) and Collingwood, Worsfold still has a lot of work to do to hold onto a finals berth.
John Worsfold contemplates the heavy loss to Port Adelaide. Picture: AFL Photos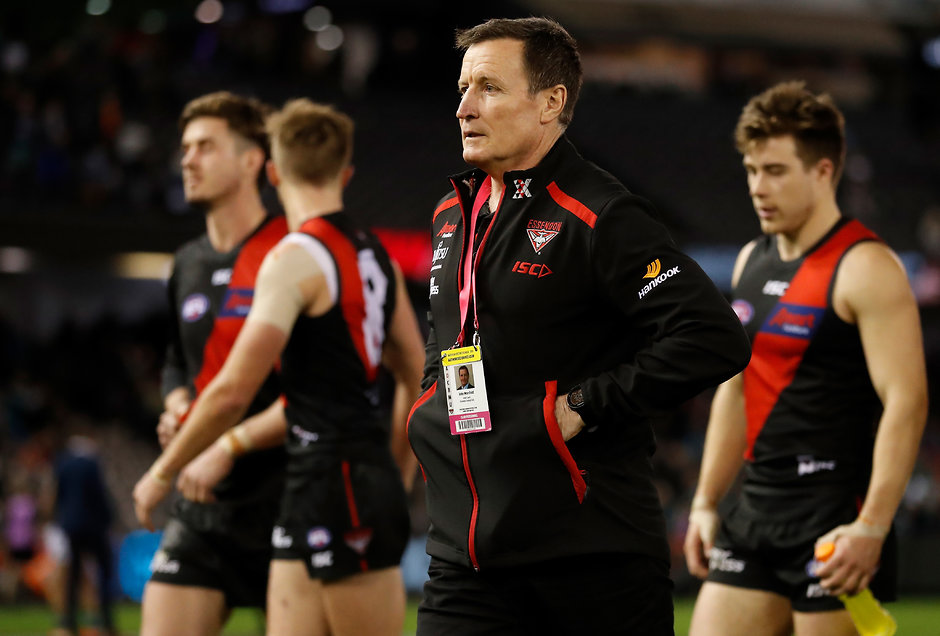 Glass half-full or half-empty in Geelong?
The wiggle room is gone.
Geelong's loss-win-loss-win-loss-win-loss sequence since the bye has left it in a massive fight for home-preliminary final status.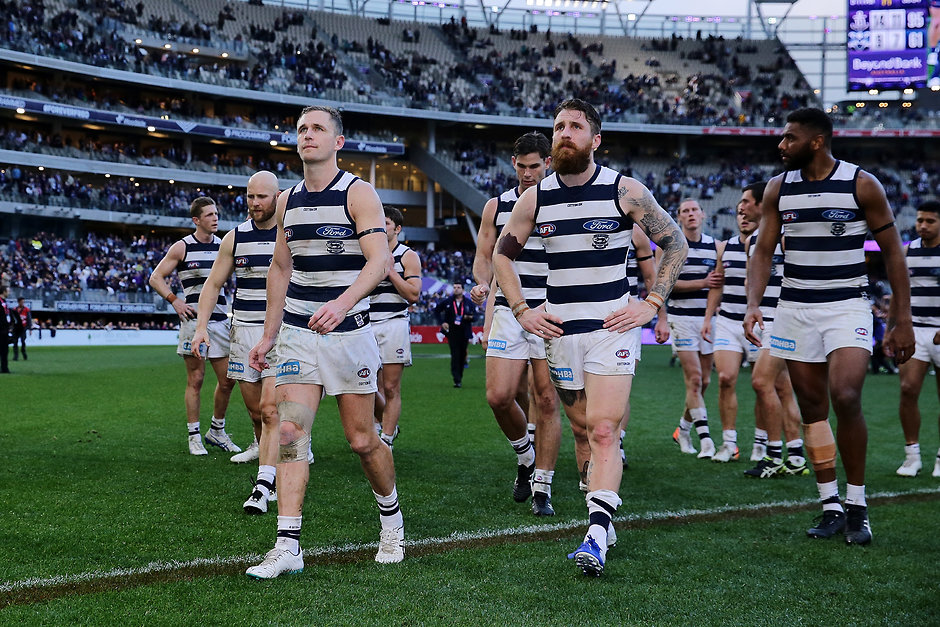 After a blistering 11-1 start to the season, the Cats are now equal on 56 premiership points with West Coast and Brisbane, their percentage the only buffer after a very ordinary performance against Fremantle in Perth on Saturday night.
FANTASY FORM WATCH The newest Pig does it again
If someone in March said to coach Chris Scott that he'd be atop the ladder, by percentage only, after round 20, he would have taken it in a heartbeat.
But if someone said the same thing to him late on the Friday night of June 7, after Geelong smashed Richmond by 67 points to go 11-1, he would have probably reverted to his playing days and shaped up for a brawl.
Twitter: @barrettdamian
Find In the Game on Apple Podcasts, Google Podcasts or Spotify