THERE is Dan Hannebery pre-2016 Grand Final.
And there is Dan Hannebery post-2016 Grand Final.
Same man before and after, yet barely recognisable as a football talent.
As a power runner, prodigious statistic gatherer and constant linebreaker, Hannebery had become a blueprint midfielder.
We weren't to know it at the time, but he lost that status one minute into the final quarter of that year's Grand Final, when Western Bulldog Easton Wood slid into his knee.
Easton Wood and Dan Hannebery collide in the 2016 Grand Final. Picture: AFL Photos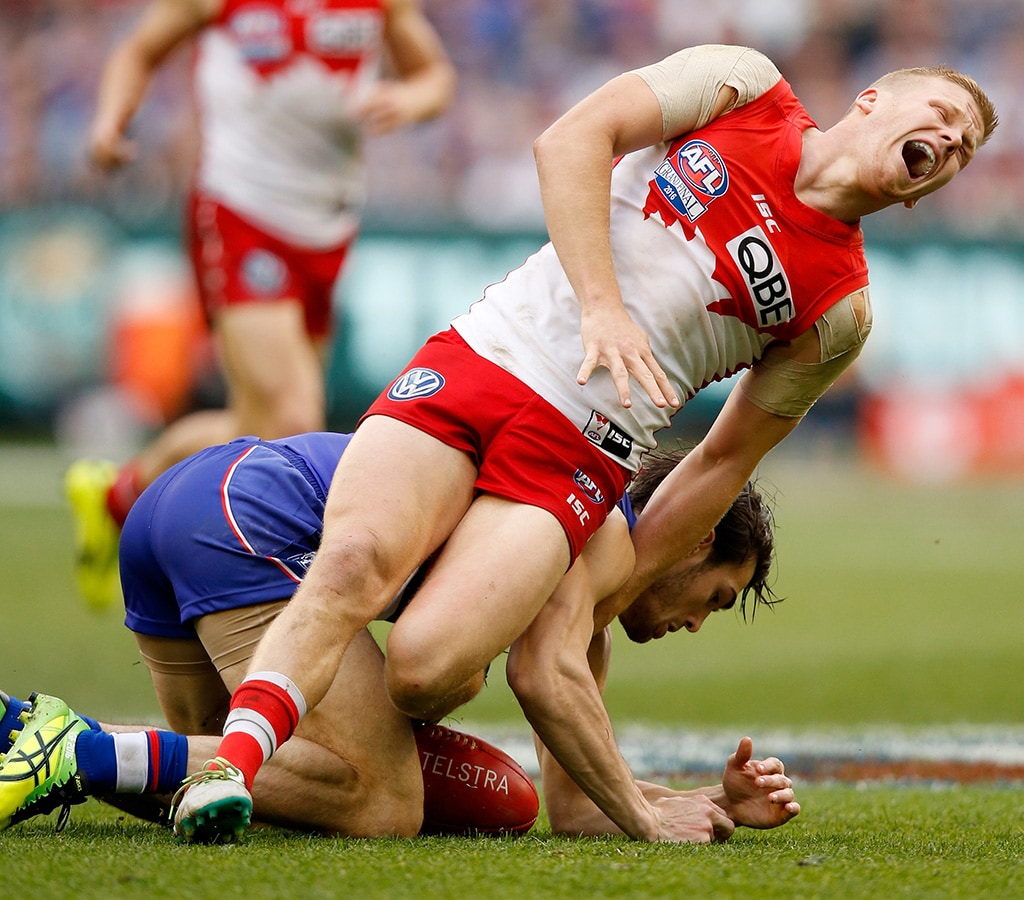 Hannebery is about to enter his 11th season, and the money ($800,000-plus times five years) and hope (the Saints' desperation for a big-name recruit) attached to his new contract with St Kilda places him right in the middle of the fullest beam of AFL pressure.
Tom Lynch, Dylan Shiel, Jesse Hogan, Dayne Beams, Steven May, Lachie Neale, Chad Wingard, Jared Polec, and even 2017 transferee Jake Lever are positioned around him in that beam.
The pressure on Hannebery goes down the line, too, to Simon Lethlean, the still-new Saints football operations boss who desperately sought a marquee signing in last year's trade period, and coach Alan Richardson, who needs a winning season if he is to be given a contract for 2020.
DAN DOWN: Watch the moment when Hannebery's legs are taken out in the 2016 Grand Final
Lethlean aggressively drove the pursuit of Hannebery, so convinced was he of the merits of adding the energetic, outgoing, great-fun-to-be-around, soon-to-turn 28-year-old to the many introverted, unproven and unconfident players on the Saints list.
Yet, despite every Melbourne club, and particularly North Melbourne, showing serious interest in Hannebery from the moment he first came out of contract in 2010, no club outside of St Kilda made a serious pitch last year.
The Roos clearly had moved on, not even subtly enquiring this time round.
As such, the Hannebery transaction for the Saints was heavy in dollar requirements but not draft picks – No.28 heading their way from the Swans along with the player, in exchange for No.39 and a future second-round draft pick.
One of the many concerns for Hannebery and the Saints (as they set about their partnership) is that, simply, the Swans no longer wanted him, just two years after the crushing exit of Tom Mitchell.
This, despite him reaching modern-day all-time great Swan status with three Virgin Australia AFL All Australian blazers (2013, 2015 and 2016), three top-six placings in the Brownlow Medal in the same three seasons, being adjudged the AFL Coaches Association's Player of the Year in 2015, a premiership medal in 2012, the 2010 NAB AFL Rising Star and a contract which ran all the way through to the end of 2021.
Forget the spin about respectfully acknowledging Hannebery's desire to return to the family and friends pull of Melbourne, required players at good clubs with three seasons to run on deals aren't traded out.
Hannebery's social life has always intrigued football people. He has long loved a good time and, like many contemporaries, he has a reputation for pushing the often fluid boundaries in the social-life space.
He has enjoyed reacquainting himself with Melbourne and his old friends since leaving Sydney late last year.
Two setbacks – one before Christmas and another one a fortnight ago – came when he suffered hamstring soreness, a continuation of soft tissue problems since the 2016 Grand Final and ultimately creating even more pressure for him at his new club, where he won't have multi-pronged teammate protection in the midfield.
At St Kilda, it will be he and Jack Steven who will be targeted in opposition teams' midfield plans, with daylight to the next locked-in match-day focus.
Hannebery and Steven share a laugh during a pre-season training session. Picture: Michael Willson, AFL Photos


Even with the banged-up footy body that he had in the 2017 and 2018 seasons, Hannebery never stopped trying nor running hard, but his numbers crashed, all the way back to season-one (2009) levels.
He regularly looked sore, was unable to break free of opponents, and found himself kicking and handballing under extreme pressure.
Until that late stage of the 2016 Grand Final when Wood – who against AFL rules was awarded a free kick for the contact and who later, in a display of his renowned class, apologised to Hannebery for the action and damage it caused – made contact, Hannebery's career had not been questioned.
But there have been queries everywhere in the two years since.
In recruiting the post-2016 Grand Final Hannebery and being unable to attract any other big names after a horrendous 2018 season, and in paying their man the pre-2016 GF financial package, St Kilda has heaped upon Hannebery an extraordinary pressure.
A pressure so great that not even the pre-2016 Grand Final Hannebery could be guaranteed to conquer.
Twitter: @barrettdamian