IF GREATER Western Sydney star Toby Greene successfully appeals his suspension on Thursday night, his Collingwood nemesis Brayden Maynard will dust off his little black book for some bedtime reading.
Maynard actually has five personal notebooks – one for each of his seasons at AFL level – which contain detailed handwritten notes on each of his opponents.
The hard-edged Magpie defender compiles up to two pages of intelligence on his quarry – typically small to medium forwards – beginning with his pre-game thoughts on their modus operandi after studying footage and talking to his coaches, before following it up post-game with observations on what worked and what didn't.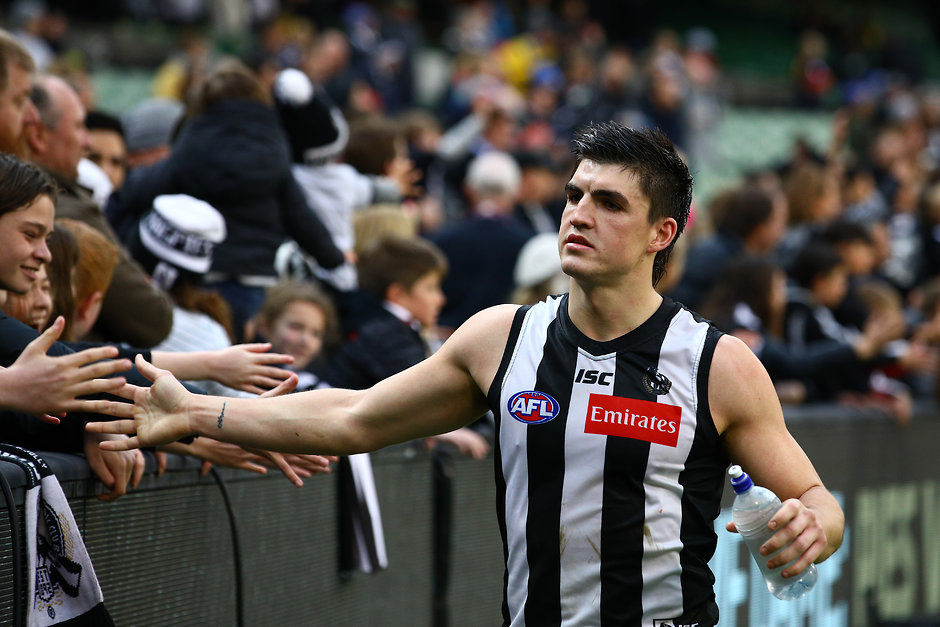 Maynard is more known as an instinctive doer than a considered thinker, but his footy journals have become particularly rich reference material over the past 12 months, a period in which he has collected some prized scalps, including Greene, West Coast key forward Jack Darling, Adelaide playmaker Tom Lynch and Geelong genius Gary Ablett.
"Everyone's different. Some players don't write anything down – they prefer to just memorise what they need to do – but I have to write things down in a notebook so I can go back and re-read it a couple of times before I play; and I can also go back and read it if I need to when we play that team again," Maynard, who will turn 23 on Friday, told AFL.com.au ahead of the Pies' home preliminary final against the Giants.
The last time Maynard tangled with Greene at the MCG culminated in the best performance of his 96-game career. In the Pies' 10-point semi-final win last year, Maynard obliterated Greene, not conceding any of their one-on-one contests, keeping him scoreless and with just nine possessions – the brilliant Giant's worst full-game tally – while having 16 touches himself.
If Greene's one-game ban is overturned, he might well prove a tougher proposition this time given he's fitter after spending the majority of his time in the midfield this season. However, Maynard is expected to mark him when he pushes forward.
FINALS PREDICTOR Who will win the 2019 premiership?
"I don't know what's going to happen with the match-ups this week but he's in some serious form," Maynard said.
"Last year I did my research on him and played to my strengths and got on top, and if I get the job on him this year I'll get to work and go through the same process. I'll see what he's changed in his game and tweak my game if I have to."
And if things get willing, or if the controversial Greene continues to tread a fine line, Maynard – a self-confessed sufferer of white-line fever – certainly won't take a backward step. The feisty half-back flanker with the thumping left foot also hopes to again wield his significant size advantage, with his 189cm and 90kg frame towering over Greene's 182cm and 82kg.
Maynard is in superb stopping form, blanketing Darling, Lynch and Ablett in the space of his past eight outings.
His Herculean effort on the bigger Darling (191cm and 95kg), which eventuated after Pies defender Darcy Moore suffered a hamstring injury in the first quarter, proved instrumental in a crucial one-point win over the Eagles in Perth in round 17. It even surprised Maynard.
"Jack Darling is a very big boy – a lot bigger than blokes I usually play on, but when I was told, 'You've gotta take Darling', I just automatically focussed on my job. But after the game I thought, 'How the hell did I play on Jack Darling? How the hell did I just do that?'
"It's because I'm so in the moment with what I have to do for the team. I really can't tell you what goes on in my mind once I cross the white line because I'm such a competitive person."

Find AFL Exchange on Apple Podcasts, Google Podcasts and Spotify.
Which goes some way to explaining why some of Maynard's teammates and coaches regard him as "mad". But it's a madness that's wholeheartedly embraced at the Holden Centre.
Maynard's comprehensive all-round game on Lynch at Adelaide Oval in round 22 was a demolition job. He conceded just nine possessions – a career-worst full-game return for Lynch – and a goal, while gathering career-high tallies of possessions (30) and kicks (22) and kicking a goal to play a key role in an 11-goal rout.
NO DEAL Collingwood cuts running defender after drug ban
Being assigned modern-day great Ablett in the qualifying final was "surreal" but not daunting. Ablett had only 17 touches and was scoreless as Maynard's Magpies won by 10 points.
"Gary Ablett's one of the greatest players to play the game, but no matter who I play on I go in with the same mentality, I treat them exactly the same and prepare the same way," Maynard said.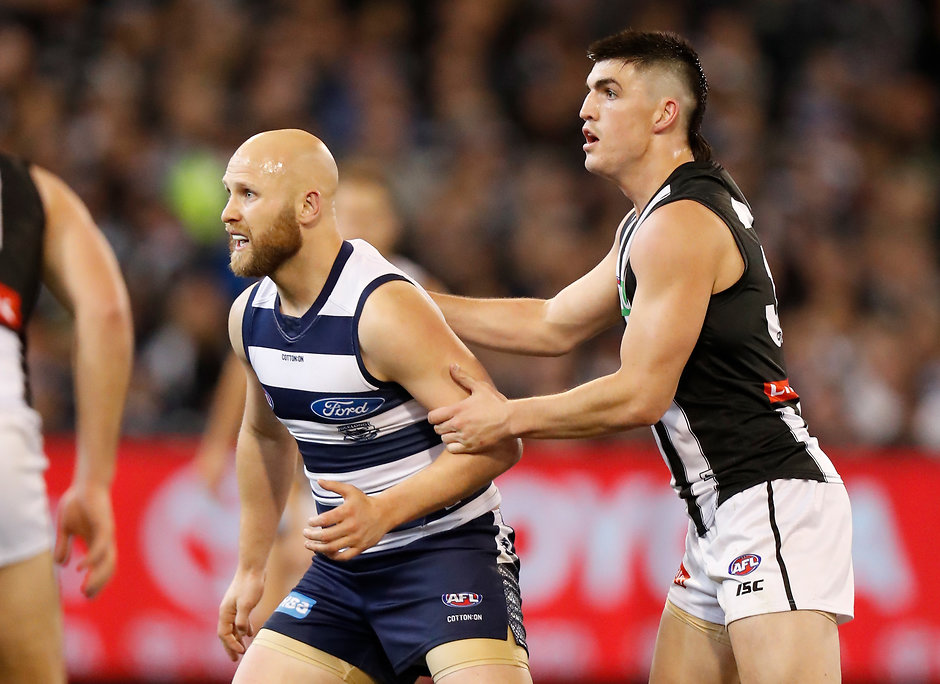 "I just got to work during the week, researching him. You don't know what Gary Ablett's going to throw at you because he's got so many tricks and whatnot. I loved playing on him – I had to almost pinch myself. It's not something many people get to do, so I'll cherish it for the rest of my life.
"I love the challenge of playing on the best small forwards. I put in the work so I don't go in under-prepared and I'm not shocked by anything they throw at me. Then the white-line fever kicks in and I do whatever I can to stop them."
His lockdown abilities have become even more important to the Pies following fellow defender Levi Greenwood's long-term knee injury, which Maynard lamented as "quite upsetting".
Maynard's ball nearly stood still on the line! #AFLCrowsPies pic.twitter.com/jNRYzPg3FS

— AFL (@AFL) August 17, 2019
Though he takes on the opposition's guns, among close teammates Maynard jokingly refers to himself as 'The Weapon', which he insists is "just a piss-take". He's more commonly known as 'Bruzzy' or 'Bruz', which was coined for no great reason before he was drafted.
Maynard is "proud" to have taken ownership of his career after allowing his social life to become too prevalent in his early days at Collingwood. A member of the Pies' emerging leaders group, he's keen to explore his leadership potential.
AFL TRADE HUB All the latest news
"In my first couple of years here I sat back and let the older blokes look after things because I was trying to build respect with my teammates, but now I feel like I've played enough games that I can be a strong leader on the field," he said.
"It comes in with that white-line fever. I'm aggressive and I'm very direct – sometimes too direct – but that's just me. I feel I adapt really well to my teammates and they adapt to me, and I'm looking forward to seeing what the future holds for my leadership."