ALAN Richardson has resigned as St Kilda's coach.
Richardson arrived at the decision after speaking with his own management on the weekend, revealing he came to the conclusion that his time at Moorabbin was coming to an end after the club's heavy defeat to North Melbourne a fortnight ago.
An emotional Matt Finnis watches on as Alan Richardson speaks. Picture: Getty Images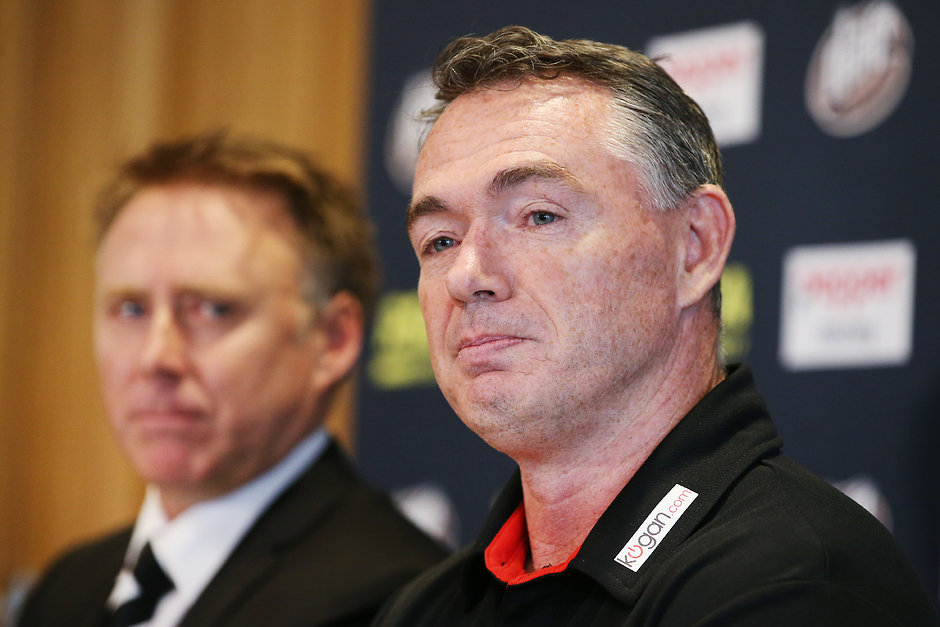 "The conversations with (CEO) Matt Finnis have been really honest," Richardson said.
"It started from the start of the year, on the back of the year before, that the team was going to need to show significant improvement.
"I caught up with Matt after the Kangaroos game down in Tasmania. It was then that there was some real frankness about the unlikelihood of going ahead.
We're razor sharp in our focus of doing everything we can to win our second premiership here - Matt Finnis
"No decision had been made, but certainly Matt, I presume, felt it was the right time to really be quite transparent, in terms of what that might look like. I personally then felt like it was a real challenge to be the coach that I needed to be.
St Kilda footy boss Simon Lethlean listens intently as Alan Richardson speaks. Picture: Getty Images

"There is still a lot of footy left in the year and there are conversations with players that we're not allowed to talk about from other footy clubs where you're turning up and you're pitching. You want them to join your footy club and there's uncertainty around the senior coach … that doesn't really work.
"Once you get an understanding of where it all sits, the footy club needs to start a process in terms of looking for a coach.
"Really, it's as simple as, 'I've had my crack at it, it hasn't worked, and it's time for someone else to have a go'."
Find In the Game on Apple Podcasts, Google Podcasts or Spotify
Richardson leaves the Saints six matches shy of six seasons in charge. He had entered season 2019 under immense pressure after a four-win return in 2018.
He secured six victories this year, but injuries have severely hindered his cause, with his 43-2-82 record over his time at the club ultimately catching up with him.
"I think the coaching group, of which I'm the head of, has done a good job (this year)," Richardson said when analysing season 2019 in isolation.
"But there is some reality to the fact that the whole thing has got to work, the business of the footy club has got to work. The belief from key stakeholders has got to be that we're going the right way.
"Given the sum of work, and the fact that we haven't won enough games or been consistent enough, it's time for someone else to step in."
Alan Richardson's St Kilda coaching career
| | | | | |
| --- | --- | --- | --- | --- |
| Year | Wins | Losses | Draws | Finish |
| 2014 | 4 | 18 | | 18th |
| 2015 | 6 | 15 | 1 | 14th |
| 2016 | 12 | 10 | | 9th |
| 2017 | 11 | 11 | | 11th |
| 2018 | 4 | 17 | 1 | 16th |
| 2019 | 6 | 10 | | 15th* |
| Total | 43 | 81 | 2 | 34.92 per cent |
St Kilda assistant coach Brett Ratten will take the reins for the final six matches of the season, with the club not yet revealing whether it will target an experienced replacement.
Instead, the club's CEO reiterated that it will look for the best person for the role, rather than have an ideal target in mind as it begins its search for a new senior coach.
Brett Ratten will be St Kilda's caretaker coach for the next six games of 2019. Picture: Getty Images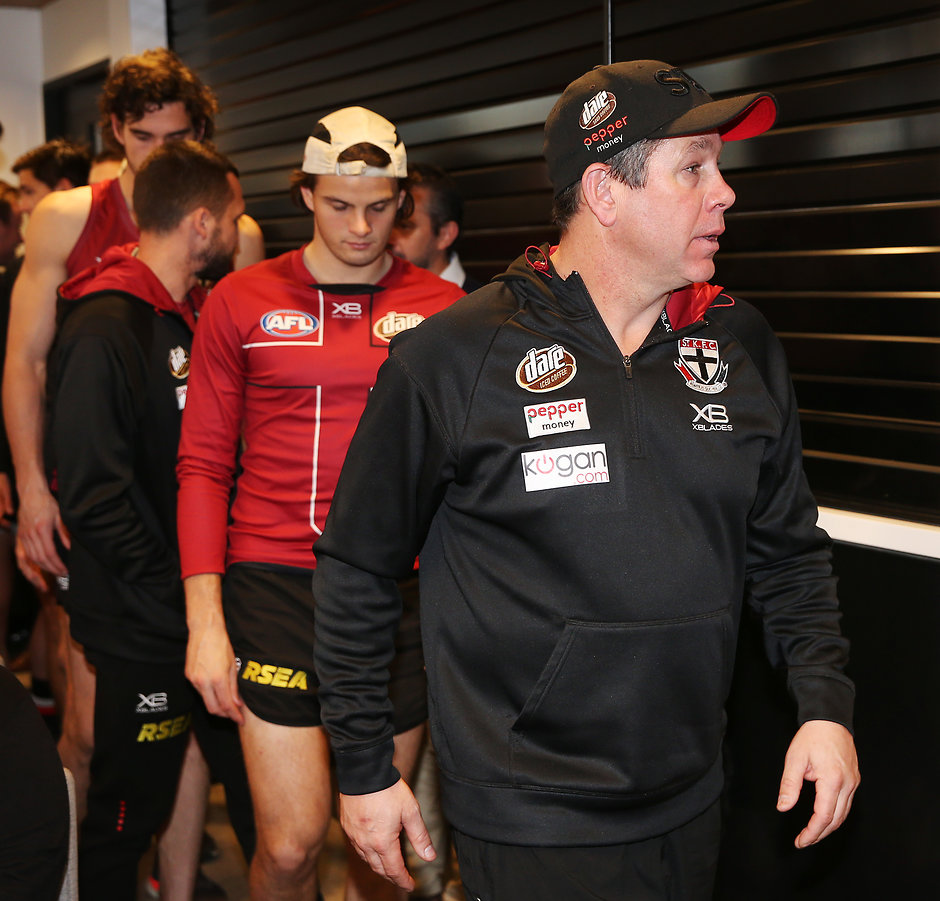 "(The coaching sub-committee) will be charged with the responsibility of aggressively pursuing the right person to coach our footy club and take that step forward," Finnis said.
"We're not putting any limits on that, in terms of what that background might be or what the strengths are of that particular person.
"We're razor sharp in our focus of doing everything we can to win our second premiership here. That's going to take a lot of work, but this appointment is a pivotal one in that process.
"It will be a rigorous process and we won't leave any stone unturned. We'll aggressively be in the market to get the right coach for our club."
Alan Richardson addresses the media pack. Picture: Getty Images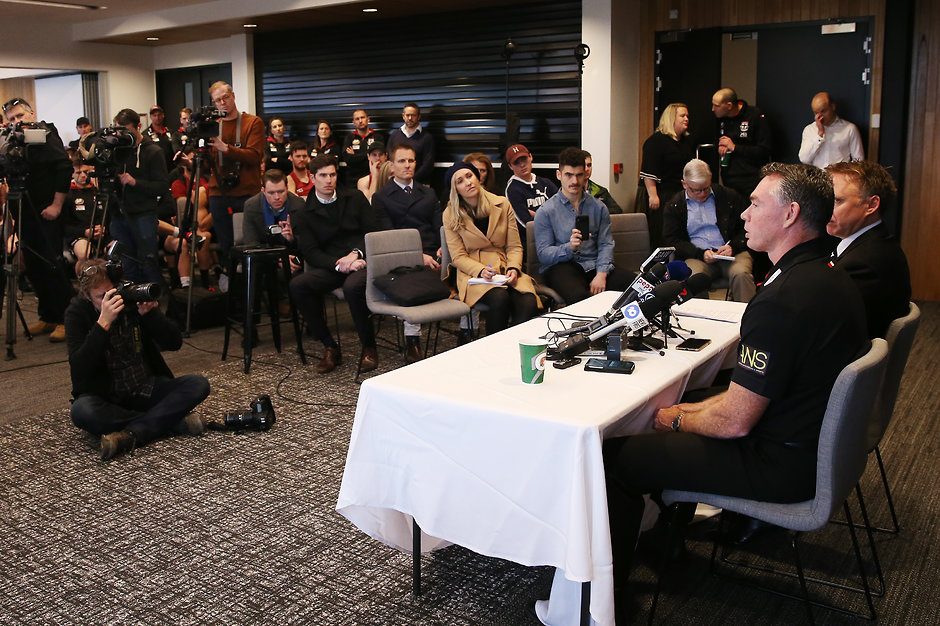 St Kilda president Andrew Bassat, who is currently overseas, had earlier paid tribute to Richardson's time at the club in a statement released on Tuesday.
"Alan's selflessness and focus on what is right for the playing group and club has always been immense, but it's perhaps been best demonstrated in the past two days through his decision to step aside and allow the club the time and space to find the next coach of the St Kilda Football Club," he said.
"There is no escaping the significant setbacks we have faced this year in regards to player availability, and these, as you would expect, have been taken into account in our decision.
St Kilda assistant Aaron Hamill was a keen observer. Picture: Getty Images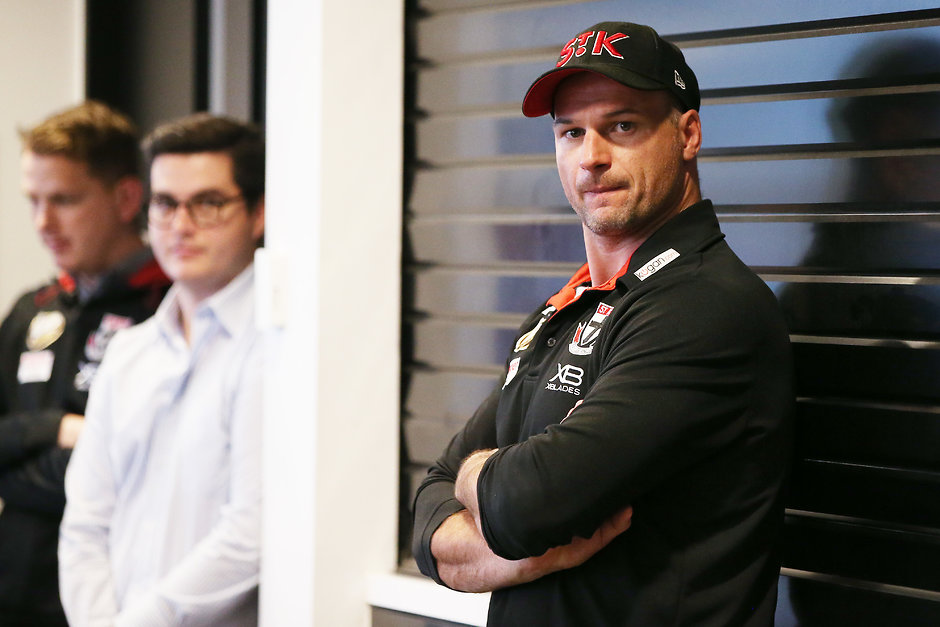 "Ultimately, after six years under Alan's leadership, the team performance and the position in which we find ourselves isn't where it needs to be.
"This responsibility doesn't just rest with the senior coach, and indeed we feel that the performance of Alan and the rest of the coaching group in adverse circumstances this year is to be commended.
"However, after significant consideration, we believe the time is right to introduce a new voice to oversee the next stage in our development and drive us forward."