JAMES Rowbottom nervously racks his brain to think of his most embarrassing nickname.
The draft hopeful is the nephew of commentary great Brian Taylor, and the prospect of his uncle calling one of his games has just crossed Rowbottom's mind for the first time.
He knows Taylor would have something up his sleeve, should the situation eventuate.
Whether it's a nickname, or a story from his childhood, Rowbottom is convinced 'BT' would come armed with a yarn bound to leave him red in the face. Then it hits him.
PODCAST Who's pushing into the draft's top 10?
"Each Christmas, we do a WWE wrestling thing at our farm," Rowbottom tells AFL.com.au.
"One year I went as a schoolboy, so he started calling me 'Schoolboy Jimmy'. That would be disastrous if that came up.
"That thought hasn't really crossed my mind, but it would be funny."
While the prospect of his uncle embarrassing him on a future Friday night might make Rowbottom feel uneasy, he does realise he has a lot to thank Taylor for.
A distinguished 140-game player with both Richmond and Collingwood, Taylor has already proved a good source of advice for Rowbottom throughout his junior career thus far.
"Him and his kids live around the corner, so he's always around to have a chat," he says.
"I've bounced a few things off him before, which has been helpful.
"He's always been about effort more than anything. He obviously came across from WA when he was 15, so he had to work his arse off to get to where he got to."
NAB AFL TRADE HUB Latest news, videos and live blog
After an impressive season at TAC Cup level with the Oakleigh Chargers, Rowbottom is ready to fulfil his lifelong ambition and earn an opportunity on an AFL list this November.
One of the draft crop's big bolters, the hard-working midfielder steadily improved his inside craft throughout the year to average 21.9 disposals and 6.5 tackles per game.
He was rewarded with four appearances for Vic Metro at the national under-18s championships, doing his draft prospects no harm with his reliable performances.
But it's his craft forward of centre that Rowbottom wants to work on at AFL level.
Magpies fan James Rowbottom is the nephew of commentator Brian Taylor. Picture: AFL Photos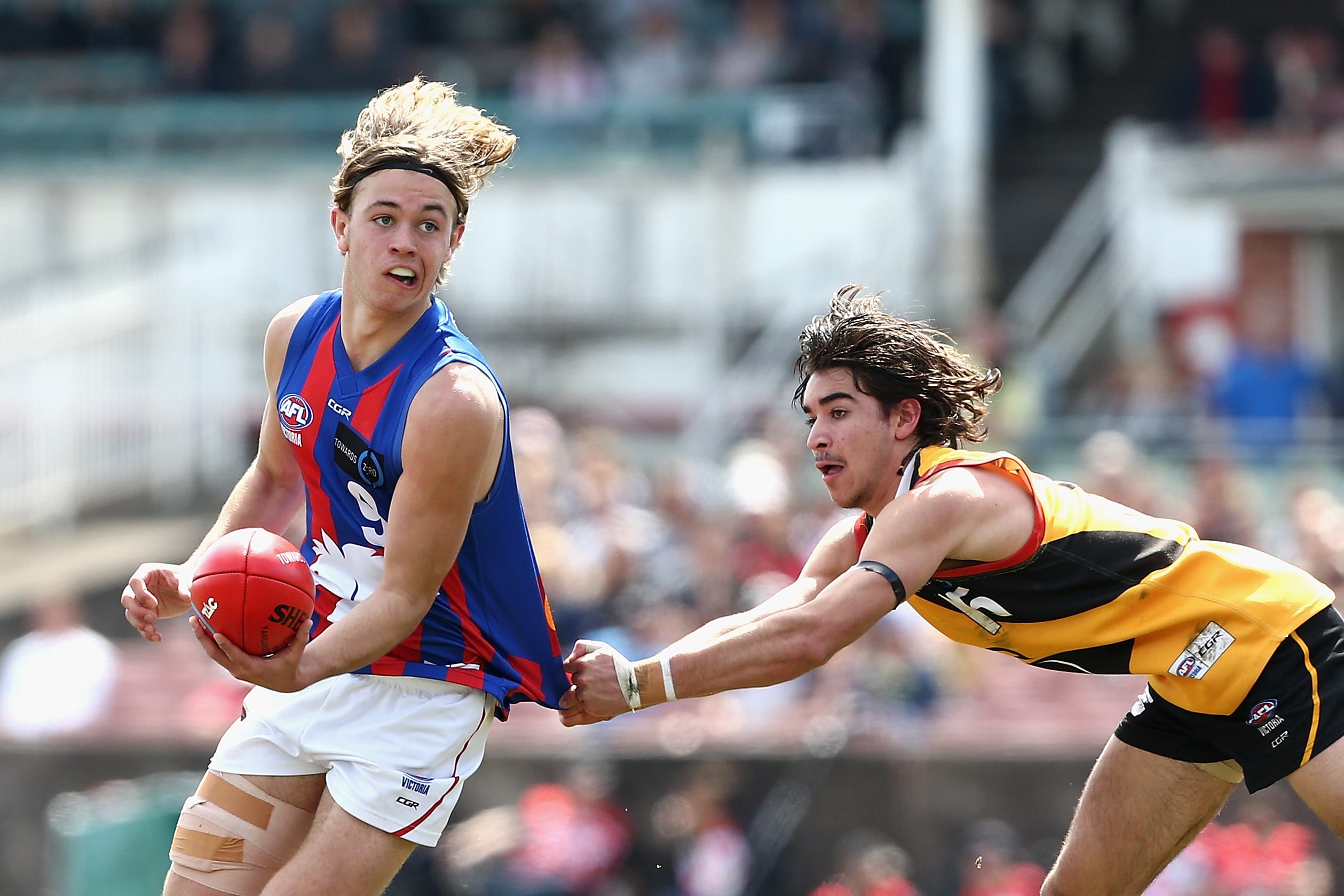 "This year I've been mainly an inside mid," Rowbottom says.
"Playing with Oakleigh and Vic Metro, that was my only role. Then at school I was playing in the midfield and I rotated out of the goalsquare as well, which was a bit of fun.
"I like playing deep. I struggle a bit playing on the flank because I've never really played that craft before. But it's definitely something I want to work on."
A lifelong Collingwood fan – his uncle played 97 games for the club, while his father spent four years with its reserves team – Rowbottom is also just a genuine footy head.
His love of the game is perhaps best reflected by the fact he has watched a replay of this year's heartbreaking Grand Final loss "a couple of times". Purely for the spectacle.
It's therefore understandable how much making it to the AFL would mean to the youngster.
PHANTOM FORM GUIDE Cal Twomey's latest top 25
"You do pinch yourself a bit because it's your childhood dream," Rowbottom says.
"There's only a month to go and you can see that you're almost there.
"But I don't really look to the draft, I just try to take each week as it comes and not have any expectations of anything happening.
"If something does happen, then it's a bonus. If something doesn't, you just move onto next year and keep going."
But that's not to say that making it wouldn't be a dream come true for Rowbottom.
"It would be everything," he says.
"It's everything I've tried for over the last two years. I've put all of the effort in because I could really see it in the future.
"My family has ridden every bump with me. I've only just got my Ps, so they've driven me everywhere every week and supported me. So, it would be pretty special."