"The initial fear of not potentially getting back … that's probably your darkest time.

"I knew what I'd done. My foot was just hanging there and I knew straight away what had happened."
ON JULY 10 last year, Nathan Foley headed to Craigieburn to train with his teammates, unaware he would leave the ground with a career-threatening injury.
Today, almost 11 months later, Foley has put his ruptured Achilles and painstaking rehabilitation behind him to return to the field and play four AFL games.
Click here for Doc Larkins' round 12 injury list
The recovery – and his return – wasn't easy. There was the operation, a cumbersome cast on his right foot and then a moon boot for months.
There was even a period where driving wasn't an option, and taxis had to ferry Foley between his home in Kew and Punt Road.
And this all happened because of an innocuous training drill he'd done hundreds and hundreds of times before.
"I was out at Craigieburn training on a Tuesday, doing a warm-up lap with a few of the boys. They picked up pace a little bit, so I just went to change speed and the Achilles just snapped on me," Foley told
AFL.com.au
.
"I was sort of aware of the whole thing … it felt like you'd been shot from behind, and the sound … I pretty much knew straight away what I'd done, which was gut-wrenching."
Foley had already been out for a month with heel soreness, having last played against St Kilda in round 10 – a game he was subbed out of.
He was looking at returning to the field that week when the Achilles went on him.
"It was really disappointing," he said.
"There wasn't much pain. There was probably a split-second of pain and then I assumed once it had completely snapped, I'd snapped all the nerve-endings so I couldn't really feel anything.
"It was just hanging there and I knew what had happened."
Foley had the operation a week later. He was confined to home initially, but enjoyed a minor win with the 2012 London Olympics as early couch company.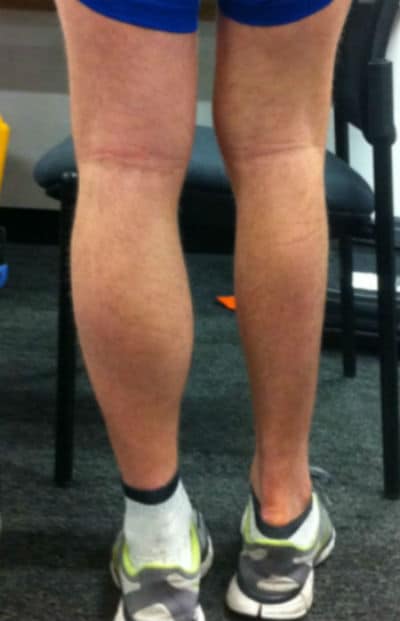 LEFT: Nathan Foley compares calves to show how much muscle mass his right leg lost while he was recovering from injury

He watched plenty of sport and toyed with the idea of going on holiday and getting away from everything after a moon boot replaced his cast – something coach Damien Hardwick encouraged him to think about.
But, in the end, he decided there wasn't much point in dragging a plastic boot around while playing tourist, and there was nothing he could do in a hotel room he wasn't already doing at home.
His recovery was tedious. Hawthorn forward Jarryd Roughead and Richmond assistant coach Wayne Campbell offered advice, which Foley took heart from.
But still, when the cast came off and his right calf had drastically atrophied, there was a long way to go.
"I celebrated the little victories along the way, and I think that's important when you're going through the rehab process, especially a long rehab," Foley said.
"At the same time, it was also really important not to put too much pressure on myself in terms of setting goals and objectives and that sort of stuff.
"I was lucky enough that along the way I didn't have too many hiccups, but it was a bit of a grind for the first few months there."
He started running on the club's AlterG treadmill, purchased courtesy of the Fighting Tiger Fund, late in 2012.
Then in January, it was onto the ground.
His teammates started to get excited as he neared his VFL return in late April; the first of three hit-outs at that level.
Foley's return to the AFL was now in everyone's sights – and as a realistic prospect, not just a distant possibility.
"He was one of our stars before he had the Achilles problem and I'm sure he'll come back and be a very good player for us," Luke McGuane said on April 9, before Foley returned against the Northern Blues on April 21.
"He's a very humble guy, but a really great guy and the way he carries himself around the club … he's had so many horrible injuries.
"Hopefully this is the end of it for him and he can really come back and enjoy the rest of his career."
Foley's return through the eyes of othersWednesday, April 3, 2013
"He's progressing nicely. Our fitness staff have done a great job. They haven't pushed him and he hasn't pushed himself too hard, he's just going along nicely at the moment.
"He got through a bit of training today – the warm up and a few drills now, and he'll keep progressing over the next three or four weeks and we're looking forward to him coming back.
"He'll need a few games in the VFL and then we're looking forward to him hopefully having a big impact for the club in the second half of the season."
– assistant coach Brendon Lade
Tuesday, April 16
"It's outstanding [he's playing VFL this week]. He's another one of those guys you really like to win for and play for so I'm really excited to see how he goes this weekend.
"I'm sure [as] he's such a good player he'll be back sooner rather than later once he's up and running."
– defender Dylan Grimes
Thursday, May 9
"He's trained incredibly hard over a long period of time and we have been what we feel has been cautious.
"We've held him back, mainly because of his importance to the side.
"Last week was his first full game and he played three quarters the week prior, so we're pretty confident that he's ready to go.
"I asked him last week whether he thought he was ready to play, and he said he'd prefer to get one more game in, so we gave him that luxury.
"I know he's ready to go this week."
– coach Damien Hardwick
Saturday, May 11 – after first AFL game back against Port Adelaide in round seven
"It was really good [to see him back]. I think he got an early touch and his work rate is what we've missed, I think, and he's desperate, there's no doubt.
"You can see it in his eyes. He's just desperate to play. He put a lot of hard work into his rehab and it's been a long, long road for him but he's always got a smile on his face and he loves what he does."
– former skipper Chris NewmanJennifer Phelan is a reporter for AFL Media. Follow her on Twitter @AFL_JenPhelan.