THIS TIME last year, Selby Lee-Steere hadn't got around to entering his AFL Fantasy Classic team. He was keeping up-to-date with all of the news of the pre-season, but he didn't register for the game until March.
In 2017 the later start than usual meant he didn't overthink his initial team selection and wasn't reactive to all of the pre-season reports and "group think". He ran his own Fantasy race.
This strategy paid off. By the end of August, the coach of Moreira's Magic was driving around Sydney in a Toyota Hilux after being crowned the AFL Fantasy Classic champion for 2017.
Register for AFL Fantasy before March 5 for a chance to win one of two $500 AFL Travel vouchers or one of two fully catered boxes at the MCG for you and 15 friends.
Selby is a Fantasy tragic. His first taste was playing a version of the game we all loved in the pre-Internet days when the former Western Australian cut out an entry form from the local newspaper and mailed his squad in.
Since then, he has perfected the art of the salary cap game having multiple top 100 finishes to eventually be the best in the country.
The champion joined The Traders on this week's episode of the Official AFL Fantasy Podcast to talk about his epic 2017 and to dish out some advice for the season ahead.
Click here to subscribe on iTunes.
If you think you need to have a perfect season to win the competition, think again.
"I had a shocker in round one."

"I had a late withdrawal (David Swallow), Brett Eddy and a few failed rookies. I was sitting around 20,000th early and it took me until round five or six to get to the top 1000 mark. It wasn't until post-byes where I thought I was half a chance to win this thing".
When it came to the final rounds, Selby had a lead and monitored the other teams at the top to trade players to match his competitors below him so there was less chance for them to catch him.
"Kamikaze Midgets, the bloke who came third in the end, I felt like I knew him personally after looking at all of his moves. I could tell the way he was thinking."
Selby says Fantasy Classic is a trading game and while your initial team is important, the decisions that you make during the season is what has the most impact on how your year pans out.
It isn't just the trades you make, it can be the players you avoid.
One of the non-trades that helped him take out the prize included passing on the in-form Connor Blakely at round 19 when he gained dual-position status. The young Docker suffered a season ending injury in the first quarter, scoring just eight points.
Lucky for Selby, the coach who was coming a close second at the time brought him in and that opened up a gap between the top teams.
Avoiding Tom Rockliff when he returned from his shoulder injury also helped Selby climb the rankings.
Selby employed the popular guns and rookies strategy when he selected his round one team last year.
He changed some of his thinking after being burned in the past by lower-priced rookies who may play round one and then don't play again, therefore not making money. The early draft selections will often have better job security.
"I bit the bullet last year and paid up for the top picks".
Selby with his Toyota Hilux which he claimed as Fantasy's top scorer last year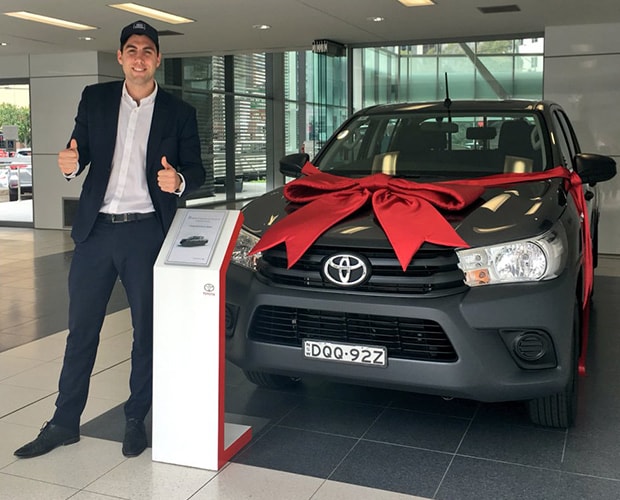 He did this with the No.1 pick from the previous year's draft in Andrew McGrath who went on to average 70 for the season, Giant Tim Taranto and Sun Ben Ainsworth.
This year he says Luke Davies-Uniacke (MID, $264,000) is locked in his side.
"They're (North Melbourne) not going to push for finals it's all about getting games into young kids and he looks big enough that he will be able to handle the bigger bodies. He's a big strong looking kid and I will certainly be starting with him".
He is also keen to take Andrew Brayshaw (MID, $268,000) from the Dockers, the team he supports, if named in round one.
Although he is tempted, Selby isn't a fan of mid-priced options, as generally only a one or two of them will come off. He is keen, however, to pick Jaeger O'Meara (MID, $438,000) - "You'd be foolish not to start with him."
He suggests you can afford to wait on some of the mid-range talent as their price doesn't change a lot after round one.
Last year he liked the look of Clayton Oliver in the pre-season but didn't have it in him to pick the Demon. After a big showing in the opening round, Selby used his first trades on bringing in Oliver and Will Hoskin-Elliott, two of the biggest improvers of the season.
"Even though I paid an extra $20-30,000 for them, I wasn't burned by someone who went the other way," Selby says.
As for a strategy heading into this year, Selby is going to avoid all but one of Gold Coast and Port Adelaide's players due to their early bye in round 10.
That one player is Tom Rockliff (MID, $725,000).
"I think he will play more forward than we have seen in the past. (But) he has shown that he can still score as a forward. He led the goal-kicking in the TAC Cup and he's a good forward. He tackles and loves a stat. Worst case is if he plays forward he will have dual-position status in round six and then he's a must-have".
On being unique with your team, he says you don't have to pick a player with low ownership to have a point of difference.
"I love a POD, or a unique, but you don't have to necessarily get someone at one per cent ownership. It can be something as simple as not selecting someone with 50 per cent ownership and all of a sudden your team is pretty unique compared to the oppositio".
Selby avoided Jarryd Roughead last year, despite the returning Hawk being one of the most selected players heading into round one.
"That paid dividends because everyone was getting his poor scores and I could propel away. To be successful you have to have a different team to those around you."
The final message from the coach of Moreira's Magic is to pick your own team and "don't get sucked into group think".
The pre-season AFL Record is the ultimate guide to a big season ahead and a must-have companion for those playing AFL Fantasy. The Traders present all the best tips on how to play in 2018. Roy, Calvin and Warnie have pick the leading players in each position and rate the top five Fantasy players to watch at each club. On sale now for $9.95 in newsagents and book stores.