MADE POSSIBLE BY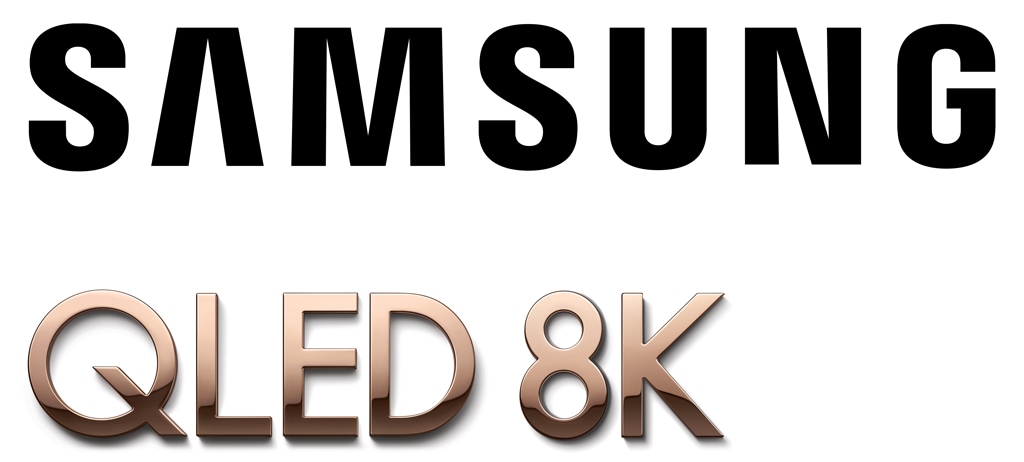 London hosted the first-ever exhibition of Australian Football played on foreign soil as World War I boiled around Europe. Ben Collins tells the story of the match – and its tragic aftermath – as extraordinary vision, remastered and coloured through the AFL's partnership with Samsung QLED 8K, is brought to life on AFL.com.au.
IN LATE July 1916 the Australian war effort was suffering a crisis of confidence as the death toll mounted.
Aussie 'Diggers' had just been slayed in their thousands near the French town of Fromelles – Australia's bloodiest battlefield – which added to the carnage of the disastrous Gallipoli campaign that was already seared into the national psyche.
And now, with Australian Imperial Force (AIF) troops gathering in London as they prepared to join the fighting on the Western Front, an enterprising military leader struck upon a brilliant idea to lift spirits and provide an adrenalin shot of national pride.
Brigadier-General Sir Newton Moore – the 46-year-old former Premier of Western Australia and then commander of the Australian army in the United Kingdom – proposed that soldiers should stage an exhibition game of Australian Football, with all proceeds to be donated to the Red Cross.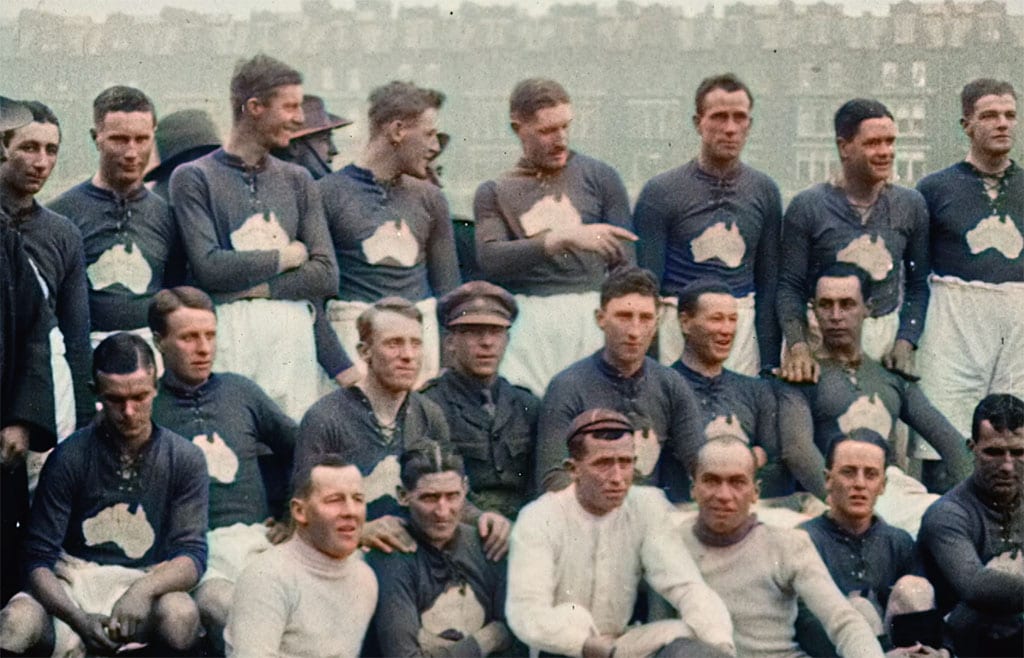 Legendary general John Monash gave the concept the all-clear and it was left in the capable hands of an organising committee that included Lieutenant Frank Beaurepaire, a swimming world-record holder who'd later become a tyre tycoon.
Three months of planning came to fruition on Saturday October 28, 1916, when the Third Division and the Combined Training Units faced off near the Queen's Club, West Kensington.
The 'pioneer exhibition game' – the first organised game of Australian Football played overseas by predominantly elite-level players – proved a momentous occasion that exceeded all expectations.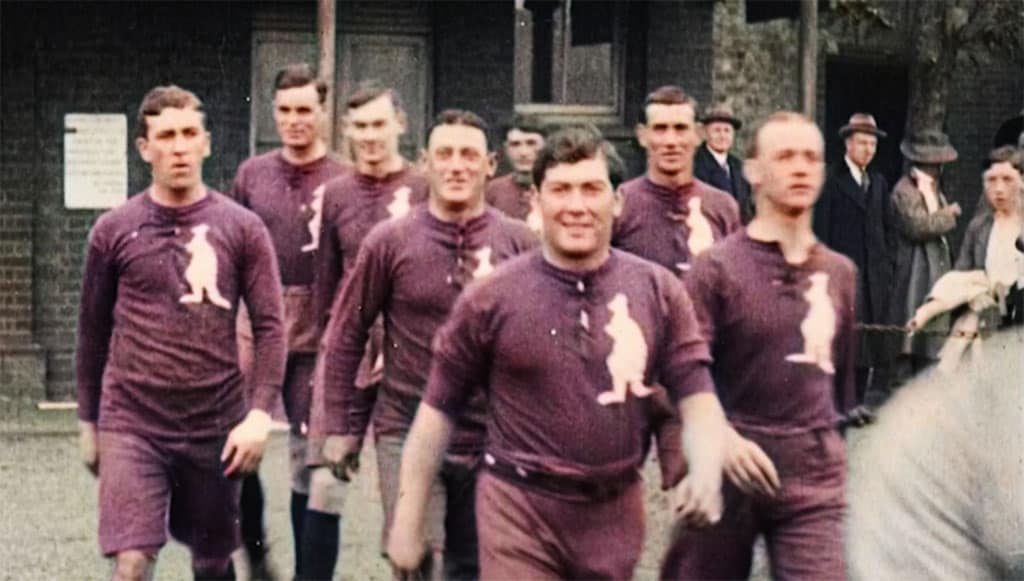 An impressive PR campaign ensured considerable newspaper coverage, which boosted the crowd figure to somewhere between 3000 and 8000 (estimates varied), among them leaders of high society who'd received gilt-edged invitations such as the then Prince of Wales (later King Edward VIII), who took a "keen interest" in proceedings, and his third cousin, the former King of Portugal, Manuel II.
An ancient precursor to modern Anzac Day football, the famous event raised almost £1000 (about $153,000 now) for the British and French branches of the Red Cross.
Morale lifted among the Diggers as soon as word of the proposed game spread around their camp at Larkhill, near Stonehenge.
After some training sessions and a trial match among hopefuls, teams were selected that would "worthily represent any State". Indeed, at least a dozen players had represented their states.
The Third Division was brimming with talent, including South Melbourne star Bruce Sloss, who would captain the team, along with Collingwood captain Dan Minogue, Richmond ruckman Hughie James, St Kilda goalsneak Harry Moyes, Essendon centreman Bill Sewart, University and Melbourne big man Jack Brake (Australia's pole vault champion), former Geelong captain-coach Billy Orchard and Melbourne playmaker Charlie Lilley.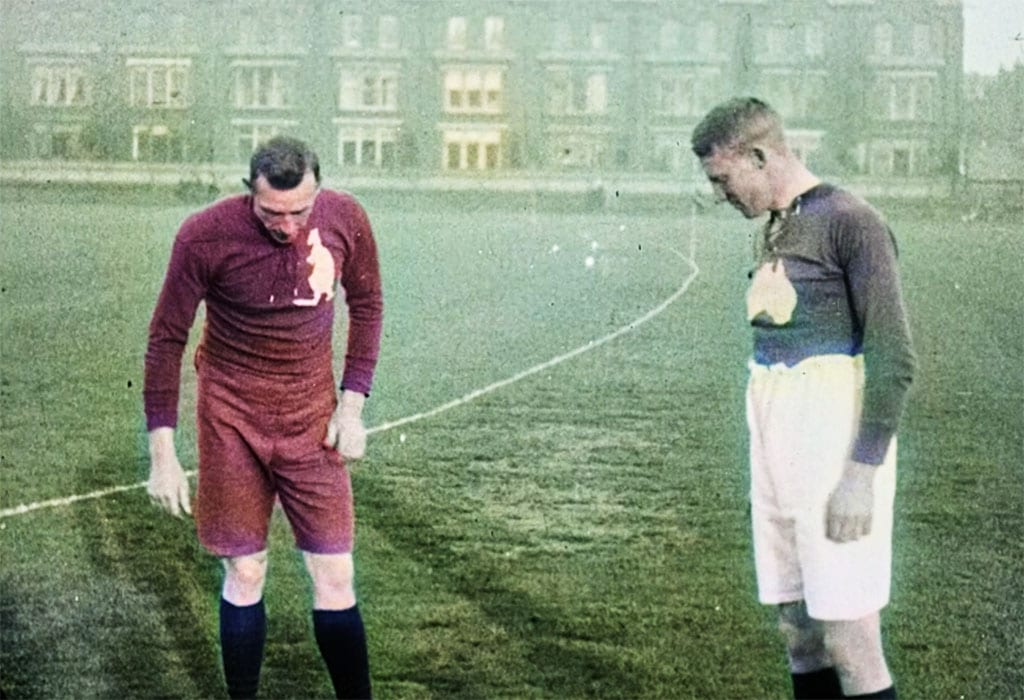 The Training Units also boasted top-liners such as their captain, redheaded Norwood champion and popular chaplain Charlie 'Redwing' Perry, legendary Fitzroy and East Fremantle rover Percy Trotter, Fitzroy gun and Victorian captain Jack Cooper (who was cleared to play after being gassed in France), South Melbourne centreman George Bower and Essendon backman Clyde Donaldson.
That chilly Saturday would be remembered as "one of London's happiest war-time afternoons".
The crowd was largely composed of the "khaki-clad contingent", some of whom had pulled "dodges" to be there, but there was also a "fair number" of curious locals in attendance.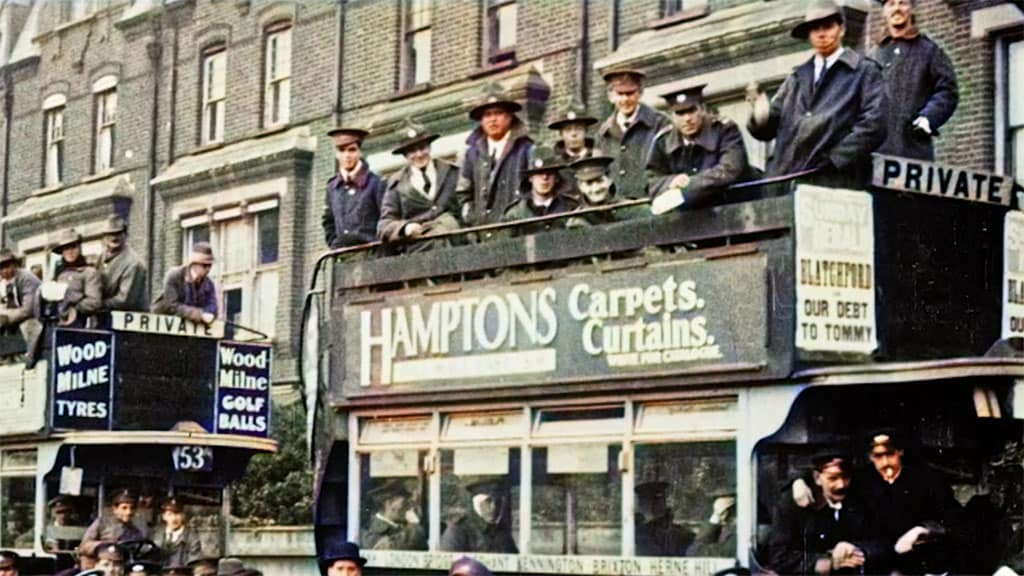 The teams took the field in unique, locally-made guernseys – the Third Division donning a navy jumper with a white map of Australia (minus Tasmania) on the chest, huge white shorts and navy socks, while the Training Units wore a light red guernsey with a large white kangaroo on the left breast, along with black shorts and red socks.
Despite the players' lack of preparation, and The Times' suggestion the affair would "show how Australians have combined 'Soccer' and Rugby", the game proved a great advertisement for the code.
The English press generally offered favourable reviews, hailing the Australian game as "a most exhilarating and exciting pastime" featuring "extraordinarily good" high marking, "wonderfully accurate" long kicking and what leading sportswriter EA Bland described as "kaleidoscopic quickness".
With soldiers on the sidelines delivering a constant stream of "cheery advice" to the players, the only thing missing was scoring accuracy, given the Third Division's won with a scoreline of 6.16 (52) to 4.12 (36).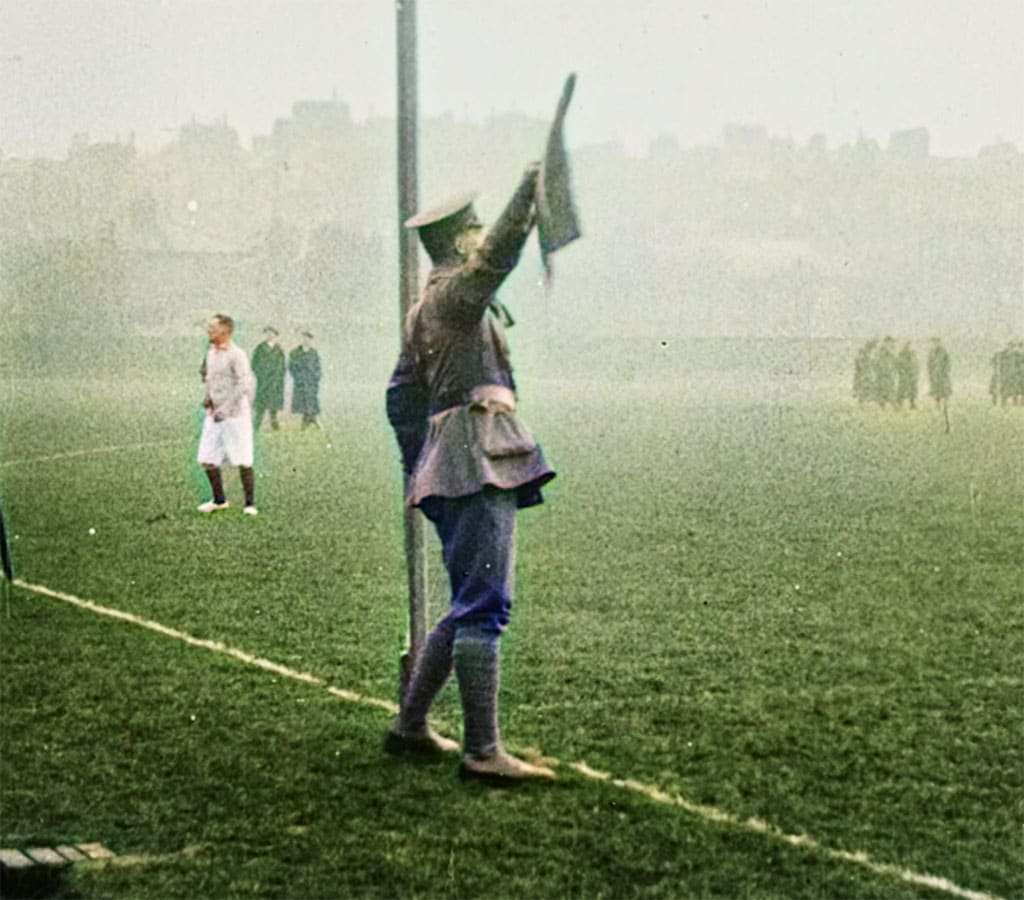 Third Division star Dan Minogue has a grandson of the same name who has seen black-and-white footage of the event many times, and he was naturally excited by Samsung's colourisation and remastering of the film.
"The colour film is brilliant – it really lifts it and provides a different perspective – so I was rapt to see my grandfather in full, living colour so to speak," he said.
"It's like when an old black-and-white movie is colourised – it becomes a different movie because there's a different feel about it. In colour, it's like being there."
Sadly, six players from the match, including champion duo Sloss and Cooper, would be killed the next year.