STAR midfielder Stephen Coniglio is in Melbourne as he eyes a return for Greater Western Sydney's elimination final against the Western Bulldogs in a fortnight, but concedes he's unlikely to be fit in time.
It comes as speculation continues to swirl around his future, Coniglio once again insisting he is yet to make a final call and that he wouldn't be swayed by the opinion of AFL boss Gillon McLachlan.
Stephen Coniglio has been helped from the field after landing awkwardly in this play.#AFLTigersGiants pic.twitter.com/CMCNRTw6Mm

— AFL (@AFL) July 14, 2019
Coniglio had a progress scan on his injured knee on Monday morning, and then visited his surgeon Julian Feller.
The out-of-contract Giant had surgery in mid-July to remove damaged cartilage after he injured his left knee against Richmond in round 17, and was expected to be sidelined for at least eight weeks.
Six weeks on, Coniglio has resumed running, and told reporters there was a chance he could return for week one of the finals.
"I'm feeling really good so hopefully I give myself the best chance," Coniglio said.
"It's one of those tough ones because it's a two or three month injury so I'm just trying to put my best foot forward in terms of rehab and looking after it.
"I don't want to rush it and put any extra pressure or load on the knee. We'll see how it goes over the next week, the best thing is at least we get an extra week [with the pre-finals bye], but I'm definitely more unlikely than likely."
Stephen Coniglio on the bike with injured skipper Callan Ward. Picture: Getty Images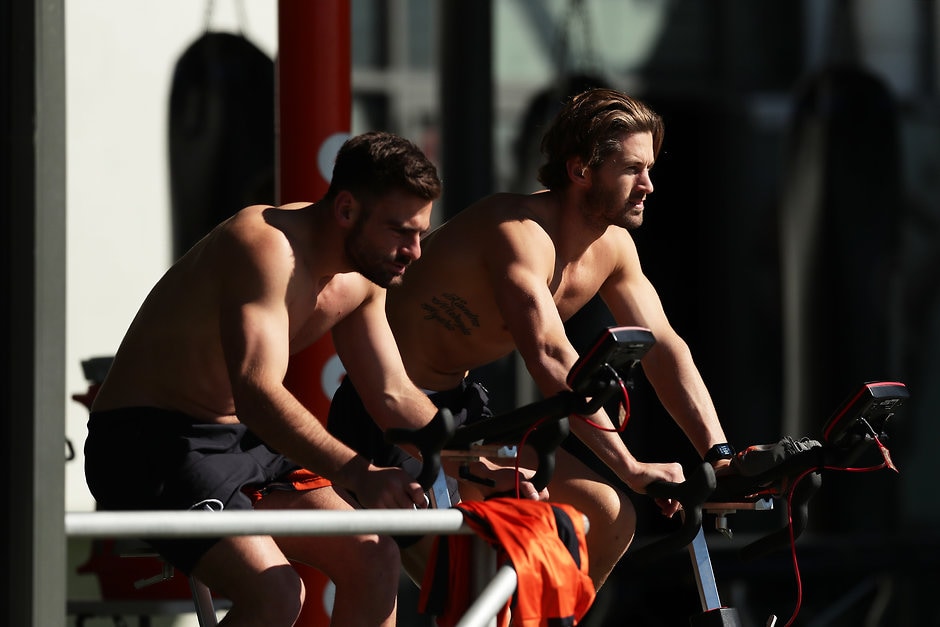 As for his future, the 25-year-old acknowledged he was running out of time to make a decision.
Carlton and Hawthorn have been heavily linked to the midfielder, while the Giants have consistently maintained they are confident he will stay.
NEW ADDITIONS Former free agents among 50 names added to 2019 list
"We're running out of time but I'm feeling good with it all in terms of time wise, and I'm comfortable with how things sit at the moment," Coniglio said.
"I haven't ruled anything out just yet but as I said, I'm getting closer to making a call for sure.
"I've been grateful that I've had options but, in terms of reports, I haven't read too much into that."
While the football public is none the wiser as to where Coniglio will play in 2020, one thing is for sure, the star Giant won't be swayed by AFL chief executive Gillon McLachlan's public declaration that he'd like him to stay at Greater Western Sydney.
I'D LOVE HIM TO STAY Gill wants Cogs at GWS
"It was interesting," Coniglio joked with reporters.
"I've met Gill a few times and everyone has their views as to what I should do. Obviously being the AFL CEO, some people might have had some criticism of him but I think everyone is entitled to their opinion.
"At the end of the day, I have to be happy and comfortable with the call that I make."