LOVEABLE Melbourne giant Max Gawn already had his joke in the chamber, or at least it seemed that way.
Fox Footy's Ben Dixon went straight to the bearded Demon – the AFL's answer to basketballer James Harden – for a post-match interview a fortnight ago, with the club's theme song still echoing across Darwin's TIO Stadium.
Melbourne had just enjoyed a comprehensive victory over Fremantle that would have been even more emphatic had it kicked more than 13 goals from its 37 scoring shots.
"We've got too many people missing shots from straight in front," Gawn told Dixon, with a deadpan look on his face.
Cue Dixon's laughter. Gawn was one of the chief culprits, of course, tugging one of his infamous close-range set shots to the left for one of those 24 behinds.
If you watch the interview back on the AFL website, you'll first have to negotiate one of Gawn's two new Google Home TV advertisements.
This is the one where he's tucking into popcorn on his bed and watching the Gilmore Girls ("Oh, Rory – I love this show").
Only Max Gawn could get away with such an ad. We found out two months ago that one of his pre-match rituals is watching a "chick flick", so we shouldn't be surprised.

His latest achievement is coaxing Nathan Jones into a bet where if the club wins the premiership, the Demons co-captain must get a tattoo of Gawn on his rear end ("preferably the right cheek").
We heard that on Channel Seven's Game Day program last Sunday morning before Gawn backed up on Fox Footy game show Bounce the same night.
He also writes a weekly column for News Corp – he actually writes it – and offers his self-deprecating, often-humorous insight on radio station RSN's breakfast program each Wednesday.
Everyone wants a piece of Gawn, with Swinburne University senior research fellow Adam Karg, a sports marketing guru, predicting the big man's brand was "at the launch point".
Karg rates Gawn as being on the cusp of the 10 most marketable players in the game, arguably behind only dreadlocked Eagle Nic Naitanui among ruckmen.
He is the AFL's emerging superstar and in line to become the first specialist ruckman to claim the Brownlow Medal since Scott Wynd (1992) and the late Jim Stynes (1991) won in back-to-back seasons.
"The only downside to his great public profile is that some people might think he's never serious," the Demons' media boss Ryan Larkin told AFL.com.au.
"They don't get to see how he's such a student of the game and how hard he works.
"But the game should celebrate personalities like Max and (Geelong's Patrick) Dangerfield, because it takes a unique character to be themselves."
#FEARTHEBEARD
It's the Twitter hashtag used the world over by and about bearded sporting stars, but most notably for Harden, the NBA's recently crowned most valuable player.
It was also popularised in Gawn's ascension to All Australian status in 2016.
His is the most famous beard at Melbourne since Joseph Gutnick's stint as club president ended in 2001, and was the chief reason he was recreated in last year's NAB Little Legends ad.
Harden is so closely associated with his facial hair that his nickname is 'The Beard' and he earned $46.6 million last year, according to Forbes.
The Houston Rockets superstar told American sports website The Ringer in February that it would take "$10 million minimum" for him to shave it off – and he'd grow it straight back.
It's pretty easy to spot when Gawn is around. Picture: AFL Photos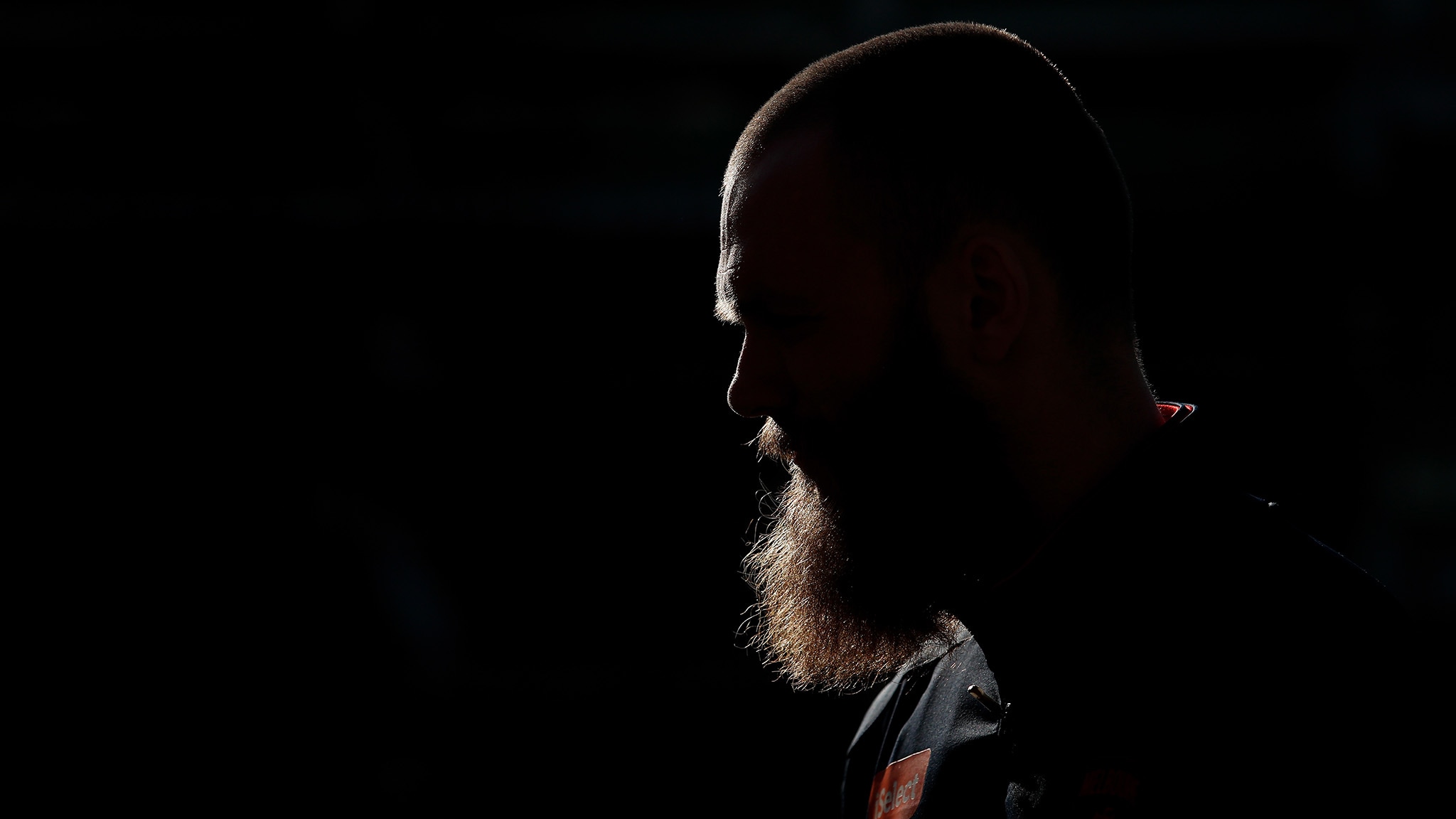 Many believe Harden, beyond the marketability factor, looks better with the beard, something Gawn's former Demons teammate Jack Fitzpatrick says is also the case with his close friend.
"He's six-foot-10, so a really big human, but when he shaves clean, he's got a really baby face," fellow ruckman Fitzpatrick said with a laugh.
"It doesn't really suit someone being six-foot-10 and looking like they're 13 or 14 years old … I'll happily have a cheap shot at him here – he looks a bit like an alien when he hasn't got a beard.
"He could probably groom it a bit better, but it just suits him as a person. He's not afraid to be different, he stands out a little bit and he almost embraces that fact."
Gawn elected to shave his beard in April last year after suffering a serious hamstring injury, but his manager, Anthony McConville, of Mac's Sports, insisted the opportunity couldn't be wasted.
The 208cm ruckman had been growing his facial hair for more than two years at that stage.
"I said, 'Hang on, you can't just go and have a shave – you've got to put this to good use'," McConville said.
"We engaged (athlete-driven social media platform) 20FOUR and did a promotion around the shave.
"There were a number of different looks that Max obtained by stages of the shave, so it's not holier than thou, but selfishly, I'd like Max to keep the beard."
Gawn's facial hair was placed in a zip-lock bag, signed by him and put up for auction on eBay.
All proceeds went to The Reach Foundation, the Melbourne Football Club's official charity, which Stynes co-founded. Gawn is an ambassador for the organisation.
Most popular reply is what I turn the bush beard into.... pic.twitter.com/bMPeihZCTW

— Max Gawn (@gawndog37) April 17, 2017
His beard-related surge in popularity fits comfortably into Karg's three key pillars for sports marketability – performance, appearance and lifestyle.
Karg argues Gawn's beard, or any other athlete's distinctive trait, can appeal to fans just as deeply as a playing number.
"Brands are about making connections, and the first bit of a brand is they've got to be recognised and those distinctive attributes help that," Karg said.
"We want to resonate and that's where personality traits and other aspects of performance come into things.
"We identify and recognise (the athlete), then we feel more positive about it, because of the lifestyle and performance traits alongside that."
Even things like fantasy sport, where he is a hugely popular pick, have worked in Gawn's favour in helping earn him a wider profile beyond his own fanbase.
'HE'S AS NATURAL AS YOU CAN GET'
Max Gawn didn't make a great early impression at Melbourne.
He revealed in his News Corp column that he opened the door to Demons development coach Kelly O'Donnell and ex-player Rohan Bail on draft night "holding a vodka cruiser in one hand and a ciggy in the other".
Soon after, Gawn was caught smoking in the car before a training session.
It was a negative at the time, but, in essence, this was the first insight into Gawn's non-artificial persona.
"It's pretty well-documented he had teething problems when he first started, but he's always been a hard worker," Fitzpatrick said.
"Now he understands being a footballer more and is as professional a player as I've seen. He's quirky and easygoing, but he does care a lot and is very proud of his performance."

Gawn's value to Melbourne comes in many shapes and forms – and, on the flipside, Karg believes the Demons' emergence as a team will propel his profile further.
He regularly completes extra, non-compulsory ruck sessions with developing duo Mitch King and Lochie Filipovic in an example of his leadership inside the club.
The Demons also make Gawn one of their go-to players to face the media after wins and losses, even though he's somewhat self-conscious about speaking publicly too often.
"Using him after losses is almost better, because you see more of the serious side to him," Larkin said.
"We used him the next morning after we lost to Hawthorn, because he can articulate where we're at and not get caught up in the hysteria.
"He's one of the game's most recognisable faces, but behind all of that, he is humble, down to earth, loves his club and teammates, and just wants success at Melbourne."
That serious side comes out in team meetings and other football-related activities, but also – at least sometimes – in his want to grow his business empire.
Gawn is preparing to launch a jaffle-inspired food truck in the next two months and is similarly advanced in developing a new wine bar, with a site already secured and being fitted out.
He also previously went into business with another former Demon, Matt Jones, to create Max Jones & Co, where they used recycled timber to create then sell a range of tables.
But there's nothing recycled about Gawn's unique personality, which pairs well with a rare ability to adapt and appeal to all types of people.
"His image is organic and the fact he's able to play really good football is a bonus," McConville said.
"Whether you're a West Coast Eagles supporter or a Carlton supporter, you tend to enjoy hearing about what Max has to say.
"It's not, 'I can't stand that bloke, because he plays for Melbourne' sort of attitude, it's 'Max Gawn's a likeable bloke and he'd be a great bloke to have a beer with'."
Or, more likely, a Mercury Cider, a product of Carlton United Breweries, just another of the brands clamouring for this in-demand Demon.