HAVE the Cats' rivals figured them out?
Geelong remains a win and more than 20 per cent clear of second-placed Brisbane, but the reason for worry in the past five games – all since the bye – goes beyond the three losses.
Chris Scott's men are a five-goal worse side in that time, they've slumped in a series of statistics they dominated earlier in the season, and opponents are forcing them to play differently.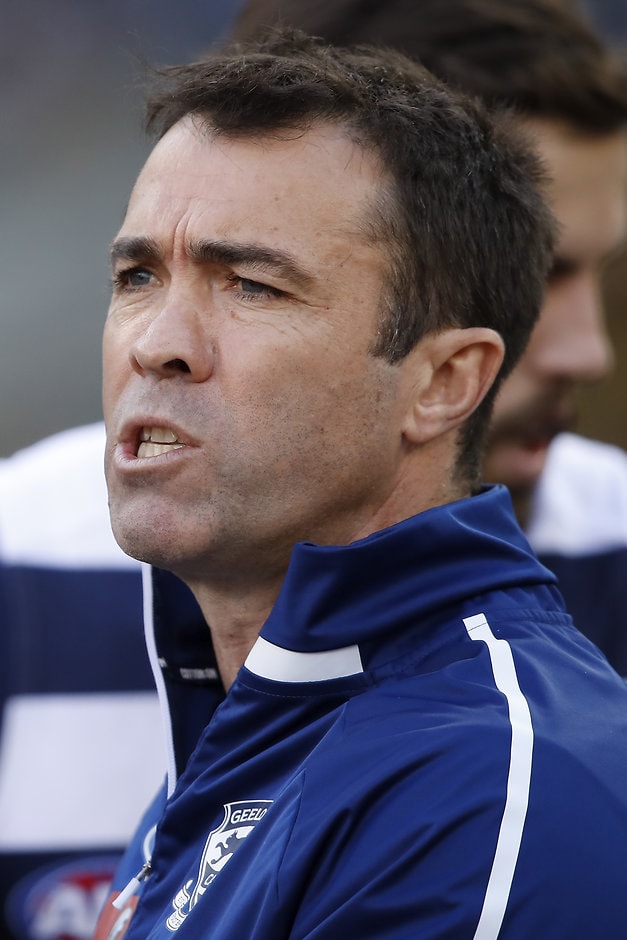 The Cats' form slide comes almost a year after Scott declared 2017 premier and then-top side Richmond was "a good team but they are beatable".
"When you talk about the juggernauts of the competition of years gone by, you were just never in the game against them. I don't see that (with the Tigers)," Scott told reporters at the time.
Geelong can suddenly be accused of the same thing, with the revamped forward line credited as a key reason for the early success now seriously struggling.
The individual numbers are one thing, but it's when you delve further that the size of the problem begins to surface.
Efficiency was Geelong's point of difference in the dominant start to season 2019 but is now an area of concern, and its prime scoring avenue from intercepts has dried up.
The Cats scored an AFL-best 103.4 points per 50 minutes in the forward half through the opening 13 rounds, but that figure has plummeted since to 69.4, which ranks only 14th.
GEELONG'S FALL FROM GRACE
| | | |
| --- | --- | --- |
| STATISTIC | ROUNDS 1-13 | ROUNDS 14-18 |
| Points for | 99.3 (ranked 1st) | 70.4 (ranked 14th) |
| Points against | 65.7 (1st) | 69.8 (6th) |
| Disposals* | +21.3 (6th) | +0.8 (9th) |
| Contested possession* | +15.7 (1st) | -4.8 (14th) |
| Time in possession* | +5:12 (1st) | +0:06 (equal-10th) |
| Time in forward half* | -4:01 (14th) | +0:13 (8th) |
| Points from forward half stoppages | 19.6 (2nd) | 11 (14th) |
| Points from forward half possession gains | 35.2 (1st) | 27 (8th) |
| Points from intercepts* | +25.1 (1st) | +3.4 (9th) |
| Points from stoppages* | +7.3 (5th) | -1.2 (11th) |
| Score per inside 50 % | 48% (2nd) | 42.6% (8th) |
| Goal per inside 50 % | 28.9% (1st) | 19.5% (14th) |
| Pressure factor | 1.869 (1st) | 1.869 (9th) |
* Differential
Just as intriguing is how opponents, such as Hawthorn on Sunday, are forcing the Cats to use the corridor more often to progress the Sherrin – and heightening the risk of their turnovers hurting them.
They had major issues getting the ball out of the Hawks' forward half in the opening two quarters, with Scott critical post-match of how "safe" his side played in that period.
Geelong is using the corridor almost double as often in the past five rounds compared to the first 13 (19.5 per cent of the time compared to 10.6), while its boundary usage has dropped from 62.7 per cent to 48.
The resultant scoreboard damage is obvious.
COSTLY GIVEAWAYS
| | | |
| --- | --- | --- |
| ROUNDS | % SCORES FROM TURNOVERS | AVE POINTS CONCEDED |
| 1-13 | 15.4% | 31 |
| 14-18 | 17.3% | 41 |
The Cats are also having trouble stopping the opposition from defensive midfield, with a suspicion clubs are outnumbering them at half-back in a bid to win the ball back.
The scoring trends against Scott's men in this regard present further evidence of how rival coaches' homework on them is paying dividends.
GEELONG'S OPPOSITION BALL MOVEMENT
| | | |
| --- | --- | --- |
| STATISTIC | ROUNDS 1-13 | ROUNDS 14-18 |
| D50 to In50 % | 18.1% (ranked 6th) | 15.2% (ranked 5th) |
| Def mid to In50 % | 34% (1st) | 37.4% (10th) |
| % of score from def mid | 13.1% (1st) | 29.5% (18th) |
| Contested possession differential in attacking mid | +26 (3rd) | -14 (10th) |
It's little wonder on this evidence why Scott spoke at the weekend about "incremental improvements" rather than looking for a quick fix.
"We're going to focus on getting our game as good as it can possibly be as soon as possible, considering all the other things we layer in there," the 2011 premiership coach said.
"It's not as simple as saying, 'We'll just prioritise everything this week'.
"I think all of our footy club has shown good capacity this year to make incremental improvements, and that's our focus going into September."

Underrated Bomber shining brightly
Jeremy Cameron. Stephen Coniglio. Dustin Martin. Mitch Brown?
Essendon's second-chance forward is emerging as a critical piece in the Bombers' makeshift attack without spearhead Joe Daniher.
Just don't go thinking Brown's 23 disposals and four goals against Adelaide on Friday night were a fluke. In fact, the former Cat's putting himself in elite company.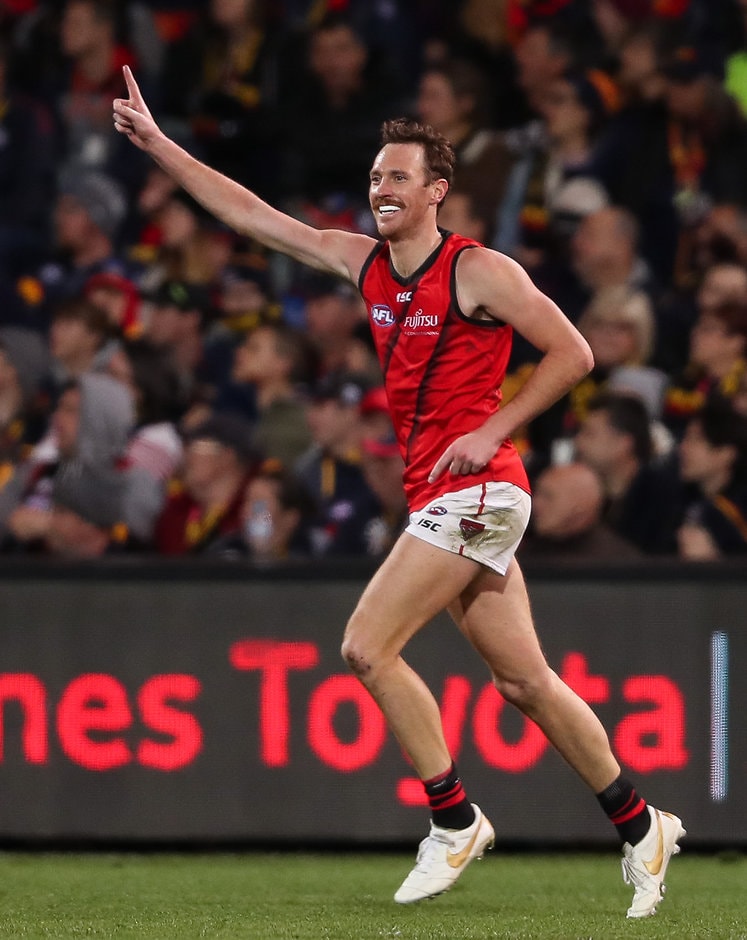 Rare Dockers feat barely enough to win
Fremantle had to conjure a late comeback over Sydney on Saturday night to return to the winner's circle by a single point.
But if you didn't know the scores and just saw the Dockers' advantages in contested possessions (160-125) and clearances (46-22), you'd predict an easy victory for Ross Lyon's team.
They were just the second side this year to win contested possessions by at least 30 and clearances by 20 or more, behind Adelaide against Richmond in round 13.
It hasn't been common in recent seasons, either, with four occurrences in 2018, two in 2017, just one in 2016 and three in 2015.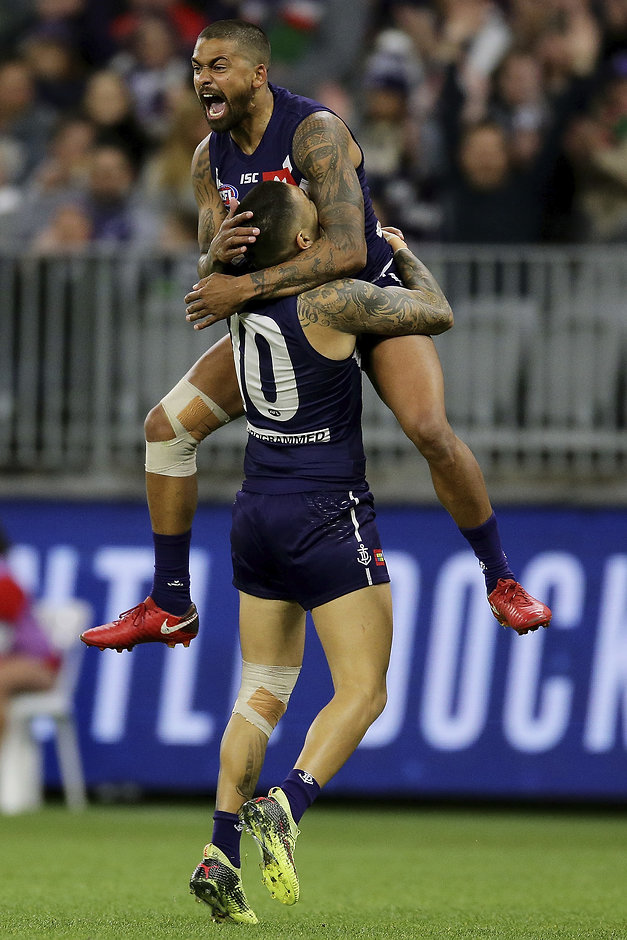 The name of the game is football
Brisbane is one of the season's great stories, climbing from 15th last year to second spot through 18 rounds.
There's been an interesting development in the Lions' five-game winning streak, where their kick-to-handball ratio is at an incredible 2.06.
They are averaging 236.2 kicks (most in the AFL) against only 114.8 handballs (least) in triumphs over St Kilda, Melbourne, Greater Western Sydney, Port Adelaide and North Melbourne.
It is the first time any team has averaged more than double as many kicks as handballs in a five-week sample since Collingwood in 2007, when it managed a ratio of 2.42 between round 21 and the preliminary final.
Brisbane was second in this category in the first 13 rounds, courtesy of a kick-to-handball ratio of 1.63.