INDECISION.
In a Grand Final, it is the one thing you can't have, and GWS had it right up until 40 minutes before the ball was bounced against Richmond on Saturday.
GRAND FINAL MATCH REPORT Orange crushed as Tigers roar again
The fitness tests, and the meetings with medicos after those tests, for GWS captain Phil Davis was an unnecessary distraction for an already nervous team.
Davis is put through his paces less than two hours before the first bounce. Picture: AFL Photos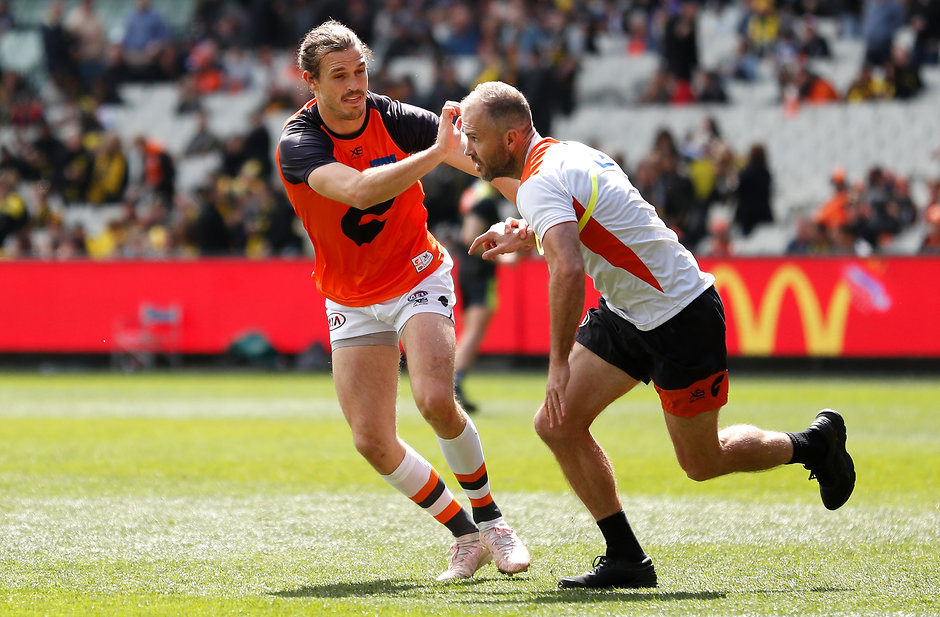 Contrast that with Richmond's decisions last Wednesday and Thursday, where Jack Graham was told he wasn't playing because of his shoulder injury, and Marlion Pickett was told he would be making his AFL debut in the Grand Final.
Admittedly, it is easier to make a tough and final call on a third year player than it is to make one on an-eight-year captain, but the Davis circus on Grand Final morning and early afternoon was a distraction which could have been avoided.
Davis should have been tested away from his teammates and before 1pm on Grand Final day. If he was to have passed, it could have been sold as a positive, that he was right to go – even when he clearly wasn't – and if he was to have been withdrawn, that too could have been sold as a positive and selfless act.
Toby Greene feels the agony of the Giants' crushing Grand Final defeat. Picture: AFL Photos

Instead, with the way it unfolded, it created unnecessary apprehension and nervousness for all associated with the Giants.
This is not to say Davis put himself ahead of his team. He would never do that. And to underline his courage, his body got through the four quarters. But he might have been operating on just 50 per cent capacity, could jump off only one leg, and had no turning circle.
And when the game was split open by the Tigers, it was his opponent Jack Riewoldt who booted three of his match tally of five goals in the second quarter.
How many flags have you got, Jack? Picture: AFL Photos

Lachie Keeffe, the player on standby for Davis, may have had even more goals personally kicked on him.
The indecision off the field continued on it, too. In playing a safe, conservative brand of football in the first quarter, the Giants got through to quarter time without damage, but also without a feasible plan to kick a score that would go near allowing them to win the game.
After quarter time, Richmond was able to make mistakes and yet not be forced into panic. The game was on their terms the moment Daniel Rioli kicked his long goal just before the first break.
Daniel Rioli signals '44', the guernsey number of suspended cousin Willie. Picture: AFL Photos

There was no indecision in any aspect of Richmond's week.
When it was known Graham, who damaged his shoulder in the preliminary final, would be unavailable for the Grand Final, the Tigers ordered the withdrawal of Jack Ross and Kamdyn McIntosh from last Sunday's VFL Grand Final.
Pickett played his sixth VFL match that day, and was best afield. On Thursday, Richmond coach Damien Hardwick made possibly the boldest selection decision in the entire history of the game when he included Pickett in the Grand Final team.
Marlion Pickett began the season in the WAFL and ended with a premiership win on debut. Picture: AFL Photos

Ross and McIntosh would have played a role against GWS, but Hardwick took the decisive view that 27-year-old Pickett could actually help win the game by playing big and quality minutes in the midfield, which allowed Dustin Martin to go and win a second Norm Smith Medal in kicking four goals.
If Pickett returned zero disposals on Saturday, it would have still been one of the all-time great AFL stories, given his back story of being jailed for 18 months as a late teenager and arriving at Punt Rd from Western Australia via the mid-season draft.
That he officially polled in Norm Smith Medal voting was Hollywood-scriptwriting fantasy.

Pickett's blind turn out of the centre in the second quarter, when Richmond won the game, was Darren Jarman in the last quarter of the 1997 Grand Final-esque.
Marlion Pickett whips out the blind turn! #AFLGF pic.twitter.com/IJqRxGXbvI

— AFL (@AFL) September 28, 2019
There was no indecision in Pickett's movements on Grand Final day. Why would there be? Since accepting the second chance life gave him, he has long taken the view that there is nothing to lose.
His entry to the AFL system was made possible by Shaun Grigg retiring, which created the vacancy on the Tigers' list.
In the third quarter, Pickett passed to Martin, who prepared for a set shot at goal. Pickett ran forward, found a few metres of space in a crowded zone.
Martin saw him, quickly weighed up his options. The high percentage play was to have a shot at goal. The low percentage one was to attempt to drill a pass to Pickett.
With full conviction, he chose the latter. Pickett marked and goalled, creating the perfect personal storyline amid the 2019 Grand Final win of this remarkable – and decisive across all facets of operations – football club.