MARTIN Gleeson could tell the news wasn't good. It was March last year, and the Essendon defender had flown for a mark in the Bombers' JLT Community Series clash with Geelong in Colac.
It was like hundreds of marking contests Gleeson had been a part of before. Except this time Gleeson landed awkwardly on his ankle and needed to be taken off the field.
The talus bone in the middle of Gleeson's left ankle split in half ... Gleeson asked where the fracture was, not knowing that the two bones in front of him were meant to be one
"I was a bit bewildered at what I'd actually done," Gleeson told AFL.com.au this week.
His dad was at the game and drove him back to Melbourne that afternoon, and Gleeson went immediately for scans.
Martin Gleeson had to be helped from the field after landing awkwardly on his left leg. #JLTSeries pic.twitter.com/CNrsqahLxs

— AFL (@AFL) March 11, 2018
"I walked out of getting an x-ray and the guy couldn't tell me what I'd done, but he said 'Are you sore?' And I said 'I'm not too bad at this stage' and he raised his eyebrows," Gleeson said.
"Then I had a call from 'Reidy' (Essendon club doctor Bruce Reid) straight away and he said 'You've got to go straight to the Epworth Hospital, you've got a pretty nasty ankle injury, you'll be getting surgery at 7.30 in the morning'. I got sore straight away once I knew what had happened."
What had happened was serious. So serious that Reid, who has been Essendon's club doctor for nearly four decades, has only ever seen it once before.
The talus bone in the middle of Gleeson's left ankle split in half. So much so that when he was looking at the x-ray, Gleeson asked where the fracture was, not knowing that the two bones in front of him were meant to be one. The break then dragged his heel forward about a centimetre, dislocating it.

This was the start of a long road for Gleeson – a full season on the sidelines, more than 12 months between games at any level and 656 days separating appearances in Essendon's AFL line-up.
Now back in Essendon's side, the 24-year-old has detailed the scale of the injury and challenges to return.
Essendon was at first optimistic the injury would mean only three months on the sidelines, with Gleeson to be available later in the year. But after surgery, which had to be immediate to prevent any bone dying, nothing was certain.
"I thought if I did everything right then I might be able to pull off some miracle," Gleeson said, "but then I was on crutches for 16 weeks and in a moonboot for 18 weeks, so I knew it was going to be a long way back."
Gleeson at training four weeks after suffering the injury. Picture: AFL Photos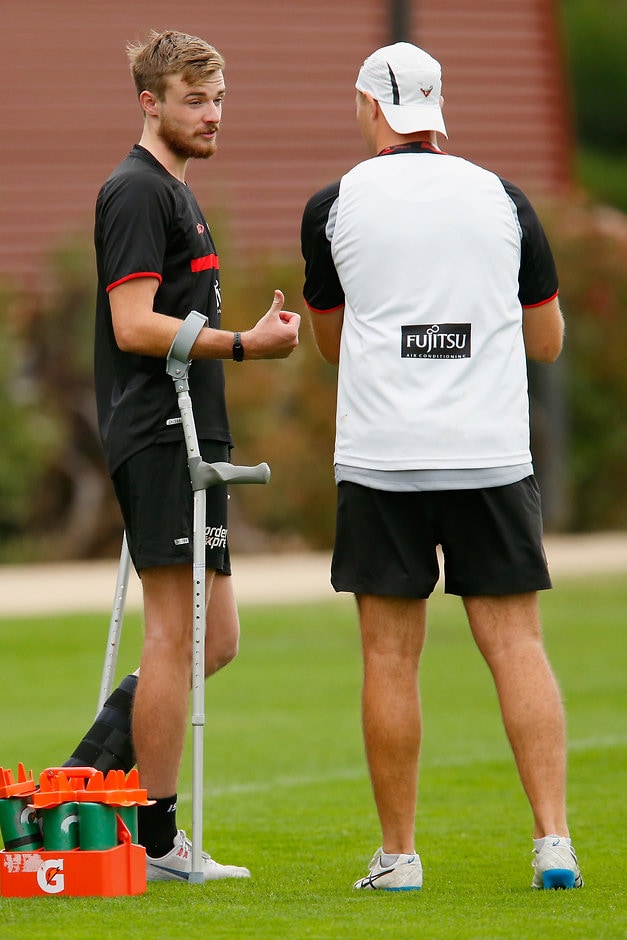 The first two weeks were the worst. Gleeson was in a cast, his ankle swelling and throbbing with every move. After eight weeks, he was allowed out of the boot to walk in the pool, doing more aquatic exercises over four weeks.
At the four-month mark, by then off the crutches, Gleeson walked on the AlterG anti-gravity machine, which allows athletes to use it at a lower percentage of their body weight.
Once out of the moonboot, he spent another three weeks building up his calf muscle before he ran again for the first time since surgery. It was round 21 last year, and he shared the moment with teammate Josh Begley, who was recovering from a knee reconstruction.
Find AFL Exchange on Apple Podcasts, Google Podcasts and Spotify.
"Looking back I can't believe how bad I was at running. You think you're fine but watching back it was horrible, but it was amazing to do," he said.
Essendon offered Gleeson the chance to go away during the season. But, aside from the odd day off-site, Gleeson wanted to remain at the Bombers' Tullamarine base as his teammates surged for a late – and ultimately unsuccessful – bid at the finals.
He found comfort in watching documentaries about sports people from around the world who had overcome adversity, including NFL superstar Tom Brady, who endured a knee injury early in his career before returning to be the greatest quarterback in history.
Occasionally Gleeson wished he was in the same boat as Begley: dealing with a common long-term injury that has a prescribed rehabilitation process.
Josh Begley tore his ACL in the Anzac Day clash against Collingwood in 2018. Picture: AFL Photos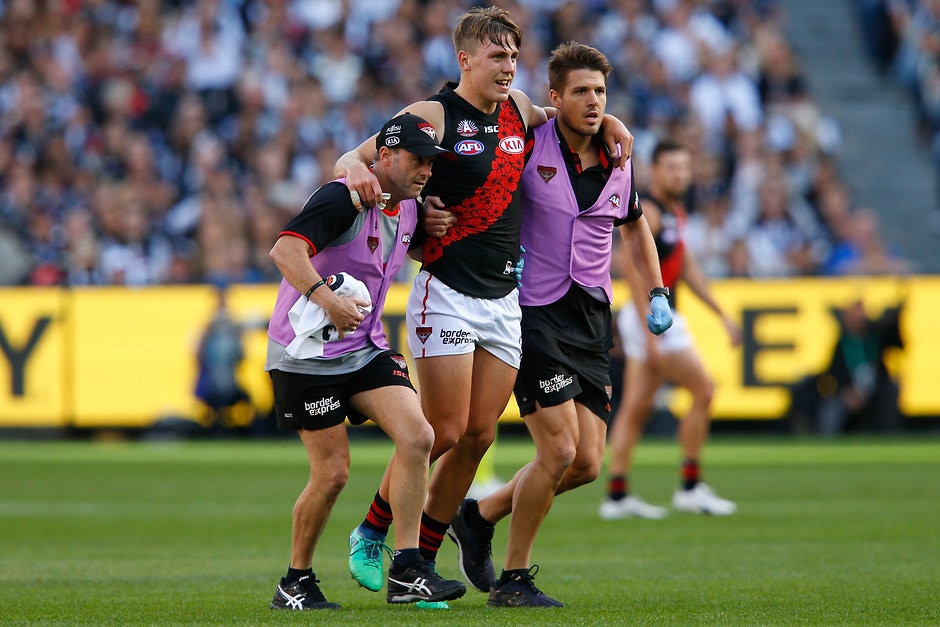 "I like to map things out, and I could do that to a degree, but it was also about how I felt and was getting through each session. For me that unknown was definitely the worst part, and there were times I wished I had a different injury, even a bit more serious, just so I knew what the outcome was," he said. "It kept me up at night for sure."
Gleeson was running again by the start of pre-season in November, but it wasn't right. For three months, he struggled to get the stiffness out of the joint. Every time he stepped up his training a 'hot spot' emerged.
The Bombers tried to change his training and running loads, saw another ankle and foot specialist, and sent him to the gym to strengthen the muscles around the area.
"It was going OK, but he just didn't have the full range of movement back as quickly as he and we would've liked," said Dan Richardson, Essendon's football manager.
"That was just another challenge for Marty and our medical team to work through, but it was another case of never being really sure how quickly he'd get back to full range and back playing … because it was so uncommon."
Eventually, by early March, Gleeson had rejoined full training and he returned to play in a VFL practice game weeks later. He was equally nervous and excited, and focused on landing right when he leapt in the air.
How good is it seeing this guy back? @martygleeson35 pic.twitter.com/Q037AFToXf

— Essendon VFL (@essendonvfl) March 23, 2019
But as his concerns with his body were eased, he had other questions to conquer: could he get back into Essendon's side and contribute?
Gleeson, in the three years prior to his injury, had become a staple of Essendon's backline. His brave intercept marking, rebound and run, and ability to play on a range of forwards saw him settled in the defence, playing 60 of a possible 67 games from 2015-2017.
Gleeson's return was pushed back a little further after fracturing his cheekbone in the VFL in April – "I felt a bit sorry for myself at first, like 'Of course this would happen to me'," he said – before he finally won his place back for the Bombers against Greater Western Sydney four weeks ago after showing his class in the VFL.
Gleeson assisted off the field in the round three VFL clash. Picture: AFL Photos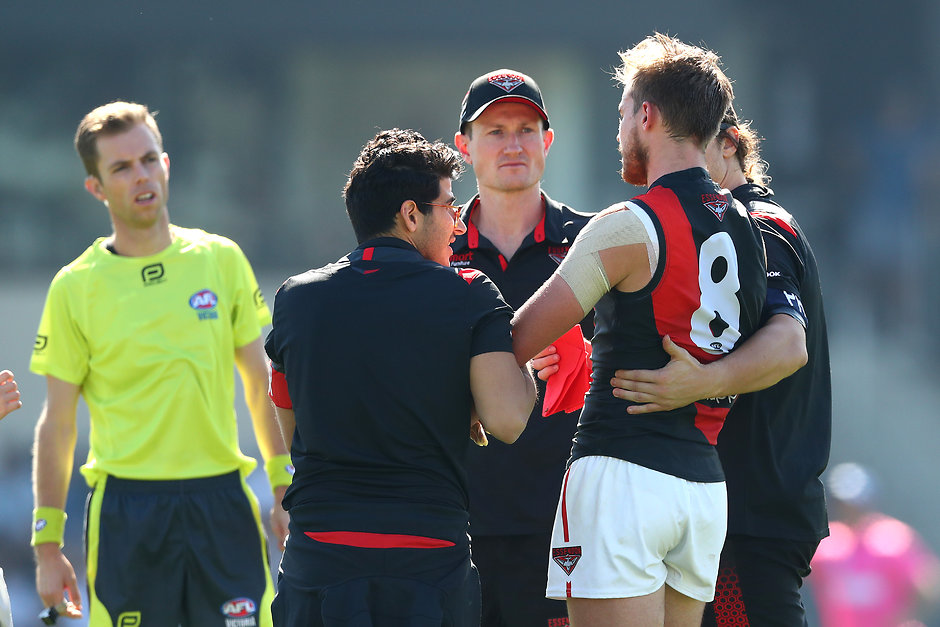 The Bombers have had four wins since then, and Gleeson has produced some crucial moments in frenetic last quarters against North Melbourne and Adelaide.
His confidence in the air is back, his courage hasn't gone missing, and he's found his place in a team that's very different from the one he last played in (only 10 players from Essendon's 2017 elimination final loss to Sydney faced the Crows last week).
The doubts Gleeson had – about his injury, performance, and ability to fit back in – have been wiped out.
"I'm back loving it. At the end of this year it'll be good to sit back and reflect on the journey and everything that's happening and give myself a little pat on the back," Gleeson said.
Gleeson is back in the senior side and loving every minute of it. Picture: AFL Photos