• Draft order: Your club's provisional picks
• Get to know the next young guns at the NAB AFL Draft Hub
• Combine wrap: Who starred and moved up the order?
• Top performers from this year's draft combine
• Draft machine: Pick this year's top 10 and you could win $10k
THERE has been plenty of debate about the quality of this year's NAB AFL Draft pool and the level of depth available to clubs.
There are different views on that – ranging from shallow to normal to 'let's wait and see' – but at the top end there is clearly a lot of talent.
This is our ranking of the best 30 players available, and a fourth and final update of the Phantom Form Guide.
Remember, it is not a mock draft and does not take into account where players might get drafted or what picks clubs hold. This is purely a ranking of the best prospects. The Phantom Draft - in which Callum Twomey predicts the players' draft order - will be unveiled on November 22.


The best key defender in the draft and also the best player. Weitering is a ready-to-go prospect who will come into a senior team next year and play most of the season. Such was his form this year, many recruiters believe he would have commanded a spot in most AFL teams in 2015 let alone next year. The 17-year-old (he celebrates his 18th birthday the day before the draft) is a brilliant and composed overhead mark, kicks the ball long and accurately, and an elite runner (he completed a level 15.1 beep test at the NAB AFL Draft Combine). Don't let Weitering's mature and serious side mask his desire to be the very best – he has worked diligently for a long time for his chance. It's easy to see why many predict he will be an AFL captain in the future.
Where does he go? Carlton with the No.1 pick. It will be the biggest shock of the draft if Weitering isn't the first picked.

Some will ask how we can still have Mills so high despite injury restricting him to only three games this year. Well, it only takes a quick look back through his 2014 season to see why. Mills is a tall, damaging and dominant midfielder who was brilliant in his bottom-age season in 2014. He's tough, competitive and a ball-winner, and probably the best handballer in the draft - he regularly spots up a target under pressure or through traffic. Persistent injuries limited his 2015 campaign, but as a member of the Sydney Swans academy he was able to train with the club and knows what an AFL environment is like. Mills is a pro already; one who is confident and extremely driven to be a great player as soon as possible.
Where does he go? The Swans will match whatever bid comes for Mills, and he'll be in the red and white next year. The bid should arrive in the first handful of selections.
Meet Callum Mills

Pound for pound, Parish is as good as anyone in the draft. His dash and dare with the ball means it might be easy to see him only as a run-and-carry midfielder. But that would be to overlook his brilliance inside the contest as well, with Parish this year growing into quite a complete midfielder. He averaged 28 disposals a game at TAC Cup level this season, which included 13 contested touches. He also picked up seven clearances a game, defying his smaller frame to dig in and then burst away. The laidback Parish is a natural footballer who doesn't get flustered often, takes things in his stride and enjoys the ride. He mixes his easygoing personality with a manic drive on the field, and will be well liked because of it.
Where does he go? Melbourne is best placed to take Parish at pick three, but if not the Bombers would have to strongly consider with four and five. Gold Coast will look hard at No.6, and it's very hard to see Parish getting past Melbourne's No.7 selection.
Meet Darcy Parish

The key forward had an outstanding season at every level he played. Schache kicked 24 goals in the mid-year championships (an all-time record) to steer Vic Country to the under-18 title, and he won the Larke Medal as the best player in division one. At his size, Schache is something of a new-age key forward: he utilises his aerobic running, game sense and elite accuracy around goal to make an impact. After getting a taste of under-18 footy last season, Schache added a more aggressive streak to his game in 2015 and benefited because of it. Good natured and with a friendly smile permanently on his face, Schache's form didn't waver as more hype came his way through the year.
Where does he go? The Lions have been eyeing off Schache all season and he looks set to join the club with the No.2 choice.

Will Josh Schache's journey end up at the Brisbane Lions? Picture: AFL Media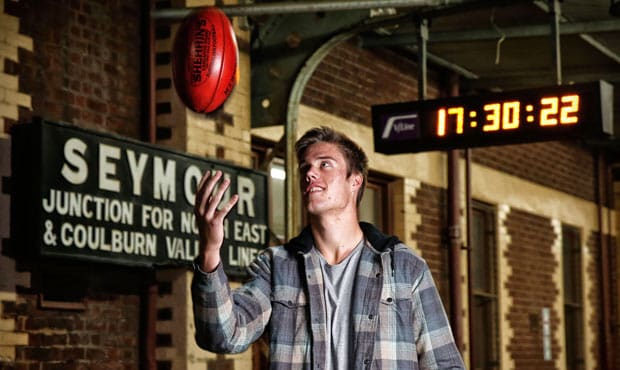 Hopper's ability to step up when his team needs him puts him among the elite category of draft prospects. The big and bustling midfielder has the body size to have a presence wherever he plays. Hopper averaged 23 disposals at TAC Cup level this year, but sometimes you have to watch closely to see his influence. When the ball is up for grabs, he's always in the thick of the action, and he averaged five tackles and five clearances a game. Hopper sets a high example, is the type of character who always wants to test himself against the best and has aspirations to be more than just a good player at the next level. As a member of the Greater Western Sydney academy zone in the Riverina region, the fledgling club will have first access to him at the draft.
Where does he go? Hopper will be in Giants colours on draft night. He warrants a bid in the first five or six picks which force the Giants to match with their pick 10 (and maybe some more points from later picks).

Kennedy's rise has been stunning this season, having never been a part of the talent pathway until earlier this year. The tall and strong midfielder is a competitive and no frills player. However, he mixes that uncompromising style developed in senior country footy with some real tricks. Kennedy is great overhead, which means he can push forward and be a dangerous option, and he likes to hit the scoreboard. A knee injury ruled him out for three months in the middle of the year, but Kennedy came back, won a local premiership in New South Wales, and then starred at the combine. The unflappable and relaxed youngster is another prospect attached to Greater Western Sydney as an academy player.
Where does he go? Kennedy is also headed to the Giants, who accumulated enough points (or picks, whichever way you look at it) in trade period to pay for him and Hopper.

The South Australian was one of the most prominent players at the mid-season carnival, dominating in defence and also being a match-winner in the midfield and up forward. Francis' standout trait is his marking: he is a beast one-on-one, and likes to float into packs and take intercept grabs. He is a powerful and imposing player who has a streak of aggression, and he has ambitions of becoming a midfielder in the future. Francis will need to improve his engine before he does that, but his capacity to control a game as a third tall is impressive. Quietly spoken off the ground, Francis plays with ferocity.
Where does he go? An interesting question. Essendon (picks four and five), Gold Coast (pick six) and Carlton (pick eight) are all in the mix, but there's a real chance he's available to the Crows at pick nine.
Meet Aaron Francis

Curnow is a player with power. In attack he is a marking target who can outbody opponents, throw them out of the way and manoeuvre his way to the front of a pack. Although it's not always evident on game day, Curnow also has a strong running base, which he showed at the combine by reaching level 14.5 in the beep test. It's one reason many think he might end up as a big, clearance-winning midfielder who can then shift forward. The younger brother of Carlton midfielder Ed Curnow, the 18-year-old suffered a dislocated knee during the season and missed the championships but returned to show exciting signs. Curnow has a relaxed demeanor, but serious talent. He's the 'could be anything' prospect of 2015.
Where does he go? A contender for Melbourne, Essendon and Gold Coast's top-10 picks, while Carlton also will consider carefully should he be available at pick eight and 11.
Meet Charlie Curnow


Injury robbed Weideman of the chance of really showing what he can be at the next level, but at least his smaller sample of games at the start of the year was more than promising. His performance for the NAB AFL Academy against the Northern Blues' VFL side sticks in the mind of scouts, after he took six marks in the opening term. The imposing and pack-crashing key forward is a strong mark and nice shot for goal. Ankle fractures over the past two years have restricted his development but he can play. Clubs know that, but have some concerns about his injury history and lack of fitness testing over the past few seasons. Weideman is the grandson of Collingwood legend Murray Weideman.
Where does he go? The Demons will think hard about Weideman at No.3. He has been linked to Essendon, and there will need to be a special player left on the board for Carlton to pass Weideman up.
Charlie Curnow (l) and Sam Weideman (r) should both be top-10 picks. Picture: AFL Media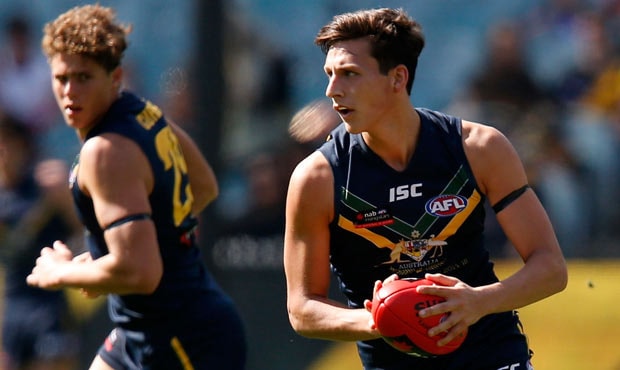 Milera's performances at senior level saw him rocket up the order in the minds of clubs in the second half of the season. Some recruiters think he is among the handful of most talented players in the draft. Milera will start as a half-forward, but he has the skills and temperament to move into the midfield in the future. He's silky and classy, and although not a goalsneak, he is smart in attack. His five-goal and 25-disposal game late in the season for Central District's seniors team was exceptional, and he began to find more and more of the ball later in the year. Milera is a bubbly, happy personality who shows his spark on the field.
Where does he go? Long linked to Gold Coast, but will be touch-and-go whether he is still there at pick No.6. Essendon a chance at four or five, otherwise Adelaide is a chance to land the South Australian.

Oliver's development has been one of the most interesting and remarkable stories of this draft season. He started the season thinking his best hope at getting picked up would be next year. But he has exceeded his own expectations by compiling an amazing season that ended with him winning the TAC Cup's Morrish Medal. The burly and powerful midfielder has pace from the stoppages, breaks away and loves to fight for the ball. He kicks goals, takes marks overhead and plays with an aggressive spirit. He's able to get it out and get on the end of it, which makes him extra dangerous. The knockabout Oliver jumped up further after his combine, where he showed his speed (2.99 seconds) and agility (8.11 seconds).
Where does he go? Essendon likes him, and might take him at No.4 or 5. Melbourne (pick 7) and Carlton (pick 8 or 11) are also possible destinations. Richmond will be very interested if Oliver is available at 12.

The ex-basketballer still carries some of his former sport's traits in his footy, with his versatility, agility and smarts in traffic. Balic showed this year he can play in all three parts of the ground – forward, back and in the midfield – but his best place seems to be as a high half-forward. He moves smoothly but is pretty tough at the contest, and played with a wrist injury throughout his season which eventually required surgery. Balic can run, mark on the lead and offers a point of difference in the flexibility he brings to this year's draft. He's not overly quick or a really penetrating kick, but in tight spaces he excels.
Where does he go? Melbourne has shown interest, but No.7 might be too early. Adelaide also likes him, and he'll be in the mix of St Kilda (pick 14), Gold Coast (16) and North Melbourne (17).
Meet Harley Balic


A hard-working and prolific midfielder, Keays is a high-production player. Every week he fronts up and does the same things: finds the footy, uses it efficiently, runs up and down the ground and slides forward when he can. Keays averaged 29 disposals for Queensland at the under-18 championships, and won the Harrison Medal as the best player in the division two carnival. Keays, a chatty and popular teammate and leader who mixes with everyone, isn't overly quick but has a strong endurance base and also has the knack of picking up disposals at will. He has been a member of the Brisbane Lions academy since he was 13.
Where does he go? The Lions worked the new points system cleverly during the trade period to get more picks to pay for Keays under the bidding system. Unless a bid comes unexpectedly early, Keays will join the Lions, the club he grew up supporting.
Jacob Hopper (l) and Ben Keays (r) are tied to the Giants and Lions respectively. Picture: AFL Media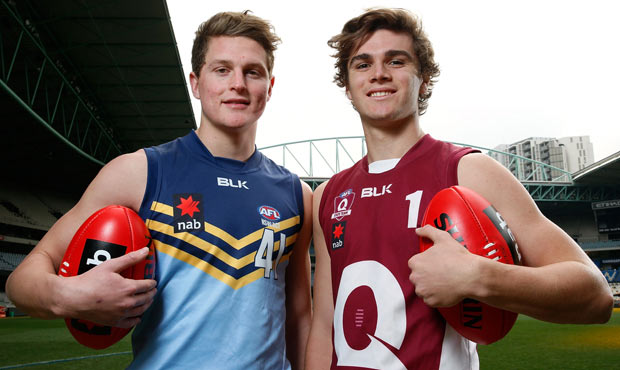 Hipwood's ability to play at centre half-forward one quarter and then swap to centre half-back the next makes him an appealing player for all clubs. With his height he can reach for the ball in the air, but his athleticism and speed (he ran 2.97 seconds in the 20-metre sprint) means he has a unique combination of attributes. He's lean and will need some filling out before playing at the next level, but Hipwood runs hard at the ball, attacks the contest and likes to go for his marks. The reliable left-footer still has some things to work on, but he's an exciting player and recruiters vary about where he plays his best footy. Hipwood is a member of the Brisbane Lions academy, who will get first call on him under the bidding system on draft night.
Where does he go? Another one off to the Lions. A bid will probably come for Hipwood before Keays, but the Lions are expected to match both.

There's nothing subtle about Mathieson's game: he's go, go, go at the stoppages, a bull when the ball is there to be won and legitimately hard-nosed around a contest. The animated inside midfielder plays with some gusto, shrugging off tacklers, holding the ball aloft and then kicking it long. If you had to bank on one player winning a centre clearance in a game, Mathieson would be the one. He can also go forward and prove a threat in the air. He didn't go too well at the combine in the running tests, but has worked hard in his break to make sure he keeps improving his aerobic base. Over the past three seasons, Mathieson has lifted his footy with every level he's played. He's tenacious, tough and a footyhead.
Where does he go? Has dropped a little down the order in some eyes, but St Kilda (pick 14), Gold Coast (pick 16) and Hawthorn (15 or 18) are a chance to load up with an inside midfielder. He could also get into the mid-20s.
Meet Rhys Mathieson

Burton is the mystery of this year's draft, as clubs weigh up his talent against the severity of the knee/leg injury he suffered last year. The marking forward, who has a nice leap, clean hands and a good long kick, didn't play at all this season as he recovered from the injury. But he tested at the combine, ran well considering his injury, and will start a pre-season doing the majority of training. When up and going, Burton is an exciting prospect who plays with some swagger, kicks goals and sees himself eventually in a midfield role. Clubs will be weighing up his undeniable ability against his long-term absence, but he might offer a huge reward for the team that chooses him.
Where does he go? Adelaide has been linked to Burton at pick 13, as has Richmond at 12. But Burton might end up somewhere a bit later to a club that has multiple picks. Each club medico will have a different view on his injury.
He's been off the scene for 15 months, but he can play. Ryan Burton's 2014 highlights -- https://t.co/MiKR2jhohz

— Callum Twomey (@AFL_CalTwomey) November 3, 2015

The AFL should suit Tucker, whose pace, agility and zip will allow him to break through traffic and create openings. The half-back is best when he has the ball under his arm and is gliding across the ground. When up and going and feeling confident, Tucker offers great drive and rebound. He takes the game on, enjoys baulking opponents, and then sending the ball inside-50 with his left foot kicking. Tucker is dedicated to being as good as he can, and has been striving towards an AFL career for most of his life. After an up-and-down season, Tucker will be keen to start his career off on a good step and will impress his new teammates right away with his professional approach.
Where does he go? Adelaide has shown interest for pick 13, as have the Saints for pick 14. North Melbourne is a shot should he get through a little later, as might be the Bulldogs and West Coast.

Things tend to happen when Gresham is around the ball. He's quick and clever, and always active. When he spots a chance to go for a run, Gresham loves to get the ball, bounce it firmly into the turf and then bolt off. His size shouldn't be too much of a hindrance – he's got a big enough bag of tricks that make up for his shorter stature. Gresham is a goalkicker, too, and backs himself when he's in range to take the shot. He averaged nearly 30 disposals at TAC Cup level, finished second in the Morrish Medal and really couldn't have done much more to show himself as one of the best midfielders in the draft.
Where does he go? Gold Coast at pick 16 could consider Gresham, as may North Melbourne at 17. Hawthorn and Carlton have also shown interest in the speedy ball-getter.


Ah Chee can dazzle. He can jump high, run quick, kick goals and have a big say on games without needing too many disposals. He showed that at different times throughout 2015, and was particularly good towards the end of the season when playing for South Fremantle's senior team. Ah Chee needs to build up his engine, but his skill, class and pace offers something of a rare combination in a draft that isn't deep on great users. The younger brother of Port Adelaide's Brendon is as humble, polite and friendly as any player in the pool, and with some time in a development system should show his prodigious talent.
Where does he go? Ah Chee is a top-10 smokey, but if not there, Richmond has been strongly linked at pick 12. If he gets past the Tigers, the Suns at 16 would be favourites to snap him up or the Bulldogs at 20.
The highlight of Callum Ah Chee's season! https://t.co/2mcOBwGDDa Callum Ah Chee's MCG hanger https://t.co/EAgNN38yiq

— Callum Twomey (@AFL_CalTwomey) November 8, 2015
Collins plays like he means business. He's physically imposing, shuts down his opponents and never gives an inch on the lead. His spoiling is smart and always in the knick of time, and he knows how to use physicality to unsettle his man. Collins doesn't even turn 18 until December, but he is a prospect who could easily play at the top level next season. Collins takes his game seriously and this season spotted an opportunity to get better: he added an attacking element to his game, started to intercept marks in defence and became a much more dangerous option. Collins will continue to work on his side-to-side movement and off-the-mark speed, but the club that picks him will be confident he can be a long-term part of its defensive plans.
Where does he go? Carlton has been linked at pick 11, Hawthorn is a strong chance with pick 15 or 18, and the Bulldogs are a big possibility if available at 20.

In McKay, a club will get a talented player who is only a small way down the track of reaching his full potential. The tall forward burst onto the draft scene earlier in his first game for the Gippsland Power when he booted four goals, and he has kept rising. He'll get picked earlier than this on draft night because of his height, athleticism and the excitement he has shown. History shows the best place to get top key position players is at the start of the draft. McKay's marking, skill and movement make him one of the best available this year. He should also be able to take on a part-time ruck role at the next level, which will be handy for the club that selects him.
Where does he go? A top-10 chance with the Crows at pick nine, and possibly Carlton at pick 8. Hard to see North Melbourne passing on him at 17 with its need for young tall forwards.

As an attacking and rebounding half-back, Bonner makes things a whole lot easier for forwards. He can dictate the play with his long-range left foot, kick over or through congestion and also hit moving players on a lead. But Bonner also breaks a bit of a mould: he's a left-footer who is (nearly) as strong on his right side. This makes him a dangerous player. Bonner's size also makes him a different prospect in this year's draft, because he has the capacity to take on talls and smalls, having advantages against all types of forwards. He's still learning the defensive craft but has some real weapons and will be a player opposition teams will put some time into stopping.
Where does he go? Bonner has spoken with every club, so there is a lot of interest in him. The Hawks are a chance, but his kicking will appeal to many in the 15-30 range.
Meet Riley Bonner


Hibberd plays in the free flowing, running style that matches his elite athleticism. He can do some exciting things – take a big mark or arch his back and break through a gap – and he does it all over the ground. Because of his height, the enthusiastic Tasmanian is able to move in a number of positions, but is probably best placed across half-back or on the wing. Hibberd was eligible for last year's draft but was overlooked having undergone a knee reconstruction. His 2015 season was then put on hold by shoulder surgery but he wasted none of his chances this season and is the type of prospect who is obsessive about doing everything right.
Where does he go? He'd be in the mix for Hawthorn's pick 18 and perhaps the Saints' choice at No.14, but there's also a slim chance he gets through to the late 20s as well.

Mitchell Hibberd adds dash and elite running from the half-back line. Picture: AFL Media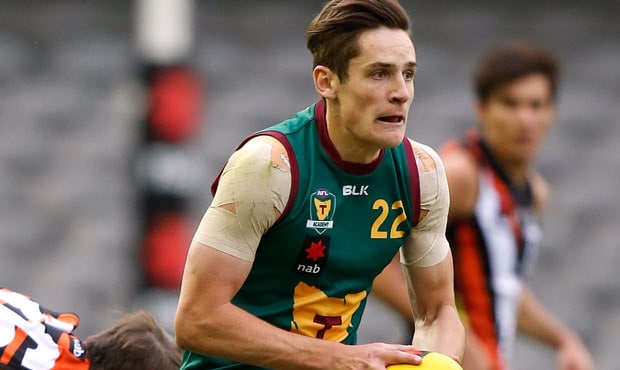 McKay won't have any qualms about running through players standing in his way. He's a big, tall and aggressive key position prospect who enjoys the crash and bash elements of his role. McKay, whose twin brother Harry is tipped to be drafted first of the pair, made a late run to the draft after quitting Gippsland Power's program in the pre-season. He wasn't sure he was good enough for the level so went and played local footy before being encouraged to go back to the TAC Cup for another go. It's worked out well, with the strong-marking 18-year-old proving difficult to beat in the air at both ends of the ground. He's raw, but McKay is also versatile and competitive, which makes for a promising mix.
Where does he go? Another player Carlton is likely to look at with its pick 19, but it might depend on the mix of prospects they acquire with their first three selections. The Bombers are a chance to swoop at 24 or 25 if McKay gets past Fremantle.
Meet Ben McKay


Clarke is a midfielder who does the same things at the end of a game as he does at the start. He runs hard but works efficiently, puts his body on the line, and enjoys creeping forward to hit the scoreboard. He can start his team by winning the ball at an important stoppage, but then he has the gut-running power to get ahead of others and get on the end of a handball. Clarke willed the Eastern Ranges into this year's TAC Cup Grand Final with a string of strong performances, and he plays in a way that encourages his teammates to follow him. The 18-year-old averaged 31 disposals for the Ranges across the season and is renowned for his consistency. You know what you get in Clarke.
Where does he go? Linked to one of North Melbourne's three picks inside 30, and would be their type of midfielder. The Eagles and Fremantle might be a shot in the early 20s too.


Dunkley is among the harder players to rank in this year's draft, purely because of his mixed season and injuries. I see Dunkley's best position as an inside midfielder who can lift his arms above his head, shoot off handballs and get things going. He's hard and strong, well built already, and with good game sense. He's also a character who you can depend on doing everything he can to make himself better -over many years he has picked the brain of great AFL players and tried to implement their ideas into his own game. But through a back injury and inconsistent form, he didn't his straps this year. He's not classy by foot nor especially quick, but he should be able to establish himself using his skills in tight situations.
Where does he go? Adelaide and Richmond have shown interest, but their first-round picks might be too early. Dunkley has until next week to confirm if he'll nominate as a father-son pick to the Sydney Swans.
Meet Josh Dunkley


Rioli blew everyone away at the combine, with standout results in the speed and endurance tests. His string of good performances showed he can be more than a crumbing small forward who is clever around goal, and might one day progress further up the ground. Rioli has strong bloodlines – his father is Cyril Rioli's cousin – and he finished the season in good form, kicking four goals in a final for the North Ballarat Rebels. Rioli is smart with the ball, his touches have an influence, and he can surprise by taking nice overhead marks for a player his size. He made the move from the Northern Territory to Ballarat and finished his studies in the area, and has always wanted to add another chapter to his famous football family's story.
Where does he go? Essendonwas interested in Rioli well before his brilliant end to the season and is in dire need of a quality small forward. Hawthorn, Fremantle and West Coast are also a chance.


A speedy and exciting midfielder who takes the game on and uses his pace to get out of trouble, Cuningham has sharp run - with only a few steps he can squeeze through traffic and get into space. He needs to keep refining his kicking, but with his running and athleticism at a rare level in this draft it pushes him up. At the combine, Cuningham ran 2.91 seconds over 20m and he was in the top five for the repeat sprints and vertical jump tests. Cuningham, who featured in the Oakleigh Chargers' TAC Cup premiership side, doesn't yet collect big numbers of the ball but has the dash to make an impact when he's got it.
Where does he go? Has been linked to North Melbourne and Carlton as a late first-round pick. West Coast and Fremantle might also have a look at him in the 20s, as would the Roos if still available with their second-round selections.


Cole played in a few different spots this year, and clubs have different views on where he best fits in. His work off half-back appears to be where he has most influence, though, by being able to run and set up the play with neat disposal on both feet. Cole is a relatively unassuming player: he gets the job done most weeks with a minimum of fuss. His form in three games for Geelong's VFL side during the year showed he can step it up against senior opponents, and he was consistent at TAC Cup level in a struggling Bendigo Pioneers side, averaging 25 disposals (13 contested, and six clearances).
Where does he go? Carlton is a chance at pick 19, while Essendon (picks 24 and 25) and West Coast (picks 23 and 31) will look closely at Cole. Hawthorn at pick 18 has also been linked with Cole.


You can count on Partington to give his all. The midfielder works hard and puts his head over the ball at the stoppages and isn't afraid to cop a knock when he does. But he also showed his ability to burst off from a clearance this year, being one of the most consistent and prolific players for South Australia at the under-18 championships. That added pace (he ran 2.96 seconds over 20m at the combine) showed Partington's midfield mix. If players were drafted purely on character, Partington would be in the top-10. The resilient and determined teenager worked through a personal tragedy this year and still managed to establish himself as a prospect in the second round.
Where does he go? Partington's expected to be in the 25-40 range on draft night. Port Adelaide would likely consider at pick 32 if he was still available.
Meet Luke Partington