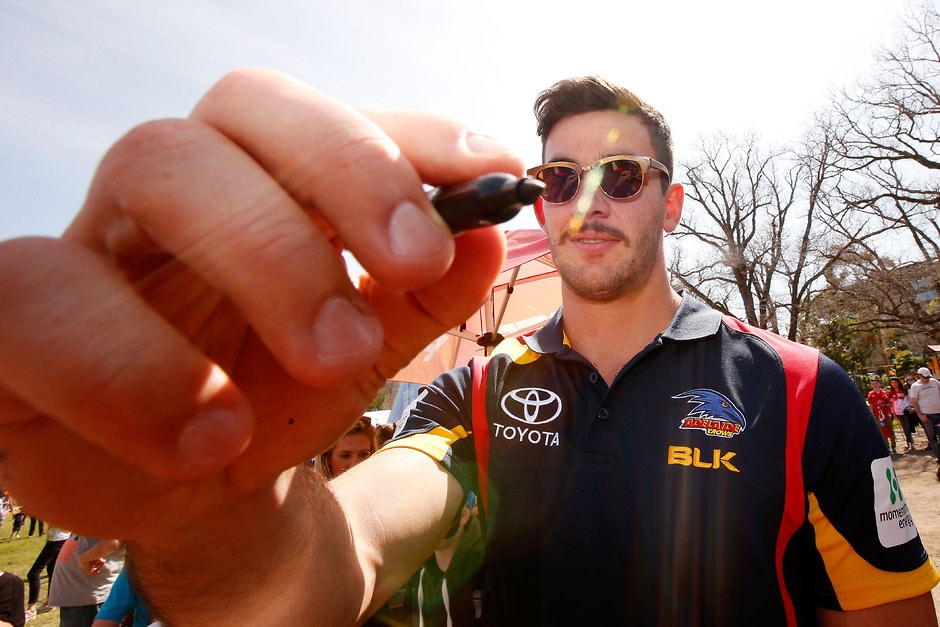 IT WAS nearly a fairytale end of the season for the Crows as they fought their way into the 2015 finals, but it wasn't to be.
After the tragic death of Phil Walsh rocked the entire Australian sporting community, the Crows inspired many and showed true spirit by winning six of their last eight games.
From an AFL Fantasy perspective, their on-field leader Taylor Walker (FWD, $454,000) had a fantastic season averaging 82, and stood up when it really counted, averaging 96 in his last five games.
Tex is apparently on fire this pre-season, running a personal best time in the 2km time-trial and having lost several kilograms in preparation for reduced interchange rotations.
Click here for every Adelaide player's starting Fantasy price and position
Rory Sloane (MID, $527,000) had an unlucky year which was plagued with injuries. He averaged 95 for the season, 12 less than he would have if he hadn't been subbed out on three occasions.
I need to mention the elephant in the room … Patrick Dangerfield. As we are all well aware, Dangerfield has now become a Cat.
No one can dispute that fact that he has been Adelaide's best player for many years. So how will this affect the Crows' 2016 campaign, and more importantly, their Fantasy numbers?
More Fantasy prices:
> Carlton: Will Brendon play the kids?
> Brisbane Lions: Fantasy Pig and friends
> Gold Coast: Sunshine and Fantasy points aplenty
> Essendon: Don't you know about the Bird?
> St Kilda: Big four won't come cheap
> Melbourne: The devil is strong in these youngsters
> Collingwood: Midfield delight but thin front and back
> GWS: Can Stevie J wind back the clock?
> Geelong: Danger in making Paddy a lock
> Port Adelaide: More than one shade of Gray
> Western Bulldogs: Young pups to score freely
> Richmond: Roll the dice on Dusty?
Click here to subscribe on iTunes.

Sam Jacobs (RUC, $533,000): Instead of forking out $631,000 for Stefan Martin, why not save yourself a cool $98,000 and pick Jacobs, who has averaged 96 and 97 in the last two years. He's as durable as they come, only missing one game in the last three seasons and will get the job done for you week in and week out.

Matt Crouch (MID, $396,000): If Crouch is the midfielder replacing Dangerfield, then lock him in. He averaged 71 from just 15 games but floated in and out of Adelaide's best 22 by wearing the vest on five occasions. His 'vest-less' average would have been 85, so monitor him over the pre-season to see if he is filling the big shoes that have been left behind.
Brodie Smith (DEF/MID, $391,000): After a promising start with scores of 93 and 111 in his opening games, Smith frustrated many Fantasy coaches last year but presents as good value in the new season. He's capable of averaging 85+ and as a defender he provides a handy link into your midfield with dual-position status.

Paul Seedsman (DEF/MID, $353,000): The former Magpie is hoping a fresh change and new stripes will be just what he needs to reboot his AFL career. He only managed 12 games for Collingwood (avg. 64) and at times showed what he was truly capable of by winning the ANZAC Day Medal with 128 points.

Jonathon Beech (FWD/MID, $125,000): The Crows have a history of throwing life lines to mature-aged rookies and they've done it again. At the age of 25, Beech averaged 18 touches and seven marks in the SANFL last year and led the league in total marks. If he's named round one, lock him in straight away.

Brad Crouch (MID, $415,000): From hamstring injuries to a fractured leg, the Crows will have their fingers crossed that this is the year Brad Crouch will play a full season. He averaged 93 and 92 in his two interrupted seasons before missing all of 2015. Crouch is priced at an average of 75 and is ripe for the picking.

Charlie Cameron (FWD, $298,000): Flashy goal-sneaks are not the players who make up a great Fantasy side. Although he plays his role for the Crows, Cameron's role for you will be a frustrating one. He scored under 50 on eight occasions last year and should be over-looked by serious players.

TUESDAY: The Traders are back to reveal the Swans' Fantasy prices and positions for 2016.