Get to know your club's future stars at the NAB AFL Draft Hub
Going places: Four incredible draft stories
Draft trumps: Insider access to this year's gun prospects
NAKIA Cockatoo went 15 months without playing a competitive game of football, spent most of that time in a moonboot, had different stints on crutches, underwent surgery and still never stopped smiling. Well, apart from a couple of times.
"I can remember once when he said he was tired and didn't want to go to gym. He was flat when he went, so he saw his sports psychologist and she had a chat to him and refocused him," said Wally Gallio, the Northern Territory talent manager.
"The following week she touched base with him, like she normally would. He just said 'I had a bad day, I was tired and I'm fine now. There's no problems', and he moved on. He just loves being around people, and he puts a positive spin on everything."
Click here to check out Nakia Cockatoo's draft profile and watch his 2014 highlights
Cockatoo has more reason to be optimistic now. As this month's NAB AFL Draft draws closer, he is the buzz player everyone wants to know about. Where will he go? Have recruiters seen enough? How good can he be? There is a level of interest in the Darwin prospect that others don't carry.
Mainly, it's because of a week at the end of September and early October, when the 18-year-old very quickly reminded people of his talents.
It hasn't just been draft followers swept up in the wave of excitement that comes with Cockatoo. Recruiters, too, have become a whole lot more interested. He's since had a number of clubs travel to Darwin to catch up with him, watch him train and meet his family.
So, what actually happened that week to make all of this other stuff happen? The answer (a succinct version, anyway) is: Cockatoo starred.
He dominated the curtain raiser at the MCG on Grand Final day playing for the Allies, and gathered 20 possessions. In the last quarter he ripped the ball out of a centre clearance, ran to half-forward, took two bounces and slotted a long goal. He was named best afield.
"I saw the game as one of my only chances I had to show myself and put it all out there," Cockatoo told
AFL.com.au.
"I played my heart out."

He followed it up in the few days after at the NAB AFL Draft Combine. He ran 2.9 seconds in the 20m sprint, won the repeat sprint test with 23.93 seconds, was in the top five for the standing vertical jump and took out the kicking test (29 out of 30).
Nakia Cockatoo with Tasmania's Caleb Hislop before the under-18 national titles. Picture: AFL Media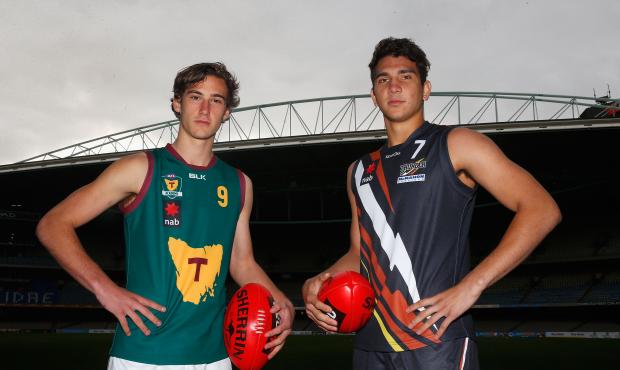 Cockatoo had shown all of these traits in 2013 through Northern Territory's NAB AFL Under-18 Championships, but it had been a long time since then, and Cockatoo wanted to make an impression.

Very quickly, his explosiveness, power, speed and natural athleticism was on show. "I'm a pretty competitive player, with a strong mark. I like to be creative," he said.

"But when someone's chasing me I can change gears and go a bit faster. I've got a good mix to my game. It was a good game for me, I was happy with it."

With his first game in more than a year, Cockatoo had catapulted himself into contention as a first-round draft pick, a feat which takes on much more significance with the full story of his injury troubles.

They started in May last year when Cockatoo was preparing for the NAB AFL Under-18 Championships with Northern Territory as a bottom-ager.

"In the first game of the carnival [my foot] hurt really bad, and for the five games it hurt every time. I had x-rays and finally found out I'd fractured the fifth metatarsal in my right foot," Cockatoo said.

He was put in a moonboot for eight weeks, went to the gym regularly and slowly built up his strength. Cockatoo thought it was fine, and trained hard over summer, including a weeklong stint at North Melbourne in January.

But weeks later, after a couple of scratch games for the NT Thunder, he felt the soreness in his foot return. Back in the moonboot he went, and after travelling to Europe for the AIS-AFL Academy's tour, had a bout of surgery booked in at the end of April.

"I missed this year's under-18 championships and was back in the boot for another eight weeks," he said.

At that point, Cockatoo had some doubts his draft year would have the sort of finish he had always hoped for. But he didn't let it get him down. He gradually built up his training at the Northern Territory Institute of Sport, completed running sessions every Monday and Tuesday, and spent as much time there as he could.

Well before Cockatoo returned to play for the Allies he felt he was ready, but he continued to make sure he was right with more fitness work and "just bloody hard work and dedication".

"I've seen quite a lot of footy, but haven't played very much this year. All the time I was just itching to get out there. It was always a goal to get back and play this year," Cockatoo said.

Weeks from the draft, Cockatoo's foot is feeling good, and so is he. It's not in his nature to think about what could have been. He wishes he played more, but is happy he at least got to play one game.

"His week of footy has really put him back in the limelight and answered some of the questions and apprehensions that the clubs had of his durability and ability," Gallio said.

"Coming off limited match preparation, it showed he's got a bit of footy character. You only get one opportunity sometimes and he took it with both hands."