THEY are North Melbourne's lost years.
Between 2014 and 2016, the Kangaroos drafted a total of 18 players.
Just seven remain. And only two featured in their most recent team.
As the club's worrying form slump continues, winning just one of its first six matches, the black hole of quality talent between the age of 21-24 is stark. And the reason why is clear.
Dive into North Melbourne's drafting in those three seasons and its record is littered with big misses, even bigger question marks and players struck down by injury.
Of the 18 players drafted within this three-year window, only two have managed to play more than 20 games for the club. Four didn't, or haven't, managed to play a game at all.
Collectively, they average just nine games each, while only three of the 11 to have departed Arden Street from these drafts have managed to forge an AFL career elsewhere.
The players
Of the seven who do remain, there are very few certified, sure-thing prospects.
Sam Durdin and Ed Vickers-Willis, both in their fifth years, are the only two left standing from the club's 2014 haul. Although both have been cruelled by injury, Durdin's initial selection at pick No.16 drew particular surprise from rival clubs drafting in similar positions.
Kangaroos defender Ed Vickers-Willis headed down to the rooms following this passage of play. #AFLFreoNorth pic.twitter.com/OrGihlX9F0

— AFL (@AFL) March 24, 2019
Ben McKay is the only player of the six drafted from 2015 still at the club.
Jy Simpkin was North's first selection in 2016 and has shown signs of promise. Despite his battles through the first six weeks of this year, he looks the best of this particular bunch.
Simpkin looks the best of the Roos' young prospects. Picture: AFL Photos

Nick Larkey and Cam Zurhaar are finally starting to enter the fold, while Declan Watson – who missed all of his second year after suffering an ACL injury – is yet to make his debut.
It's a damning indictment on the Kangaroos, given players taken elsewhere at similar draft positions within this period are starting to make considerable impacts at AFL level.
Toby McLean, Touk Miller and Brayden Maynard were among those claimed amid North Melbourne's raft of mid-range picks in 2014, while Josh Dunkley, Tom Cole and Tom Phillips were a select few taken among the Kangaroos' series of selections in 2015.
The plan
The strategy of North's drafting can also be brought into question.
The club took key defenders Durdin and Dan Nielson inside the top 25 picks in 2014, before recruiting another key defender in McKay with its 21st selection the following year.
Nielson managed just seven games - all in 2017 - in his time at North. Picture: AFL Photos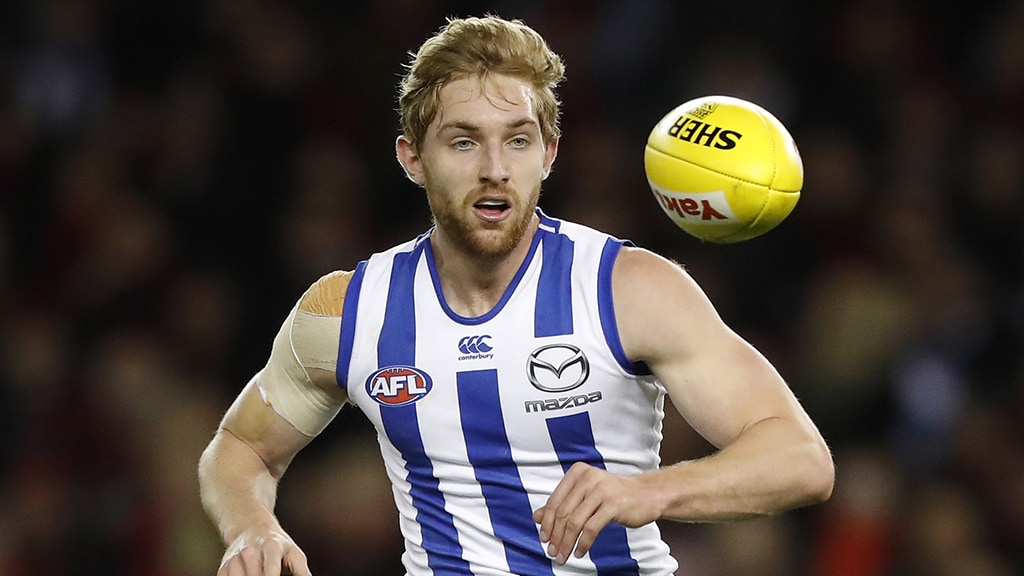 And yet, four years on, the club is still relying heavily on veterans Scott Thompson and Robbie Tarrant to hold down key defensive posts in the absence of reliable younger options.
Then there's the lack of creativity.
In 2015 came the introduction of the AFL's Academy and father-son bidding process. With that, clubs such as Brisbane, Gold Coast, Greater Western Sydney and Sydney began actively searching for ways to trade down the order, desperate to secure draft points.
North Melbourne either misread the play, or they missed it entirely.
Despite holding a draft hand featuring picks 21, 31, 33 and 43 in 2015, the Kangaroos were never able to package picks to move higher up the order and secure a blue-chip prospect.
Now, McKay remains the only player still at the club taken with one of those picks.
Find AFL Exchange on Apple Podcasts, Google Podcasts and Spotify.
It's a plan Collingwood identified, executed and used to help build its 2018 Grand Final side.
The Pies traded picks 34, 53 and 63 from the same draft to the Giants, receiving a pair of earlier selections in exchange. They used those picks on Brayden Sier and Phillips – both key members of the team that faced off against the Eagles in last year's premiership decider.
Meanwhile, Greater Western Sydney collected the draft points to match bids on Academy graduates Jacob Hopper, Matthew Kennedy and Harrison Himmelberg.
Putting the feelers out for a trade with any club might have also been worthwhile.
In 2015, a package involving North Melbourne's second and third selections would have been worth the equivalent of pick No.14 based on the AFL's Draft Value Index. Daniel Rioli, Tom Doedee and Jade Gresham fell in that area of the draft.
In 2016, its second and third picks would have netted the equivalent of pick No.17. Jarrod Berry, Sam Powell-Pepper and Alex Witherden remained on the board this stage.
Options were available, with clubs in the same drafts trading down from those positions. The Western Bulldogs did so in 2015, while Port Adelaide did likewise a year later.
Find In the Game on Apple Podcasts, Google Podcasts or Spotify
The cost
On the flipside, the Roos can point to a string of trade and free agency successes.
Throughout this period, the club recruited Jarrad Waite, Shaun Higgins, Jed Anderson, Paul Ahern, Nathan Hrovat and Marley Williams.
Higgins has won the Syd Barker Medal for the past two seasons. Picture: AFL Photos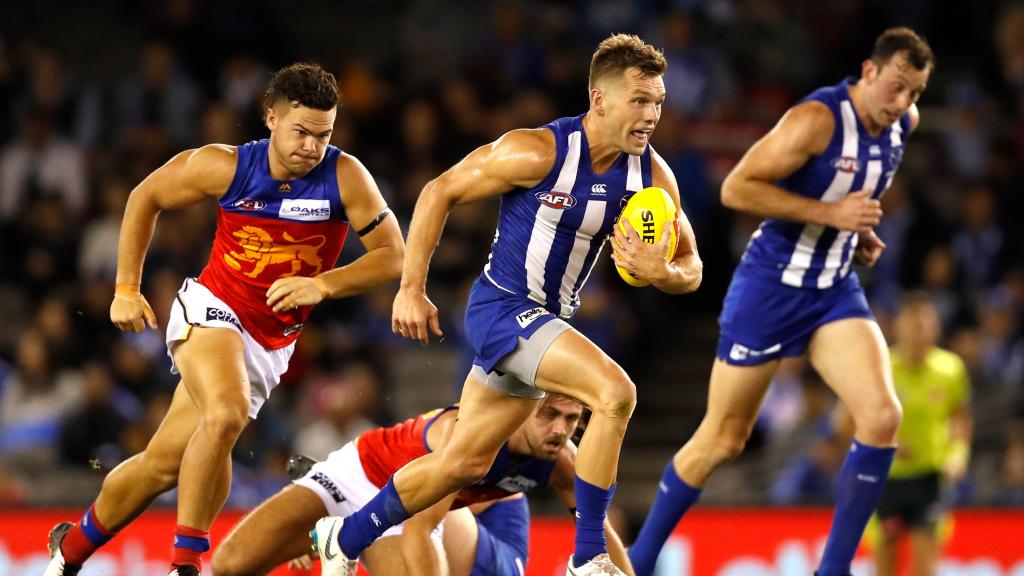 The majority of those six recruits can be given a tick of approval.
But had the club hit on both aspects in its recruiting strategy, rather than just one, it might now be in prime position to challenge for a fifth flag. It might have also helped its ability to land the 'big fish' that has evaded them in recent years.
Instead, it has been forced to settle for secondary options at the trade table and appears destined for another period of mediocrity in terms of its ladder position.
The club hasn't been helped by its earlier first-round draft picks, either.
From 2010-2013 it used first-round selections on Shaun Atley, Brad McKenzie, Taylor Garner and Luke McDonald. Only Atley rates above 'average' according to Champion Data.
McKenzie has been delisted, Garner has been plagued by injury, and father-son pick McDonald remains a player in flux who has struggled to find consistency at AFL level.
The club's difficulties in developing young prospects also shouldn't be forgotten.
Ryan Bastinac, Atley, Kieran Harper, Aaron Mullett and McDonald all showed an abundance of promise throughout the formative years of their AFL careers. However, none have been able to break out and become the dominant players they once threatened to.
The same could be said of Aaron Black, Garner and Mason Wood, though persistent injury setbacks have all derailed their progression at one stage or another.
The combination of these factors has left the Kangaroos in limbo.
Considerably below the League average for the number of players on their list between the age of 21-24 – the age where most footballers are on the cusp of emerging as consistent AFL performers – it's difficult to see where North Melbourne's improvement comes from.
What is clear, however, is where the origins of the club's current malaise began.
North's lost years
2014
Pick 16: Sam Durdin (9 games)
Pick 25: Dan Nielson (7 games)
Pick 36: Ed Vickers-Willis (15 games)
Rookie: Braydon Preuss (8 games)
Rookie: Will Fordham (0 games)
2015
Pick 21: Ben McKay (4 games)
Pick 31: Ryan Clarke (40 games)
Pick 33: Mitch Hibberd (4 games)
Pick 43: Corey Wagner (8 games)
Pick 60: Declan Mountford (12 games)
Rookie: Farren Ray (4 games)
2016
Pick 12: Jy Simpkin (40 games)
Pick 34: Declan Watson (0 games)
Pick 36: Josh Williams (2 games)
Pick 73: Nick Larkey (3 games)
Rookie: Cam Zurhaar (12 games)
Rookie: Oscar Junker (0 games)
Rookie: Matthew Taylor (0 games)
*Bold denotes still on list