HE'S ELECTRIC down back and causes havoc up forward, but injecting utility Wayne Milera through Adelaide's midfield has added a much-needed spark to the Crows' onball brigade.
Half-back Brodie Smith and winger Rory Atkins have also been put into the midfield to complement contested ball beasts Matt and Brad Crouch, Rory Sloane, Cam Ellis-Yolmen and Hugh Greenwood.
Fresh off a comfortable victory over Gold Coast, the Crows face a much more formidable opponent when they host Essendon at Adelaide Oval in a huge Friday night encounter.
Rory Atkins, Cam Ellis-Yolmen and Wayne Milera all rotate through the midfield. Picture: AFL Photos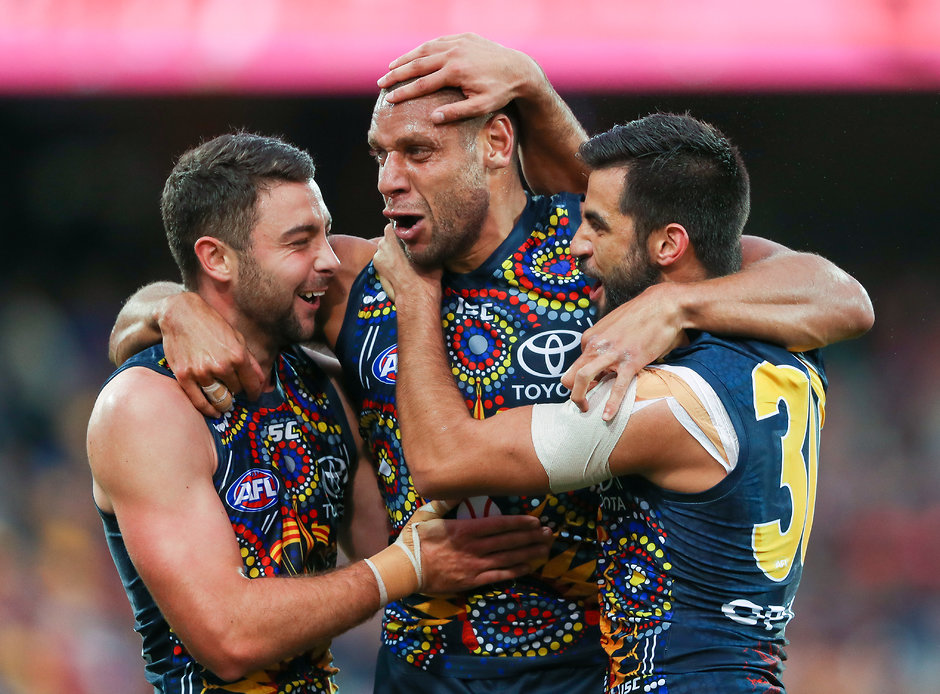 It's a match with massive finals implications, with the Crows sitting seventh with a 9-7 record, ahead of the eighth-placed Bombers on percentage.
The Crows have been criticised for having too many similar types of players in their midfield, so have brought in Milera, Smith and Atkins to give them a better mix.
"Myself, Smithers and Rory Atkins have been rolling through the midfield to change it up a little bit, in terms of an inside, outside balance," Milera told AFL.com.au.
"We've got a lot of good, contested players, like the Crouch brothers, Hughie, Cam and Sloaney, so it's good to mix it up and adapt a different dimension to the midfield.
"The more options you can get in there and throw around, the better the team's going to be."

Milera – who had 27 disposals and seven Inside 50s against the Suns – said the change to the midfield rotations had been in the pipeline for some time.
"It's been a little bit of the thinking for a while, just to try and get something in there, but we probably haven't executed it as well as we'd like," he said.
"I'm happy to play in there, same with Smithy, who's had the same sort of transition to having a bit of a look inside.
"It adds a different dimension to our midfield group."
The Crows rotated through the midfield regularly during their 95-point thumping of the Suns at Metricon Stadium.
"We did it quite a bit on the weekend, so it'd be good if we can keep rolling like that," Milera said.
"Blokes get better rest and you don't have the same four in there the whole game and they get tired.
"The more options you have rolling through there, the fresher the midfield group will stay and it will be better for the team."
Milera brings plenty of energy to whatever role he's played.
Find Trends on Apple Podcasts, Google Podcasts and Spotify
Last year, the 21-year-old had a breakout season playing across half-back while he's also been damaging this season when he's been pushed forward.
The Crows have a lot to prove ahead of their Adelaide Oval return with the shocking second half of the Showdown still fresh in the memory.
"We were very embarrassed with how we played in that second half," Milera said.
"We owe the fans a lot better performance than what we put up in that second half.
"Essendon is a good side and competing to be in the top eight, just like us, so it's a big game."