DAN HANNEBERY admits he made a "stupid error" in the dying stages of Sydney's six-point loss to Hawthorn at the SCG on Friday night, with Hawks captain Jarryd Roughead sinking a clutch set shot after the star Swan didn't man the mark properly.
With scores level and just under two minutes remaining, Roughead marked a Ty Vickery pass right on the 50m logo.
Dane Rampe was the closest Swan to Roughead when the veteran Hawk took the mark, but he went back to the goalsquare and Hannebery was left to man the mark.
Hannebery was inexplicably a few metres behind the 50m line, allowing Roughead to kick the winning goal from right on the logo, nearly the exact spot he marked it.
Hannebery told Fox Sports on Saturday morning he didn't communicate with Rampe or the umpire about where the mark was.
"I didn't man the mark, that two or three metres, as I should have," he said.

"I replaced Dane Rampe on Roughead there and didn't clarify with either him or the umpire where the mark was.

"It's a clear error of judgement from my point of view and I'm extremely disappointed in myself.

"It's another stupid error, like a few different things in the last quarter that shouldn't happen and it's really disappointing."
Roughead's long bomb ended up being well over the required distance, but had the Swans manned the mark correctly it may have produced a different result.
Jarryd Roughead takes a mark right on the 50-metre line in the final minutes at the SCG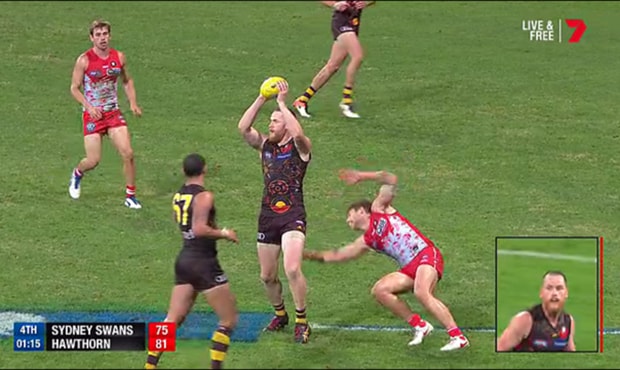 Roughead is allowed to kick for goal from almost exactly the same spot he marked the ball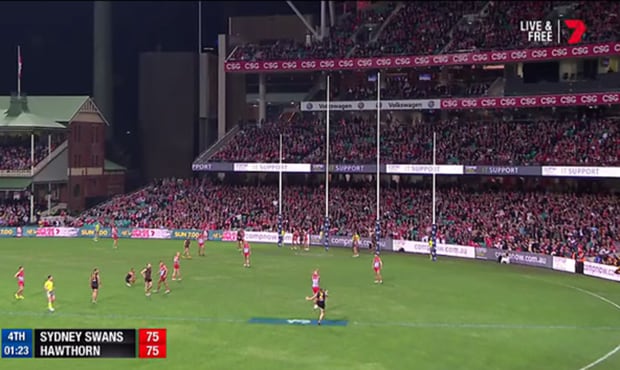 Swans coach John Longmire admitted his club had failed to execute some football fundamentals late in the game.
"We did some things we'd probably do better if we had another opportunity to, in the last few minutes," he said.
"Whether they were fatigued and couldn't think clearly, or couldn't (physically) quite get the distance in the kick, it was probably a couple of those things together."