MELBOURNE could pounce on livewire small forward Cody Weightman at this year's NAB AFL Draft after landing pick No.8 in a trade with North Melbourne.
The Demons had been keen to turn their pick No.3 into multiple first-round picks but, with no offers satisfying them, have bought back into the early part of the draft in a deal with North Melbourne.
They have swapped their first-round pick for next year, plus picks 26 and 50 in this year's draft, for North's first-round selection in 2019 (No.8 overall).
It gives the Dees a strong hand at the draft with two top-10 selections for the third time in six years (they also held dual top-10 selections in 2014 and 2015).
North will be banking on the Demons to repeat their horror 2019 campaign.
Under the draft value index, even if the Demons win the premiership next year (meaning their future pick is worth 948 points), North will be ahead in the trade by 473 points.
Could Cody Weightman be off to the Demons? Picture: AFL Photos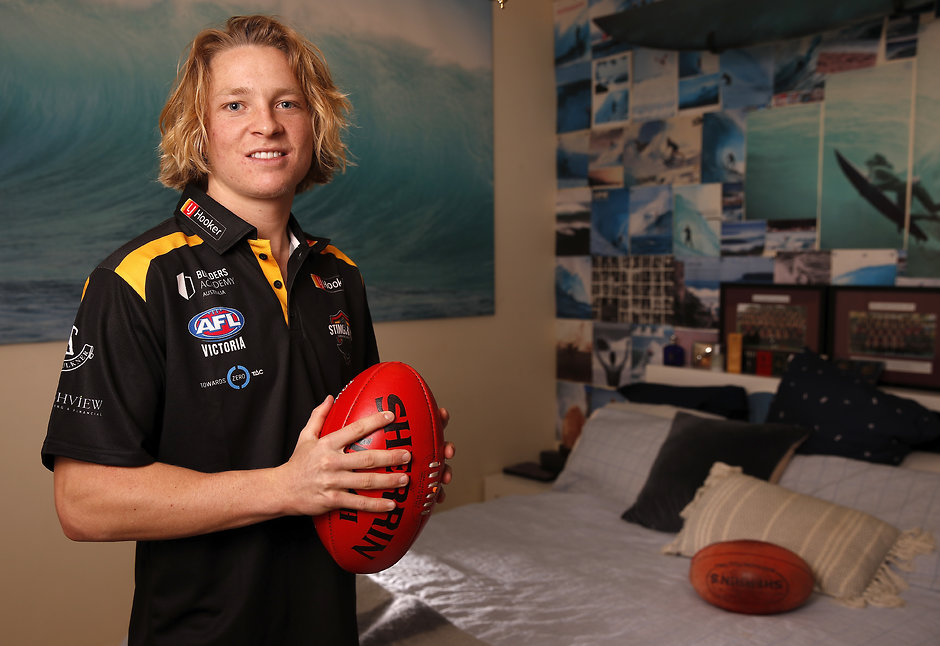 "Part of our strategy during this Trade Period was to improve our draft position by using our future picks," said Demons football manager Josh Mahoney.
"Next year's draft will have a high number of talented Academy players, and we value another top selection in this draft."
DEADLINE DAY LIVE Watch all the deals go down
North national recruiting manager Mark Finnigan said the club was always open to seeing what value it could get for pick No.8.
"The currency we have obtained for that single pick is highly valuable for us now and in the future," he said.
"Three selections for one was very appealing and we feel we can now turn our picks into something really promising whether that be players, or better picks this year and next year."
Weightman, an exciting goalkicker from the Dandenong Stingrays, has been on Melbourne's radar and is likely to be available at pick No.8.
Dandenong Stingrays flying small forward Cody Weightman takes part in the running jump test. Looking a first-round pick in November. pic.twitter.com/ZifBgPyi9I

— Callum Twomey (@CalTwomey) October 2, 2019
After missing out on Collingwood star Jamie Elliott in the race for the free agent's signature, Mahoney said last week that the club would use the draft to focus on adding to its small forwards stocks.
TRADE TRACKER Check out all the moves as they happen
Weightman has drawn comparisons to Elliott for his high-flying marks and skills at ground level, having been a bolter across the season.
Others who could be in the Demons' sights include basketballer-turned-ruckman Luke Jackson and West Australian midfielder Deven Robertson.
INDICATIVE DRAFT ORDER Your club's latest picks
Hayden Young is widely seen as a leading candidate to be the No.3 pick after Gold Coast selects Matt Rowell and Noah Anderson with the first two choice at the draft, while Caleb Serong is another in the mix.
Draft value index
| ROUND ONE | ROUND TWO | ROUND THREE | ROUND FOUR | ROUND FIVE |
| --- | --- | --- | --- | --- |
| Pick/Pts | Pick/Pts | Pick/Pts | Pick/Pts | Pick/Pts |
| 1. 3000 | 19. 948 | 37. 483 | 55. 207 | 73. 9 |
| 2. 2517 | 20. 912 | 38. 465 | 56. 194 | 74. - |
| 3. 2234 | 21. 878 | 39. 446 | 57. 182 | |
| 4. 2034 | 22. 845 | 40. 429 | 58. 170 | |
| 5. 1878 | 23. 815 | 41. 412 | 59. 158 | |
| 6. 1751 | 24. 785 | 42. 395 | 60. 146 | |
| 7. 1644 | 25. 756 | 43. 378 | 61. 135 | |
| 8. 1551 | 26. 729 | 44. 362 | 62. 123 | |
| 9. 1469 | 27. 703 | 45. 347 | 63. 112 | |
| 10. 1395 | 28. 677 | 46. 331 | 64. 101 | |
| 11. 1329 | 29. 653 | 47. 316 | 65. 90 | |
| 12. 1268 | 30. 629 | 48. 302 | 66. 80 | |
| 13. 1212 | 31. 606 | 49. 287 | 67. 69 | |
| 14. 1161 | 32. 584 | 50. 273 | 68. 59 | |
| 15. 1112 | 33. 563 | 51. 259 | 69. 49 | |
| 16. 1067 | 34. 542 | 52. 246 | 70. 39 | |
| 17. 1025 | 35. 522 | 53. 233 | 71. 29 | |
| 18. 985 | 36. 502 | 54. 220 | 72. 19 | |