The NAB AFL Academy is in the middle of a training camp in America at the IMG Academy.
Throughout the tour, highly rated 2016 draft prospect Jy Simpkin will be writing a daily diary for AFL.com.au.
He will also shine the spotlight on a teammate once a day across the 12-day trip. This is the second of three diary entries from Simpkin.
Day five, Saturday, January 16
IMG Academy, Bradenton, Florida
Today was the first main session of our time at the IMG Academy, and it was a big one that wore us out. There were two key components of the morning: a running part, and a footy side that focused on hitting as many short kicks under pressure as possible.
The aerobic section consisted of six seconds of sprinting, six seconds of jogging and then six seconds of walking. This sounds simple, but we had to do this on repeat for 10 minutes, which had most of the boys puffing by the end of it.
Sam Petrevski-Seton is one of the most skillful players on the tour and put on a show with the short kicking drills under pressure, which our coach Brenton Sanderson has identified as a key area we need to work on if we're to get to the next level.
Jy's American diary: rockets, time-trials and freezing pools
In the afternoon the squad split into two groups, and I was part of the guys who were interviewed by all the clubs on tour in a 'speed dating' type of scene.
There are 11 recruiters here, so we split up for 10-minute chats with all of them. The main feedback I got from the recruiters is to keep working on my short kicks.
The weirdest question was what was the hardest thing I've accomplished. I wasn't sure what to say, but as I was looking around thinking of an answer I saw Will Brodie and remembered that I beat him in a league best and fairest in the under-14s and said that.
It's a little strange to have the recruiters here watching most things we do, and it can make some of the guys feel a bit nervous, but as the camp has gone on the boys have become more comfortable with them and act like they normally would.
Spotlight on: Everyone was getting around Kobe Mutch on the track today and encouraging him to use his voice more out on the field. He's got some awesome skills on both feet and is a great runner, and I thought he trained really well.
Speed dating, AFL style, as Jy Simpkin speaks with Melbourne recruiter Tim Lamb. Picture: AFL Media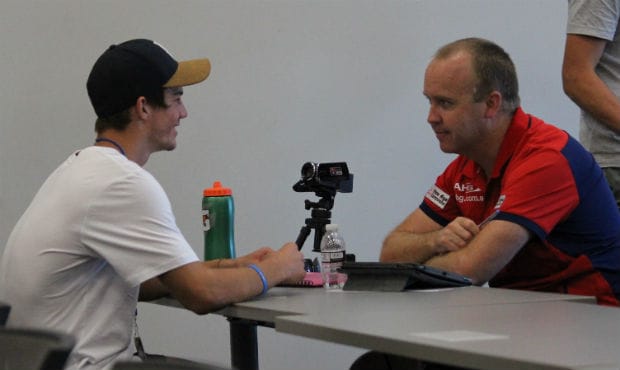 Day six, Sunday, January 17
IMG Academy, Bradenton, Florida
A nine o'clock start saw us split into two groups in the astro-turf indoor facility on campus, which is just another great part of the IMG Academy centre. It was cross training, and we did push-ups, chin-ups, dips and had to flip big tractor tyres over. It was good start to the day before a relaxing afternoon.
We hopped on a bus and stopped at the outlets stores in Tampa, where most of the boys went all out and spent plenty of money. Jarrod Korewha probably got the votes at the shopping mall, loading up on clothes and anything he could get his hands on.
After a couple of hours there we went straight to an NHL ice hockey match between Tampa Bay Lightning and the Florida Panthers, which was a local derby. I was a bit surprised when we were outside, with plenty of the crowd really loud, and by the time we got inside the music was pumping and the lights were flashing to make a great atmosphere.
All of us were keen to get a photo in front of the ice hockey rink – probably just to upload it to Instagram, which I think about 30 of the 34 players on tour did. Brad Scheer was a bit disappointed with the amount of likes his picture got, which he said wasn't up to his normal standards.
I didn't understand too many of the ice hockey rules, but I liked the way they smashed each other into the walls and were so physical.
In the third period a couple of blokes took their gloves off and had a fight while the rest of the game stopped and waited for them to finish. It was good to see a few goals and see the local team win – especially as I forked out a fair bit of money to buy a Tampa jersey – so we went home happy 'Bolts' fans.
Spotlight on: Zach Sproule is a happy bloke all the time but he kept everyone entertained at the ice hockey with how excited he was to be there. He's been great on tour with his enthusiasm every day even when some of the other guys are getting tired, so he's a good person to have around the group.
Jy Simpkin on the training track at the IMG Academy in Florida. Picture: AFL Media

Day seven, Monday, January 18
IMG Academy, Bradenton, Florida
The wear and tear of a big week started to get to a few boys as some of us started to pull up a bit sore from a few heavy training sessions. This morning was no different, with a couple of guys hurting their quads and needing to come off the track early.
Towards the end of the session I also had to leave the track to ice my patella tendons, which is something I'll keep managing to make sure I'm ready to go for a big year ahead.
It was a competitive session with the forwards manning up against the backs, and I thought Jake Waterman did really well with his strength around the contest and his hard tackling.
In the afternoon we did a leadership session under the guidance of a specialist at IMG. We had to complete a few challenges, including one where all 19 of our group had to stand on a tarp and try to flip it over without stepping off it.
After about 10 minutes of us being lost and not knowing where to start, we got a few tips and a few minutes later had achieved the goal. The point of the drill was to emphasise the importance of teamwork and communication, and to see who took the lead when things got a bit hard.
Spotlight on: We were disappointed to find out on the weekend that Ben Ainsworth had broken his wrist at training, but he's still been around the group doing his bit. Today he got up early to be out there with the rehab boys and then played his part in the main session, and we hope he's back in no time.
Day eight, Tuesday, January 19
IMG Academy, Bradenton, Florida
A gym and swim session started another fresh Florida morning. I was a bit limited with some of the exercises in the gym due to my knee, but I focused on my core work and squatting to build up the strengths in my quads.
The afternoon was a pretty lazy one on campus. We had a few hours off so a few of the guys went to the local shops to pick up some extra food for our little apartments, but most of us just caught up on some extra sleep and refreshed while we could before a busy finish to the tour.
In my apartment block are Jack Bowes, Jarrod Berry and Sam Powell-Pepper. Before this trip I knew Jarrod really well having played with him since under-12s state footy for Victoria, and I toured New Zealand with the Boomerangs with Sam in 2013.
It's been good rooming with Jack and getting to know him more, and he's better friends with another group of boys from Queensland so I've got to know them a lot more as well. Everyone has been pretty well behaved, although we're sick of getting 'selfies' from Josh Battle on Snapchat.
Spotlight on: Brad Scheer is a gun in the gym and was again that today. It's clear his work in there helps his game on the field too, as he's a strong midfielder who throws his body around on the track.