THE new Perth Stadium could be ready early and available to host its first game during the 2017 finals.
The $1.3 billion project isn't due for completion until the start of 2018, but is running ahead of schedule and under budget.
In an exclusive interview with AFL.com.au, West Australian premier Colin Barnett revealed the 60,000-seat venue could be available in just two years from now.
"It's 28 per cent built at this stage, it will be ready for the beginning of the 2018 year," Mr Barnett said.
"It may even be ready if there are finals in Perth in late 2017 - that's not part of the contract, but it's a possibility."
Mr Barnett explained if a weekend like this with preliminary finals in Perth was repeated, the new venue could be used, even if there were some trimmings and fittings that remained unfinished.
"It is a rough chance," he said.
"So if it is completed well ahead of schedule, and it's looking like doing that, certainly the playing surface will be ready, and even if there's a few things to be done, I think if we have a final late in 2017, and the stadium can be used, we'll use it."
While the premier thinks it's unlikely, some in the west even believe the new stadium could one day bid to host an AFL Grand Final.
"It's always possible, because these days you can bid for events," WA sport and recreation director general Ron Alexander told AFL.com.au.
"We'd like to see a Grand Final here, and there's no reason why [not] with 60-000 plus seats. Perhaps every seven years you'd like to see that happen," he said.
An artist's impression of the new Perth Stadium (supplied)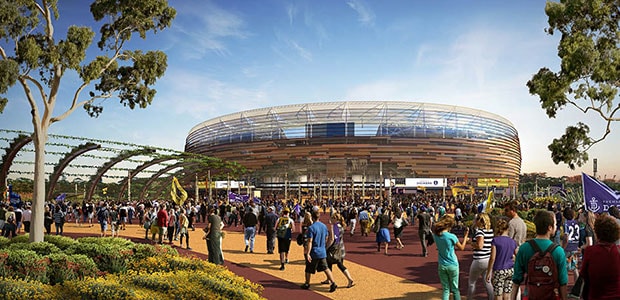 Fremantle chief executive Steve Rosich also agreed a Grand Final in Perth one day shouldn't be ruled out.
"At the moment the biggest weekend you can get in WA footy is what we get this weekend with two preliminary finals. Wouldn't it be great to have a grant final here in WA?" Rosich told AFL.com.au.
"Maybe after the current contract's finished, we might move to the US system where cities bid for the right to host the Grand Final."
The Perth Stadium project, which includes redeveloped parkland and a new transport hub, is springing to life on the banks of Perth's Swan River next to the Crown Burswood Casino.
When AFL.com.au visited the site this week, it was buzzing with some 300 workers, and towering cranes helping assemble the grandstands.
Alexander, who's overseeing the project, said the stadium was being built with the fans front of mind.
"If you want people to go there, it's got to have what people want, and we've made every effort to ensure that. It'll be fun to go to," he said.