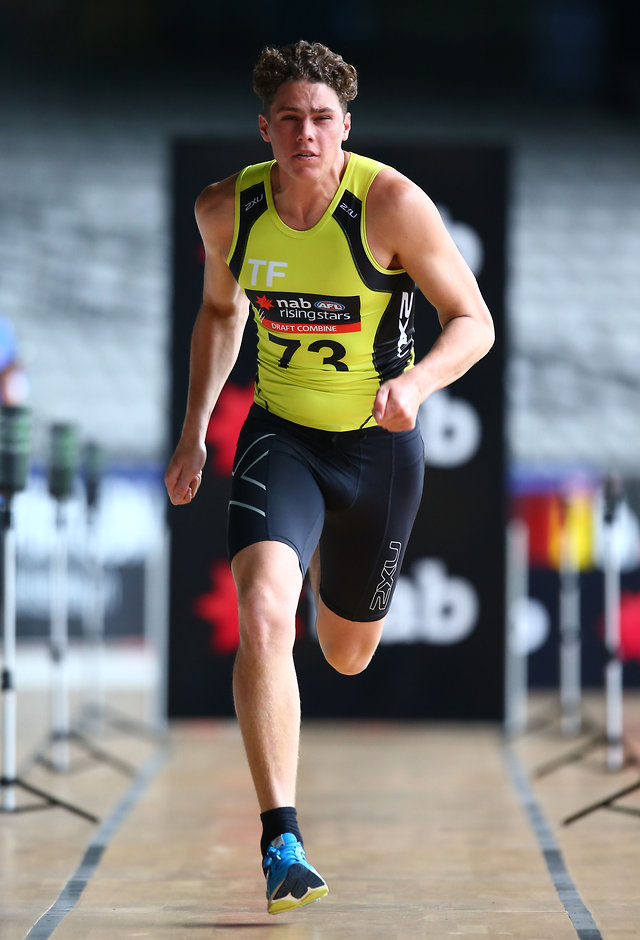 I have spoken to Charlie and he understands he made a poor choice
Michael Ablett
• Draft order: Your club's provisional picks
• Get to know the next young guns at the NAB AFL Draft Hub
• Draft countdown: 30 future stars in 30 days
• Draft machine: Pick this year's top 10 and you could win $10k
CLUBS will have no choice but to factor in Charlie Curnow's off-field indiscretion when they weigh up where to draft the talented forward, AFL national talent football manager Michael Ablett says.
Curnow, considered a top-five prospect in Tuesday night's NAB AFL Draft, was arrested by Geelong police in the early hours of Friday morning after he refused a preliminary breath test.
Ablett said the error in judgment should not leave Curnow, whom he compared to the Western Bulldogs' Jake Stringer, with a permanent black mark next to his name.
"Clubs have definitely got to give it consideration and take into account the decision that he's made," Ablett said.
"I have spoken to Charlie and he understands he made a poor choice and he's taken responsibility for that and he's got to live with the consequences."
Ablett will be a central part of the media coverage of Draft night, and subscribers to the Official AFL Live Pass can see him review each player drafted, pick-by-pick, through the event.
He will join Fox Footy's Sarah Jones, allowing fans to follow every selection live as Ablett gives his in-depth analysis on every player.
Draft day will start on AFL.com.au and the Official AFL Live App with the NAB AFL Draft Countdown, hosted by Matt Thompson, Callum Twomey and Garry Lyon live from 3.30pm AEDT.
Ablett said the introduction of the new father-son and northern academy players bidding system would add even more intrigue to draft night.
Callum Mills, Jacob Hopper and Matthew Kennedy are all expected to receive bids from clubs inside the top 20.
"It's going to be exciting. There's going to be some decisions that need to be made on the night, that's for sure," Ablett said.
The fact that three clubs – Carlton, Essendon and Melbourne – have multiple picks inside the top 10 makes the draft hard to predict, according to Ablett.
"It's certainly going to make it interesting because they'll all be figuring out how to get what they want.
"That's why a lot of the clubs are preparing for so many different scenarios."
Ablett will give fans in-depth analysis on each player drafted, what style of player they are, how they performed at the Combine and throughout their junior careers.
The live video coverage begins on Fox Footy on Tuesday night from 6.30pm AEDT, with Ablett and Jones' in-depth analysis, and will also be available on the Official AFL Live app.