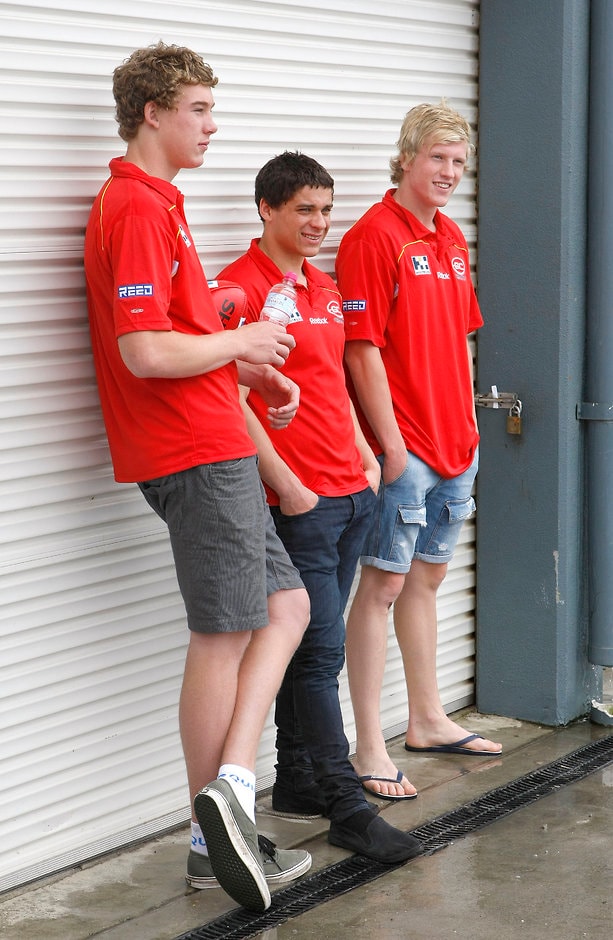 This year was an off year I feel for the club, but I definitely think finals are on the cards
Dion Prestia on joining Richmond
• Tune in to Trade Talk for LIVE trade coverage every weekday
• Check out every confirmed move on the Trade Tracker
RICHMOND recruit Dion Prestia has been in touch with former teammate Josh Caddy in an effort to entice the Cat to Punt Road.
Both were drafted to Gold Coast in 2010, with Caddy going at pick No.7 and Prestia at No 9. Caddy left for Geelong at the end of 2012 while Prestia joined Richmond on Wednesday on a five-year deal.
Tigers boost ruck stocks with big Swan
Prestia said his Richmond unveiling at Punt Road that he had been in touch with Caddy and hoped the pair could be reunited.
"I've known him since I was about 13, through junior footy," the new Tiger said.
"We lived together on the (Gold) Coast for two years. It would be pretty exciting if we got back together."
Prestia, 24, joined Richmond on Wednesday after Gold Coast received pick No.6 in this year's draft and a second-round selection in the 2017 draft.
The Tigers also brought this year's pick No.24.
The tough ex-Sun played 14 games this campaign before knee surgery ended his season. The injury will cause his pre-season to be limited slightly but Prestia is running already.
• Key dates for the NAB AFL Trade Period
"I had an arthroscope but it was a bit of an awkward time, because it was a 12-week injury and there were 12 weeks left in the year. I could have come back and played but there was no risk rushing it, with no finals for us (Gold Coast)," he said.
"I've started running and got more time off than I thought I would. I'm sure I'll be eased into pre-season and be right to go round one."
He was limited to eight matches in 2015 after a knee operation.
The protracted negotiations between the Suns and Tigers had Prestia a little nervous but he said he was always set on joining Richmond. He heard the trade had officially been completed while at his parents' house and celebrated by working out.
Dion Prestia models his new Richmond jumper at Punt Road. Picture: AFL Photos

"Since I made my decision and talked to the club, I knew it was going to happen. I was a bit nervous when it came down to the last two days but I always backed the guys in here and at the (Gold) Coast that it would get done," he said.
Prestia said making the top-eight was a realistic goal for Richmond, despite Damien Hardwick's men finishing 13th in 2016. He said the club is also set to succeed in the long-term.
>> On the app? Tap the green headphones in the top right corner to tune in
"They've got some good draft picks come in the last couple of years," he said.
"They've played finals the last three years. This year was an off year I feel for the club, but I definitely think finals are on the cards."
The pressure of being Richmond's big-name recruit doesn't concern Prestia.
"I don't really know what to expect on that side of things, but I'm just excited to play at the MCG every week and play in front of big crowds," he said.