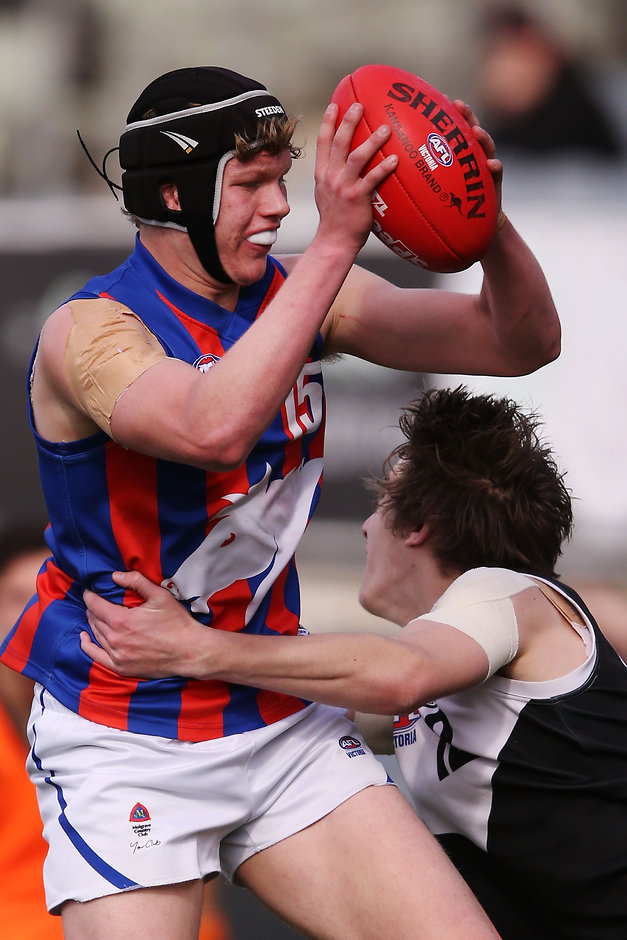 He's a fierce competitor, so it's a great story and it's great for us
Derek Hine on Sam McLarty
• Every pick, every club on the NAB AFL Draft Tracker
• Draft verdict: How did your club fare?
• 10 things we learned from the draft
AFTER being born with profound deafness, draftee Sam McLarty has found himself at the biggest club in the land with Collingwood selecting him in the second round of the NAB AFL Draft on Friday night.
McLarty has a bionic ear implant and plays in a helmet, but is otherwise unaffected by the condition that has lived with his entire life.
Collingwood list manager Derek Hine told AFL.com.au on Friday the club had no concerns about adding the key defender to its list.
"Our medical team make an assessment and then they send us a recommendation. Clearly, on the report, they were more than comfortable to take him, no more than if he had a crook knee or crook shoulder," Hine said.
Shoulder troubles restricted McLarty to just seven matches for the Oakleigh Chargers this year.
Collingwood recruiters did not ask McLarty about his hearing, leaving those questions to the club doctors and Hine does not believe it will prove to be an impediment.
"Not the way he plays. He's a fierce competitor, so it's a great story and it's great for us," he said.
At 193cm, the athletic tall is strong in the air and can take a mark. His versatility means he can play forward or pinch-hit in the ruck if required.
Former Adelaide tall Keenan Ramsey was drafted as a rookie in 2014 after sharing a similar inspirational story.
Ramsey lost one of his eyes to cancer at aged two, but remarkably was able to forge out a successful junior career before joining the Crows. He was delisted in September without playing a senior game.