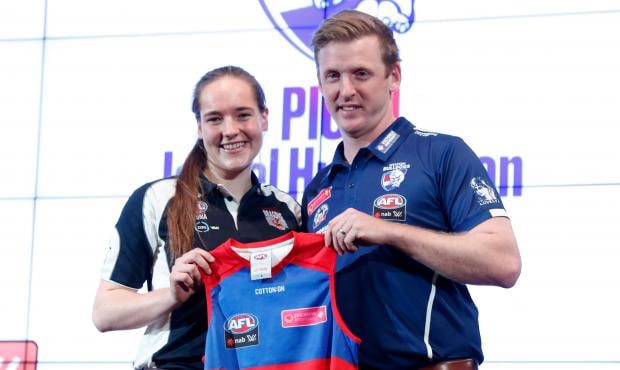 THE PRIZE of this year's NAB AFL Women's Draft discovered on Tuesday night she was going to be crowned the No.1 female prospect in the land.
A band of Western Bulldogs, including coach Paul Groves, list manager Mick Sandry and club legend-turned-director of football Chris Grant, broke the news to Isabel Huntington on her doorstep.
The 18-year-old key forward, who is versatile enough to play down back and through the midfield, headlined the draft class for the second AFLW season.

AFLW Draft: Every pick, all the facts
Huntington overcame breaking her right leg in 2015 and tearing the anterior cruciate ligament in her left knee last year to reach this point, and has declared herself ready to go for pre-season.
"It's a massive honour. I would have been happy to go anywhere, any pick," she told reporters.
"It doesn't really matter when you get into the club, whether you're one or 100, but I'm pretty honoured they think of me that highly and I'm just excited to get started."
The Bulldogs secured the top pick back in May in a three-way trade with Collingwood and Greater Western Sydney that saw Jaimee Lambert join the Magpies and Alicia Eva become a Giant.
They coupled that selection with reigning WNBL rookie of the year Monique Conti at No.4, uniting two players who already formed a lethal combination for Vic Metro and Melbourne Uni.
Fremantle redrafted Stephanie Cain at No.2, while the Magpies swooped on Chloe Molloy with the third pick. Molloy shared the TAC Cup best and fairest award with Bridie Kennedy, who joined Carlton with the 36th selection.
Conti, a midfielder, will juggle her Melbourne Boomers commitments with chasing her football dreams.
The 17-year-old, who starred in Australia's under-17 world championship last year, will miss part of the Bulldogs' pre-season because of her WNBL duties, but plans to play full seasons in both sports.
Conti described the chance to join forces with Huntington again as "amazing" and they are set to add long-term star power to a club that already boasts Katie Brennan and Ellie Blackburn.

The first eight selections in the 2017 AFLW Draft get to know each other. Picture: AFL Photos

"We've been playing since back in 2014, so it's definitely so exciting being able to play alongside her," Conti said.
"She's a great all-round player, very athletic, a great forward to kick to, a great target and very versatile."
The dual-sport theme continued with Greater Western Sydney's Jodie Hicks, the No.5 choice, who also sends down medium-pacers for the Sydney Sixers in the WBBL.
Melbourne took Bendigo Pioneers forward-ruck Eden Zanker with its first selection and the sixth overall, with Jordan Zanchetta (Brisbane Lions) and Jessica Allan (Adelaide) rounding out the first round.
The Demons later nabbed Conti's former Boomers teammate Tegan Cunningham at No.22.
Among the other interesting picks were ex-Perth Glory goalkeeper Evangeline Gooch (Fremantle, pick 10) and former Adelaide United captain Marijana Rajcic (Crows, 32).
Collingwood netballer Ashleigh Brazill extended her black and white allegiances at No.35, while another Magpie draftee, Kristy Stratton, is the sister of Olympic long jumper Brooke Stratton.
The Crows did not redraft Darwin-based Heather Anderson, a premiership star who required a second shoulder operation after re-hurting it in the inaugural AFLW Grand Final.
Anderson has not played since the injury but is returning to full fitness. She is the sole top-10 draft pick from last year not to be on an AFLW list for the 2018 season.
FIRST ROUND OF THE 2017 AFLW DRAFT

Pick 1 - Western Bulldogs
Isabel Huntington (Melbourne Uni)
Centre-Half Forward
18 years old

Huntington is a dynamic forward who is capable of turning a match in a single quarter. She is a solid overhead mark and is agile at ground level.
Having not played a game since September 2016 due to a torn ACL, Huntington committed to her rehab to return to full training with Melbourne Uni this year.
Huntington is also co-captain of St. Michael's Grammar in St Kilda and has aspirations to study medicine.
What she said: "This is a massive honour. I would've been happy to go anywhere, any pick, regardless. It doesn't matter when you get into the club whether you're pick one or 100 but I'm honoured they think of me this highly."
Pick 2 - Fremantle
Stephanie Cain (Swan Districts)
Midfielder
21 years old
Fremantle used their first pick of the draft to bring back delisted player Stephanie Cain. Coach Michelle Cowan said it was an easy decision to bring Cain back to the club after the midfielder vastly improved her game in the 2017 WAWFL season.
Cain relied on the guidance of fellow Swan Districts and Fremantle-listed players Kara Donnellan and Ebony Antonio to get back onto Fremantle's list, working on both the physical and mental sides of her game.
Cain took up football after playing soccer for a number of years, and played six games for Freo in the inaugural AFLW season.
What she said: "It was obviously disappointing at the time (being delisted). It's not what you want as a player but there were things I needed to work on. I went away in the off-season and completed those goals and worked towards what I needed to do to become a better player, and it obviously paid off."

Stephanie Cain is welcomed back to the Dockers by coach Michelle Cowan. Picture: AFL Photos

Pick 3 - Collingwood
Chloe Molloy (Diamond Creek)
Forward
18 years old
Chloe Molloy had a break-out year this year in the TAC Cup and VFLW, taking out a number of awards including VFLW leading goalkicker and TAC Cup best and fairest. Molloy was tipped by many to go number one, but the lifelong Pies supporter will call Collingwood home for her first AFLW season.
Molloy proved her ability to play against some of the best footballers in the country for her VFLW side Diamond Creek. Her ability to take a strong overhead mark and kick goals under pressure, plus her physicality, will bring some firepower to the Pies.
Molloy is also an immensely talented basketballer and almost didn't pursue her AFL dreams. She was ready to go to Virginia Commonwealth University in the USA to pursue her basketball career, but seeing this year's AFLW season inspired her to get back into football.
What she said: "I've spoken to Wayne (Siekman, Collingwood coach) and the expectation is to go in there and find my place. I think I have some leadership qualities and, being a young player, I want to bring that in. I want to bring some goals and some wins. I want to be a good character that is committed on and off field."
Pick 4 - Western Bulldogs
Monique Conti (Melbourne Uni)
Midfielder
18 years old
Monique Conti has a very busy summer ahead of her. Conti will join the Western Bulldogs a little later then her teammates due to basketball duties with the Melbourne Boomers in the WNBL.
Conti is a midfielder with elite power, clean hands and superb goal sense. She will provide some great outside run for the Dogs, with coach Paul Groves saying the small midfielder has an uncanny ability to get out of traffic.
Conti won the WNBL rookie of the year last year and has represented Australia at under 17 and under 19 levels. She hopes to continue to juggle basketball and footy.
What she said: "Playing with the Boomers, I've been exposed to an elite environment and I can bring my professionalism to the club. I like to run a lot and get in and out of packs and use my ball skills."

It's going to be a hectic year of sport for Monique Conti. Picture: AFL Photos

Pick 5 - GWS
Jodie Hicks (Belconnen Magpies)
Midfield
20 years old
Jodie Hicks took the draft by surprise being taken with GWS's first pick. The midfielder has only recently taken up football seriously after being turned away from football at 14 due to lack of opportunities. She came second in AFL Canberra's best and fairest this year.
Hicks will be another cross-code star in the AFLW, juggling commitments with the Sydney Sixers in the WBBL. She comes from Hay, a town with a population of just over 2000, in the western Riverina region of NSW.
What she said: "I always loved playing footy growing up, and I always wanted to pursue it as a career, and now I get the chance so it's very exciting. There are a lot of dual-sport athletes, I aspire to be like them. Watching them I was a little bit jealous I wasn't out there but now hopefully I will."
Pick 6 - Melbourne
Eden Zanker (Bendigo Pioneers)
Forward/ruck
18 years old
Bendigo product Eden Zanker will pull on the red and blue after being picked up by Melbourne with their first pick. She played junior footy before crossing to netball, but has recently returned to her original sport, where she has undergone a rapid rise through the ranks.
Zanker is a key forward and took out the leading goalkicker award in the NAB AFL Women's under-18 national championships this year. She is rarely beaten in the air and on the lead, and has shown incredible agility for someone who stands at 182cm tall.
What she said: "I've enjoyed every single moment of being back in football – I can't thank people enough for all the support in allowing me to play with the Woorineen youth girls and contribute to the journey I've made"
Pick 7 - Brisbane
Jordan Zanchetta (South Yeronga)
Midfield
22 years old
Jordan Zanchetta was a sure thing to represent Brisbane in the inaugural AFLW competition until she was put out of contention with a torn ACL. Brisbane Lions coach Craig Starcevich was thrilled to select Zanchetta, "one of the best midfielders in Queensland of the last three years."
Zanchetta will join South Yeronga teammates Emily Bates and Kate McCarthy at the Brisbane Lions for the 2018 season. The competitive midfielder will be the shortest player in the AFLW when she takes to the field.
What she said: "I love the sport and I wanted to get back at the highest level and I think that's what pushed me through. You want to play your role for the team. Having made the Grand Final [last season] puts us in good stead, we want to work doubly hard because we didn't get the win, the girls are ready to take it to them."

Seventh pick at the AFLW Draft Jordan Zanchetta is heading to Brisbane. Picture: AFL Photos

Pick 8 - Adelaide
Jessica Allan
Ruck/Forward
18 years old
The Crows will be home to the first sister duo of the AFLW with Jessica Allan joining sister Sarah at the club. She starred at this year's under-18 national championships where she caught Adelaide coach Bec Goddard's eye with her rucking and contested marking abilities.
At the recent combine Allan ranked first in the vertical jump and running vertical jump, cementing her status as an elite talent.
She was also named Vice Captain in the 2017 NAB AFLW Under-18 All Australian team and there is a definite possibility she could be a future leader of the club.
What she said: "Watching the season last year I sort of felt a part of the club because of Sarah. A lot of the girls feel like they know me because of Sarah, but it's definitely made this process a lot better and made me a lot more determined to get here."

SECOND ROUND
9. Darcy Guttridge (Collingwood)
10. Evangeline Gooch (Fremantle)
11. Jenna Bruton (Western Bulldogs)
12. Georgia Gee (Carlton)
13. Iilish Ross (Collingwood)
14. Maddy Guerin (Melbourne)
15. Arianna Clarke (Brisbane Lions)
16. Jasmyn Hewett (Adelaide)

THIRD ROUND
17. Tanya Hetherington (Greater Western Sydney)
18. Jodie White (Fremantle)
19. Daria Bannister (Western Bulldogs)
20. Sarah Dargan (Collingwood)
21. Kristy Stratton (Collingwood)
22. Tegan Cunningham (Melbourne)
23. Renee Cowan (Brisbane Lions)
24. Eloise Jones (Adelaide)

Melbourne took Eden Zanker with pick six. Picture: AFL Photos


FOURTH ROUND
25. Courtney Gum (Greater Western Sydney)
26. Ashlee Atkins (Fremantle)
27. Emma Mackie (Western Bulldogs)
28. Sophie Li (Carlton)
29. Reni Hicks (Carlton)
30. Claudia Whitfort (Melbourne)
31. Kalinda Howarth (Brisbane Lions)
32. Marijana Rajcic (Adelaide)

FIFTH ROUND
33. Emily McGuire (Fremantle)
34. Pass (Western Bulldogs)
35. Ashleigh Brazill (Collingwood)
36. Bridie Kennedy (Carlton)
37. Emma Pittman (Brisbane Lions)
38. Ruth Wallace (Adelaide)

SIXTH ROUND
39. Phoebe Monahan (Greater Western Sydney)
40. Alicia Janz (Fremantle)
41. Ruby Blair (Brisbane Lions)
42. Rheanne Lugg (Adelaide)

SEVENTH ROUND
43. Philippa Smyth (Greater Western Sydney)
44. Leah Mascall (Fremantle)
45. Sophie Conway (Brisbane Lions)
46. Pass (Adelaide)

EIGHTH ROUND
47. Cora Staunton (Greater Western Sydney)
48. Jessy Keeffe (Brisbane Lions)

NINTH ROUND
49. Pass (Greater Western Sydney)

Isabel Huntington relaxes after the draft. Picture: AFL Photos