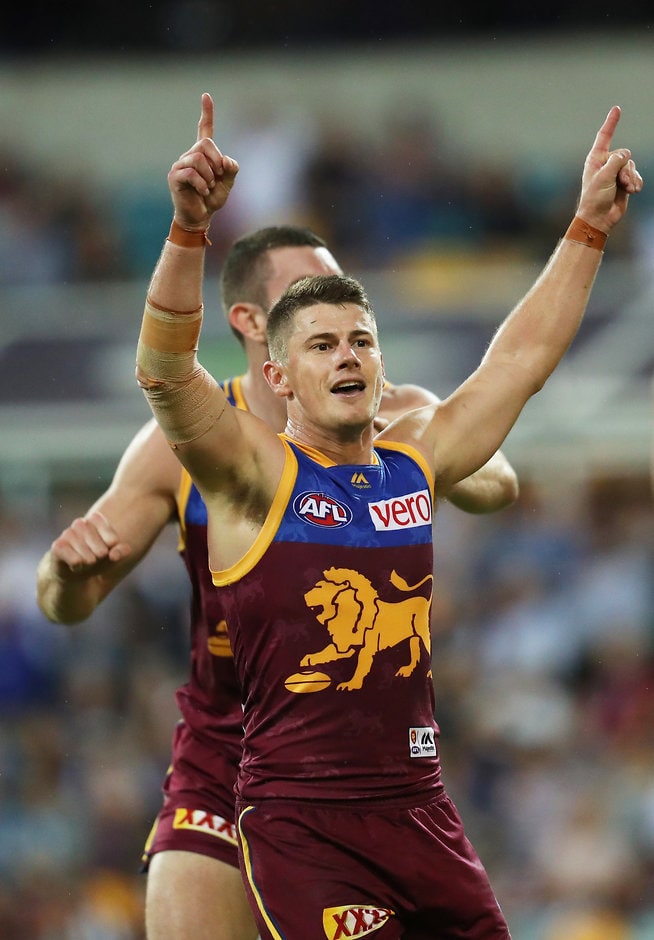 IT WAS an interesting round, with plenty of highs and lows resulting in a below average par of just over 2000. Unfortunately, it was also a round marred with regret after players who were popular traded out options bounced back with a vengeance … and as we all know, that is as bad as it gets for a Fantasy coach.
Fantasy Pig
Dayne Zorko is the bone of contention for many coaches after finally pumping out a massive score, which was remarkably around 100 more than his coaches have been getting from the little champ. He was back to Zork of old with 34 touches, seven marks, 10 tackles and four goals for 176. The reason this is hard, is that many patient coaches waited until this week to trade him out … now that's just cruel. On a positive note, if he has turned things around, he is a bargain, but the tag is obviously an ongoing fear.
Honourable mention: Jack Macrae is the form player of the competition and if there is a player showing consistent Pig tendencies this season, it is certainly Jack. He was on fire again this week, pumping out phenomenal numbers with 40 possessions, eight tackles and a goal for 151. He comes at a cost but he would be a great player to have and he looks set for another thumper with a game against the Lions.
Rage trades
Luke Parker is clogging up a midfield spot and has to go. The disappointment goes back beyond the increased time in the forward line due to Buddy Franklin's absence and realistically it is no excuse to compile only eight kicks and two tackles on his way to 73 against the Roos in Sydney. This was his third score in a row of 80 or less and it's time to go before his price falls any further.
Honourable mention: Jack Billings. It is hard on a player to receive back-to-back rage trades, but at least that means there are high expectations. If coaches didn't trade him out last week, the experiment is over, he is not playing the role he was at the end of last year, nor does he have the form to do so. Every week he is dropping significantly in cash and costing a heap of points, regularly being outscored by rookies on the bench.
FROM THE TWOS: Blue back in form, big Dog fires
Piglet
Brayden Crossley had a great debut with 13 possessions, five tackles, seven hit-outs and a goal for 69. I can't see him going anywhere in the short term.
Charlie Spargo backed up a great debut, with another strong performance that included 15 possessions, five marks, three tackles and a goal for 71. Even with players returning, he really adds something to the team and has had a huge spike in job security. Unfortunately, he comes at a price now despite only playing two games.
Trade targets
Jack Macrae
Toby McLean
Josh Kennedy
Michael Hibberd
Jack Redden
THINGS WE LEARNED: Showboating Hawk is a genuine star
Fantasy mailbag
Which one is better. English to McLean,
Tim Kelly to Sidebottom or Sandilands to Grundy#AFLFantasy @WarnieDT @RoyDT @CalvinDT @AFLFantasy

— Ben de Bruyn (@bennydb92) May 6, 2018
It's English to McLean because English just has to go!
@RoyDT Question for the round wrap... Zorko, is it time to jump on now? Low BE, has the 110+ runs on the board.

— Jaxon Connor (@jaxonconnor11) May 6, 2018
An absolute bargain for a player of this calibre … you just have to look at his average from last year. He is obviously still susceptible to tags, which I predict he receives at least two in the next five match ups but there are also some nice games there. You need to be prepared for a rollercoaster, but a bargain based on name and ceiling alone.
For more, follow me on Twitter: @RoyDT
Get expert advice from The Traders in the Fantasy Hub. Follow AFL Fantasy on Twitter and 'like' the Facebook page to join in the conversation.
The views in this article are those of the author and not necessarily those of the AFL or its clubs