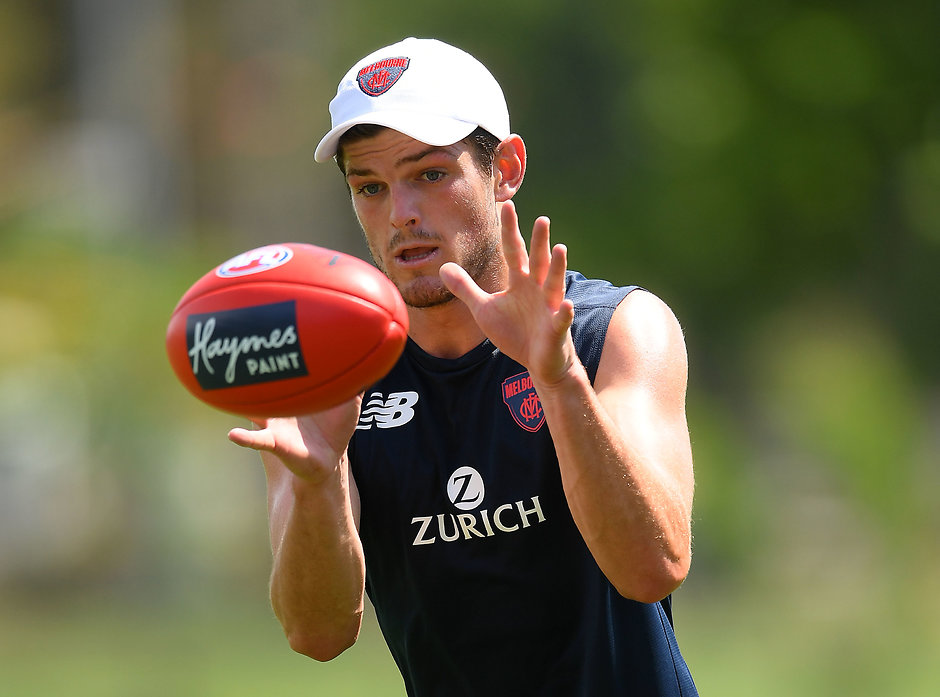 MELBOURNE midfielder Angus Brayshaw is expected to resume full training next week after putting the finishing touches on his rehab from a niggling back injury.
Brayshaw was restricted to a modified training program in the weeks prior to the Christmas break and it was unclear as to what had prevented him from training with the group.
However after completing the full program assigned to the players over the break and running solidly as the Demons returned to training on Saturday, the important midfielder should rejoin the main group next week.
It's good to be back. ✊

A look at the first red + blue session for 2019. 👇 pic.twitter.com/CdZRe3lRWQ

— Melbourne FC (@melbournefc) January 12, 2019
Brayshaw completed a solid session with Jack Viney, rehabbing from a foot injury, and Jake Lever (knee), with the trio running repeat strides toward the end of training and integrated into some ball work and, for Brayshaw, some contact-based training as well.
Viney was the strongest runner of the three, particularly as the repetitions increased and the recovery time became shorter.
FULL FIXTURE Every round, every game
Joining the trio in rehab were Billy Stretch (toe), Aaron vandenBerg (shoulder), Clayton Oliver (shoulders), Oskar Baker (hamstring) and Mitch Hannan (knee).
Co-captain Nathan Jones was also on restricted duties, completing some boxing and light running in his first official session back in the new year.
In positive news, Christian Petracca (knee), James Harmes (shoulder), Neville Jetta (shoulder), Jayden Hunt (shoulder), Oscar McDonald (hip) and Tim Smith (foot) have all reintegrated back into full training after being in rehab since November.
Looking to put a disappointing 2018 campaign behind him, Hunt won the time trial the players ran at the start of training, ahead of draftees Toby Bedford and Aaron Nietschke.
Not every player ran the trial and there were designed staggered starts but it was a positive sign for Hunt who, at his best, is a major asset for the Demons on the wing and off half-back.
Day 1 of 2019. ⏱ pic.twitter.com/a6uDDbYIVZ

— Melbourne FC (@melbournefc) January 11, 2019
The session ran for a little over an hour with the players divided up largely into their positional groups.
The backs worked on their defensive techniques and ability to cover space with mature-age draftee Marty Hore, who has overcome an ankle injury, excelling as he demonstrated his elite agility.
WHO MAKES FINALS? Do the 2019 Ladder Predictor
The forwards and talls went toe-to-toe in a contested marking drill with Category B rookie Austin Bradtke displaying his athleticism, while Max Gawn and Sam Weideman fought it out in an entertaining duel.
The midfielders worked on their stoppage craft with Harmes among the standouts there, while young midfielder Tom Sparrow is also turning heads with his combative nature.
💥💥💥 pic.twitter.com/2y0yvvzqfk

— Melbourne FC (@melbournefc) January 12, 2019
After a relatively light session to begin 2019 on Saturday, the Demons will step things up for the session on Monday as they get ready to travel to Maroochydore for the club's pre-season camp later this month.