1. Goodwin engineers a special Demon win
No one gave Melbourne a realistic chance coming into this one. The Crows were back on Adelaide Oval and expected to produce a furious reaction to last weekend's loss in Tasmania. The Demons were without a recognised ruckman and conceded a stunning hit-out deficit of 47. Melbourne fell 28 points down during the third term, but then something remarkable happened. Their midfield was copping a hiding but turned its stoppage and overall disadvantage on its head. It's halfback line was impassable, not conceding a goal for well over 45 minutes of football, as the Demons kicked eight unanswered goals. Simon Goodwin deserves enormous credit for the result. His side came with a plan to pressure Adelaide around the contest and shut down its damaging corridor transition. It executed the plan in stunning fashion to produce one of the most memorable Melbourne wins in 15 years.

Full match coverage and stats

2. Sloane's Saturday night at Bernie's
Former Crow Bernie Vince was coy midweek when asked whether he would tag friend Rory Sloane when he returned to Adelaide to chalk his 200th game, against his old club. Goodwin clearly noticed the effectiveness of Sam Gibson's tagging role on Sloane the previous weekend. Vince played a run-with role on Sloane and was again super effective. The Crows champ was limited to just 11 possessions. Sloane was averaging 30 possessions before the North Melbourne game but has had less than that in the past two games combined. Vince didn't play the agitating role he did against another former Crow in Patrick Dangerfield back in 2015 - read into that what you want - but he blanketed Sloane at stoppages and ran with him around the ground.

Everyone's down after Bernie Vince collided with the umpire. Picture: AFL Photos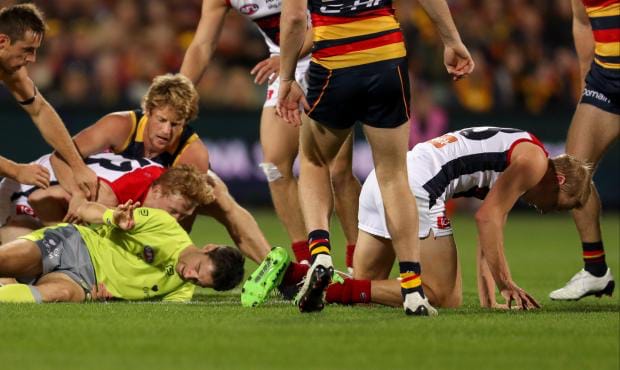 3. Umpires, Hunt casualties of bruising encounter
Bernie Vince had an eventful return to SA for his 200th. As well as reducing Rory Sloane's effectiveness he also took field umpire Craig Fleer out of the game during the second term. Fleer was backing out of a stoppage after bouncing the football and clashed heads with Vince. Both men went down but Fleer didn't return. Emergency umpire Rowan Hundertmark took over the officiating duties but he left the ground during the third term, creating a unique situation where two field umpires officiated the remainder of the contest. Meantime, the Demons will be sweating on the fitness of courageous halfback Jayden Hunt, who knocked himself out after a fierce tackling attempt on Sam Jacobs. Hunt was stretchered from the ground on the motor buggy but waved to fans as he left.
Umpire Craig Fleer came off the ground following this collision with Bernie Vince. #AFLCrowsDees pic.twitter.com/ORKJoXicDC

— AFL (@AFL) May 13, 2017

4. Oliver's goal of the year contender as Demon midfield fires
Melbourne was making a run for home during the third term but most at the ground would still have felt the Crows would respond. That was until Clayton Oliver kicked a third-quarter stunner which suggested this was Melbourne's night. Oliver won the ball up on the boundary in the Eddy Betts pocket, in traffic. He virtually slapped the ball onto the boot but managed to banana it through. It will be mighty hard to beat for Goal of the Year. Jake Viney produced an inspired midfield effort as Melbourne dominated stoppages and territory, while Tom McDonald played the match of his life across half forward.
Eddie's Pocket or Clayton's Corner? A terrific goal from Oliver #AFLCrowsDees pic.twitter.com/nSSMvDQvBj

— AFL (@AFL) May 13, 2017

5.Alarm bells ring in Adelaide
Adelaide is more known for its church bells but alarms will be ringing out after a second shocking performance. The Crows were being labelled as just about unbeatable after six rounds, yet two weeks later they look anything but. Everyone expected a response from Adelaide, and, for a short time, they provided it, but then Melbourne did a stunning job using a method not dissimilar to that of the Kangaroos last week. The Demons applied ferocious pressure and robbed the Crows of quick ball movement through the corridor. There is nothing revolutionary about that, but you can bet teams around the nation will have noticed. Adelaide averaged 135 points per game through six rounds but has averaged less than 80 points over the past fortnight.