IN THE latest In The Game with Damian Barrett podcast, one of the AFL's most famous names emotionally opens up about his and his father's time in jail.
Andrew Krakouer, son of North Melbourne great Jim Krakouer, gives a raw and emotional account of his life story, part of which saw him jailed for 16 months for assault in 2008.
Krakouer has never shirked responsibility for his actions which led to being jailed, and in In The Game with Damian Barrett, he says:
"It's unfortunate in life, people make the wrong decisions, and at the time they may think it was the right one, that they had no other option," Krakouer says.
"In hindsight, I look back on mine and I understand whole-heartedly it was through no one else's actions but my own why I was in this situation, why I got incarcerated.
"There were no other factors but my own doing."
Find In the Game on Apple Podcasts, Google Podcasts or Spotify
On his first night in jail: "It was a really long walk, really quiet, the hall seemed big, lino on the floor, and once we got to the door, I hadn't looked up the whole time, and then I heard some keys rattle and in you go.
"The door just slammed, and it went clunk behind me and I remember putting my hand on the door and it didn't move, and that was the reality. It was my home for the next 16 months."
Now, 36 and with four children to his life partner Barbara, Krakouer was 25 at the time of being jailed and had played 102 matches for Richmond.
He was able to turn his life around and play a key role for a second AFL club, Collingwood, after being released. He kicked three goals in the Magpies' Grand Final loss in 2011, a season in which he also won Mark of the Year.
The incredible grab was judged Mark of the Year in 2011. Picture: AFL Photos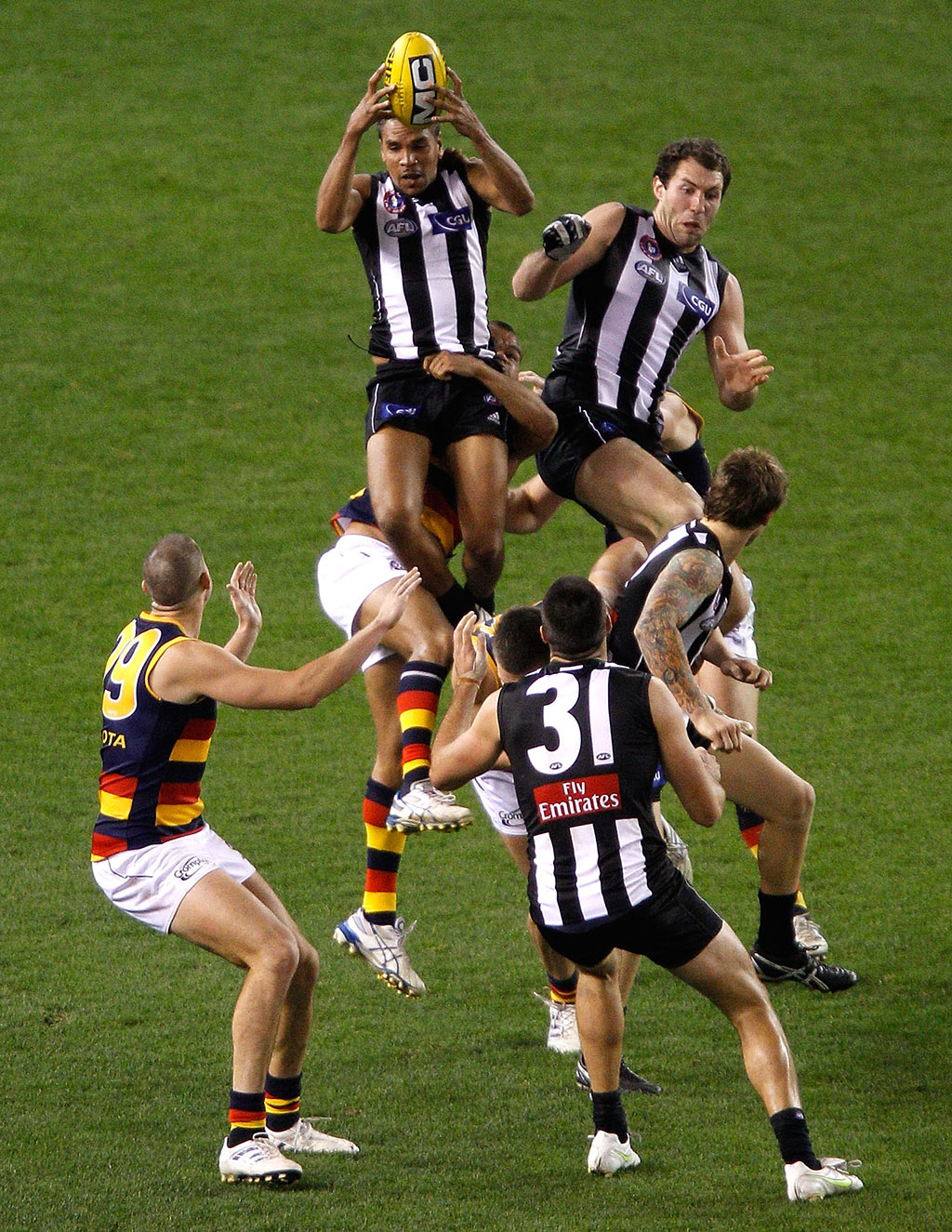 Krakouer's four children are aged 19, 18, 4 and four months. Having jail visits with the older two is a memory he doesn't like having.
"I'd have to say a quick goodbye to them, and as much as I wanted to hold them, and give them a kiss and tell them how much I loved them, it almost broke me to see them going," Krakouer said.
"The reason the family was in this situation was because of my actions, and I get emotional about that.
"We have these young, beautiful sweet girls who were put in this environment. I put them there."
Twitter: @barrettdamian
Episode guide
0:50 – In a good spot

5:31 – 'Dad's not coming home'

9:05 – The long walk into prison

10:48 – Taking responsibility

14:10 – 'It almost broke me'

16:05 – Out of prison and trying to fit in

18:15 – A season for all time with Swan Districts

20:35 – 16-year-old Stephen Coniglio steals the show

21:25 – A second chance with the Pies

22:55 – The prison gesture

26:00 – Jimmy and Phil

28:25 – Ups and downs, smiles and frowns