AFTER days of intense media scrutiny on his kicking for goal Melbourne forward Jesse Hogan says he just "had a bit of an off day" against St Kilda at Etihad Stadium on Sunday.
Although former Demon forward David Schwarz labelled Hogan's kicking "a disgrace" on morning radio, other commentators, most notably former Bomber Matthew Lloyd, considered his comments an overreaction.
And 20-year-old at the centre of the discussion could only laugh.
"I have got a pretty good routine and last year was pretty accurate, so I find it quite funny to be honest," Hogan said on Wednesday.
"Hopefully I can switch on for round one and kick a bit straighter."
He shirtfronted the suggestion that he might seek out Schwarz, who kicked 243 goals in an outstanding 173-game career hampered by injury, for goal kicking advice.
"His accuracy was about 58 (per cent), mine's 69 so I don't think I'll be going to him for any advice. He can just keep his headlines on the radio and stay over there," he said.
Hogan's point was well made, although Schwarz's career accuracy, measured simply by goals and behinds, was 60 per cent while Hogan's is 69.8 per cent.
On SEN on Monday, Schwarz said, "If Jesse Hogan doesn't get his kicking fixed, his contract will decrease by $400,000 a year.
"That's how much of a liability it becomes.
"Jesse Hogan's kicking is a disgrace. Shocking. Absolutely shocking.
"If you can't kick the ball as a key forward or are kicking at 30 or 40 per cent, you are not worth the money of somebody who can kick it at 60 or 70 per cent."
Jesse Hogan takes a chest mark against St Kilda. Picture: AFL Media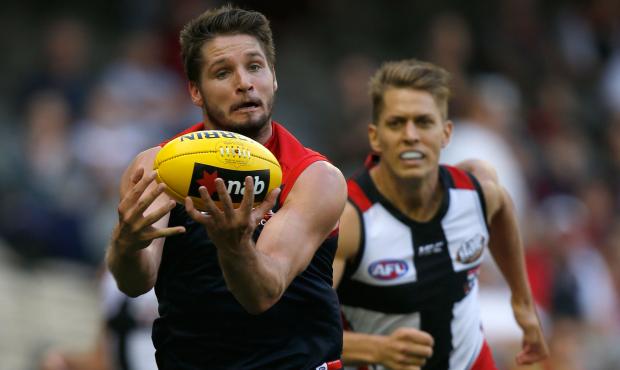 Last year's NAB Rising Star winner was humble when reliving his imperfect first kick for the day, when he ran up like he was untangling his feet from a bundle of ropes.
"You're probably not going to believe me because we were at Etihad, but as I was running in there was a bit of wind so I have gone out for a bit of extra distance and … I have tried to kick it that hard and got absolutely none of it," Hogan said.
"I only had about five more kicks for the day."
That lack of action still led to 2.2 for the day, not a bad return for the youngster who kicked 44 goals in 2015, the most by a debutant under 21 since Western Bulldogs forward Chris Grant.
But six kicks on the day was not enough to please the natural-born competitor, who can, in fact, kick with both feet.
He says that a competitive nature is something more of his teammates share now than when he first arrived at the club, describing the mindset of the young group now as outstanding.
"They want to learn. There is no, 'I am a high draft pick I am better than you' [mentality]. If you're a rookie or a pick No.2 in Christian Petracca everyone has got that same hard-working mentality, and that want to get better and be part of a good finals side," Hogan said.
He's excited too about the side's more attacking ball movement, which is providing him and other forwards with more inside 50s.
To Hogan the equation is simple, more inside 50s equals more opportunities.
He concedes that opportunities will play a role in whether he stays with the Demons, but with two years remaining on his contract he is happy not to consider that question until the season is over.
"I think any young player playing forward of the midfield we have got at the moment would be pretty silly to want to leave," Hogan said.
Although he is realistic enough to know he might have to deal with the contract question being raised externally, it's not a concern when he is at the club.
"[It's] not like it's me versus the club and I am doing my own thing. It's very much we're all in it together, and they have just told me they just want me to focus on my footy, just play good footy and at the end of the year we'll restart that and go from there," Hogan said.
"No-one is really concerned."
No-one, one guesses, but the Greater Western Sydney opponent preparing to play on Hogan in round one.