THE GIANTS will be without superstar forward Toby Greene for this weekend's blockbuster preliminary final against the Magpies, with his contentious one-match ban for making contact with the eyes of Lachie Neale upheld at the AFL Tribunal on Monday night.
The Tribunal opted to ignore the favourable evidence of Neale, who told them he felt contact to his nose – but not his eyes – after being called to provide evidence by the Giants.
Such was the surprising nature of the result – given both the evidence of Neale and Greene – Greater Western Sydney now appears likely to launch an appeal on Thursday night.
Toby Greene jumps into the pack (inset of Greene's hand near Lachie Neale's face). Picture: Screen shots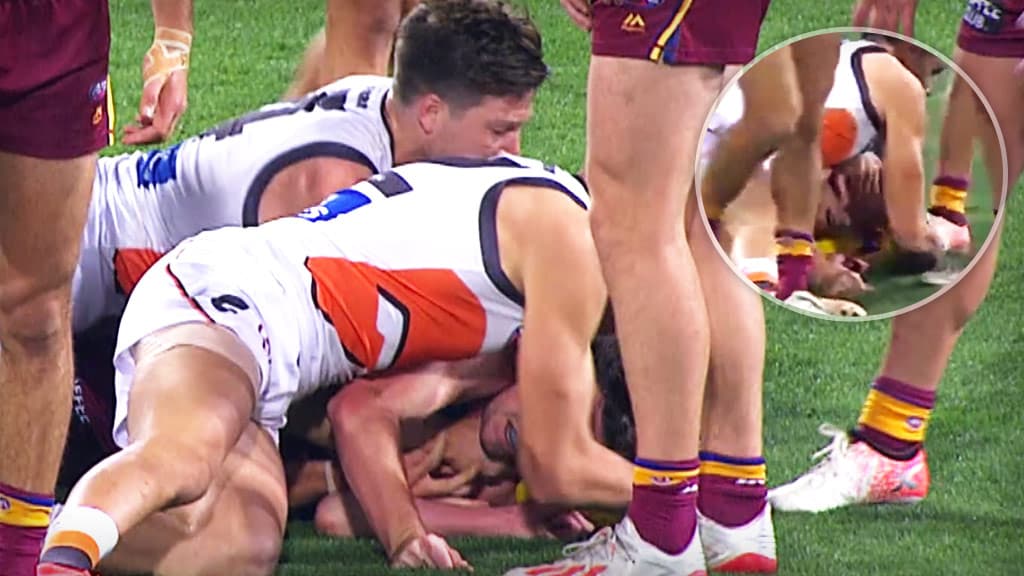 "Toby won't be talking," Giants footy boss Wayne Campbell said afterwards.
"We thought we presented a good case. We need to consider our options now. We'll have a look at whether we take it any further. We'll consider (an appeal)."
The Giants had pleaded not guilty to the entirety of the charge, which was making 'unreasonable or unnecessary contact to the eye region' of Neale.
The Lions midfielder himself subsequently appeared as though he would prove crucial to how the case unfolded.
Greene's legal representative, Adrian Anderson, started the case by attempting to call Neale to provide evidence, saying the footage was obscured and subsequently inconclusive.
However, the AFL's legal counsel, Nick Pane QC, sought to block this application and said the vision suggested that he both "raked" and "scraped" Neale's eyes.
But when the Tribunal chairman, David Jones, allowed the call to be made on the basis of the significance of the case deserving the most evidence possible, Neale helped Greene's cause immeasurably.
Needless to say, I am stunned by that. The evidence of both Lachie Neale and Toby Greene, the submissions from both legal reps - everything pointed to that ban being overturned. Wow. @AFLcomau

— Riley Beveridge (@RileyBev) September 17, 2019
Neale said he couldn't recall ever feeling any contact to his eye region, saying he was holding his face in the aftermath of the incident due to feeling some "soreness" to his nose.
He later said he couldn't recall who made the contact to his nose, but that he told his coach Chris Fagan that he still felt that pain to his nose on the day after the game.
I think I actually hit Josh Kelly's face on the way down - Toby Greene
Later called to provide evidence himself, Greene said he outstretched his arm in an attempt to lock a bobbling footy into Neale in order to win a holding the ball free kick. He said he pulled his hand back, having realised that he was no chance of winning the footy.
He categorically denied ever making contact to the eye region, nor the face of Neale, with his left hand. However, he said he "potentially" struck the nose of Neale with his right hand.
Asked why he was staring towards umpire Ray Chamberlain prior to the incident, Greene said he was doing so as he had a fair inkling his tackle would result in a holding the ball free kick.
In a laborious process, Pane repeatedly asked Greene about his intentions with his left hand, putting it to the Giants forward that it was his belief that he never saw his arm extend for the football.
"I think it does … I think I actually hit Josh Kelly's face on the way down," Greene replied, with his evidence consistent throughout his lengthy 28-minute period at the witness stand.
Toby Greene has had his one-match suspension upheld by the AFL Tribunal.

Greene will be unavailable for Greater Western Sydney's Preliminary Final match against Collingwood on Saturday night.

Details: https://t.co/sWrBR1RaMi pic.twitter.com/rckezWkHun

— AFL (@AFL) September 17, 2019
Pane later submitted to the Tribunal it was his belief that Greene "raked" up and over the eye region of Neale, describing his actions as "no matter how slight … inherently dangerous" given it was to a vulnerable player who was unable to protect himself.
He described Neale's evidence as "vague", saying little weight should be given to his testimony as a result.
Anderson countered, saying there was insufficient evidence to be "clearly satisfied" Greene made contact with the eye region of Neale.
He said: "If I am wrong about that … and there was some contact to the eye region, then it was careless."
Jones, in instructing the Tribunal jury, told them Greene's past Match Review record was "totally irrelevant" and shouldn't come into consideration as they decided a verdict.
However, that, alongside Neale's evidence, still wasn't enough for Greene's ban to be overturned at the conclusion of a 16-minute deliberation from the Tribunal.