WEST Coast Eagles chief executive Trevor Nisbett has revealed the club would hand back the 2006 premiership for a healthy playing group, ripped apart by illicit drugs use.
In the same month as the Eagles will celebrate their 10-year reunion, Nisbett's startling admission highlights the ongoing concerns the club holds for its premiership stars.
"I guess if you could roll it all back and give back the premiership and say that all our players are fit and well and healthy and we still have Ben (Cousins) running, having a normal life we'd give it back tomorrow," Nisbett told The Footy Show.
Nisbett, who offered his resignation at the height of the controversy but remains as club boss, was very open in a Footy Show investigation that also revealed:
- Former chairman Dalton Gooding's shock at learning that the number of players using illicit substances was "a lot more people than we thought" after initially thinking it was in the minority;
- Andrew Embley's explosive changeroom fight with Daniel Chick over issues relating to Cousins;
- Former Richmond coach Terry Wallace's first meeting with Cousins, coming off a 12-month AFL suspension, and the "erratic" behaviour of a "young man that was in a very bad way."
- And the club remained disappointed at the AFL's lack of support, refusing to grant Nisbett's wish and drug test the entire playing list.
Gooding, who stepped down as West Coast chairman at the end of 2007, said the club spiralled out of control following the club's third flag.
"In 2006 we had the (Chad) Fletcher (end-of-season hospital) incident in (Las) Vegas," he said.
"The players probably partied pretty hard, we started to get quite a bit of feedback, we had a think tank in November 2006 as a board where information was fed to the board and we then realised we had to take some serious action."
"We initially thought there was a minority (of players taking illicit substances), but what came out in (the planning session in) Broome in November 2006 indicated that wasn't the case.
"It was a lot more people than we thought."
Nisbett denied the club had a full understanding of the actions of its players, admitting they lied despite constant examination, particularly Cousins.
"I don't think so, I know so. You can only ask so many questions so many times and you expect a pretty straight and forthright answer," he said.
"Unfortunately I didn't get it, we didn't get it and some of the people who were probing didn't get it either."
"There were worried signs before then and we were aware of them. We were aware of them as early as 2000-2001. It was a matter of how they'd escalated and Ben's behaviour at the time wasn't good."
In the lead-up to the unravelling of Cousins, teammates Daniel Chick and Andrew Embley came to blows after Chick felt Embley had exposed him.
"One particular afternoon I found myself at the club, I was just getting a massage at the time," Embley said.
"Chicky came in and started throwing a few haymakers at me and a couple of my teammates actually got Chicky off me.
"That night I started to get a little bit upset and angry that a teammate would come in and act like that.
"Being the silly bloke that I was at the time, I ended up making a phone call to Chicky and I just left a voice message, pretty explicit and abusive and told him what I really thought of what he did earlier.
"He wanted to sort it out properly and then we can meet at the club the following day at 7am and we could put the headgear on and the mouthguard in.
"The following day I got to the club at 6.55am in the morning and Chicky, at 7 o'clock sharp, comes storming in.
"Fair to say we didn't have time to put any headgear on or anything. We just started going at each other.
"I think Pete Worsfold at the time who was running our leadership program, he must've just been starting work and just heard this massive ruckus and thank goodness he came in and got in between us because it could've gone forever."
Ben Cousins and Chris Judd celebrate the 2006 premiership. Picture: AFL Media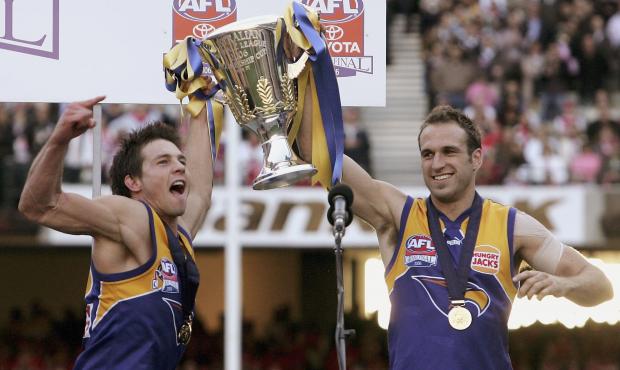 So dramatic has the Eagles transformation been since the carnage of the 2006 premiership era, the AFL now refers to the club as a benchmark operation for core values.
"It's now 10 years on, we're in a much better space and we're really pleased that we were able to address it. Albeit we had to go to the bottom of the ladder to do so," Nisbett said.
"We've got several issues with probably three or four of our (premiership) players, probably three in particular."
"The disappointing thing is we weren't able to salvage Ben out of the wreck, that's a real disappointment for us.
"I worry every day (where Ben will be). We would like him to be healthy and well and getting on with his life like every other normal 36-37 year old should be doing."
Prominent player manager Colin Young says the challenges for Cousins to get his life back on track were made real for him in a recent exchange.
"My last recollection with Ben was when he came into watch Chris Mainwaring's son play at a local game and he brought his own son," Young said.
"Seeing Ben with his son, rolling around, kicking the footy was a beautiful sight.
"The only thing I did speak to Ben about that day was how you going, how's it been and he said 'Col, I have one good day, two good days and then I have about a week of bad days' so that's how it is and that's how it'll be."