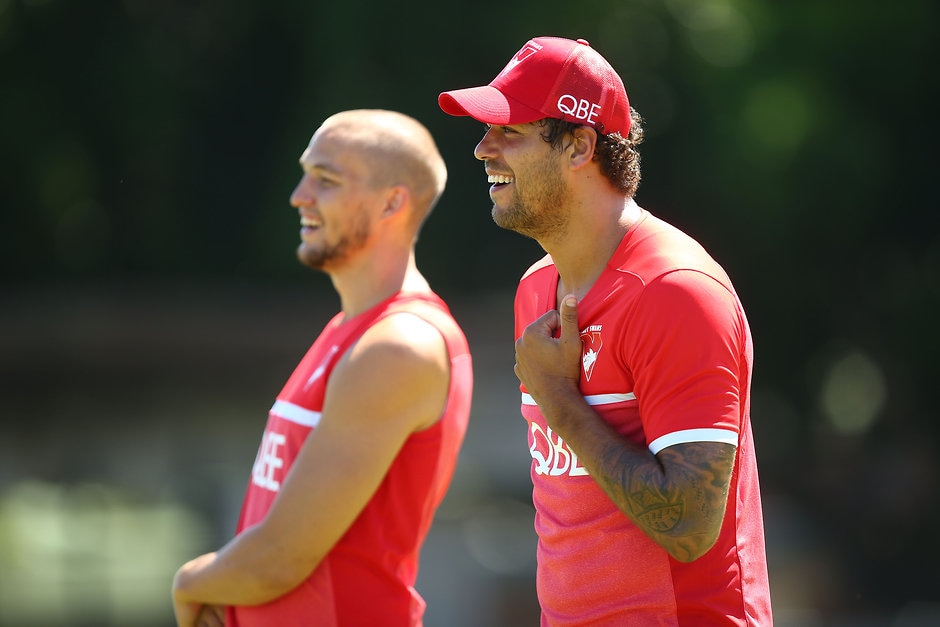 LAST year's beaten semi-finalists offer up some of AFL Fantasy's best prospects. Dan Hannebery (MID, $613,000) was one of eight players in the competition to average more than 110 points.
Ownership of Tom Mitchell (MID, $593,000) will drop this season after the Fantasy gun was stripped of dual-position status. Some brave coaches are keen to go around again, given the ball-magnet improved his year-on-year average by 20 points. A couple of substitute vests and random role changes brought his average down slightly. As someone who had nine 110+ scores, Mitchell is still an option, even if he is a pure midfielder. Coaches who gave him the captaincy in last year's Fantasy Grand Final for 163 points will think so anyway!
Kurt Tippett (RUC/FWD, $445,000) and Dane Rampe (DEF, $405,000) have been earmarked as under-priced players by savvy coaches seeking a January bargain for their squad.
Click here for every Swan's starting Fantasy price and position
More Fantasy prices:
> Carlton: Will Brendon play the kids?
> Brisbane Lions: Fantasy Pig and friends
> Gold Coast: Sunshine and Fantasy points aplenty
> Essendon: Don't you know about the Bird?
> St Kilda: Big four won't come cheap
> Melbourne: The devil is strong in these youngsters
> Collingwood: Midfield delight but thin front and back
> GWS: Can Stevie J wind back the clock?
> Geelong: Danger in making Paddy a lock
> Port Adelaide: More than one shade of Gray
> Richmond: Roll the dice on Dusty?
> Adelaide: Crouch-ing mids pounce on Fantasy points
Click here to subscribe on iTunes.
Coming off his best Fantasy season, Josh Kennedy (MID, $594,000) is proving to be a reliable performer week in, week out. Standing up in the big time, the Fantasy finals, Kennedy produced 120, 127, 134 and 119 to help many of his coaches to a premiership. He didn't stop there, knocking up 131 and 130 for those who selected him in Fantasy Match Day for the qualifying and semi-finals. Don't be surprised if Kennedy starts 2016 like he finished the second half of last year, averaging 118.5.
As we've seen over the course of the Fantasy price reveals on AFL.com.au, quite a few players have lost forward status. Coaches that are scrambling to find potential premiums to place up front should look no further than Lance Franklin (FWD, $452,000). Priced at his 2015 average of 81.8, Buddy should improve on that to once again be a top 10 forward for the year.
Gaining defender status midway through last season, Jarrad McVeigh (DEF/MID, $538,000) goes into 2016 as the second most expensive player available down back. Despite heading into his 13th season as a 30-year-old, McVeigh has pumped out an average of 95.7 over the last four years, only missing two games. With durability and consistent scoring, McVeigh will be one of the best defenders available this year.
Playing second fiddle to Nic Naitanui limited his Fantasy output, but a move to the other side of the country could mean big things for Callum Sinclair (RUC/FWD, $414,000). The flexible big man played 17 games in 2015 at an average of 74.8. With the likelihood of being handed the No.1 ruck mantle at his new club, Sinclair has the opportunity to be one of the League's big improvers this season.
It will be an uphill battle for draftees to stake their claim in the Swans' best 22, but Callum Mills (MID, $227,000) would be the front-runner at this stage, considering he has been given the No.14 jumper. The first top-five pick for the Swans in 13 years, Mills was taken as an academy selection after the Demons bid on him at pick No.3. When he gets his chance, consider the talented ball-winner as a serious cash cow.
Did you know that Ben McGlynn (FWD, $426,000) averaged a whopping 102.6 in 2014? With just seven games last season, the 30-year-old receives a slight discount on his 84.6 average, but it prices him well below his best. It's a risk and his scoring is inconsistent, but McGlynn offers value and could be in the mix as a top scoring forward in 2016.
All Swans fans love captain backline, Ted Richards (DEF, $278,000). He ticks some of the boxes Fantasy coaches love too; durable and low standard deviation, but unfortunately his scoring isn't going to cut it, even as a defender. You will get what you pay for with Richards, but there are better options at that price.
THURSDAY: The Traders are back to reveal the Kangaroos' Fantasy prices and positions for 2016.