FOOTY FESTIVAL
SEPTEMBER 26 - 29
The Footy Festival celebrates all that is brilliant about Melbourne, showcasing the best it has to offer in food, music, activities for the kids and of course footy.
All fans are invited and it's FREE to attend.
Located in Yarra Park outside Gate 3 of the MCG and running for four days from Wednesday 26 September until Toyota AFL Grand Final Day on Saturday 29 September.
Download 2018 Toyota AFL Grand Final Celebrations PDF including Grand Final week activities, details of road closures, public transport options and maps.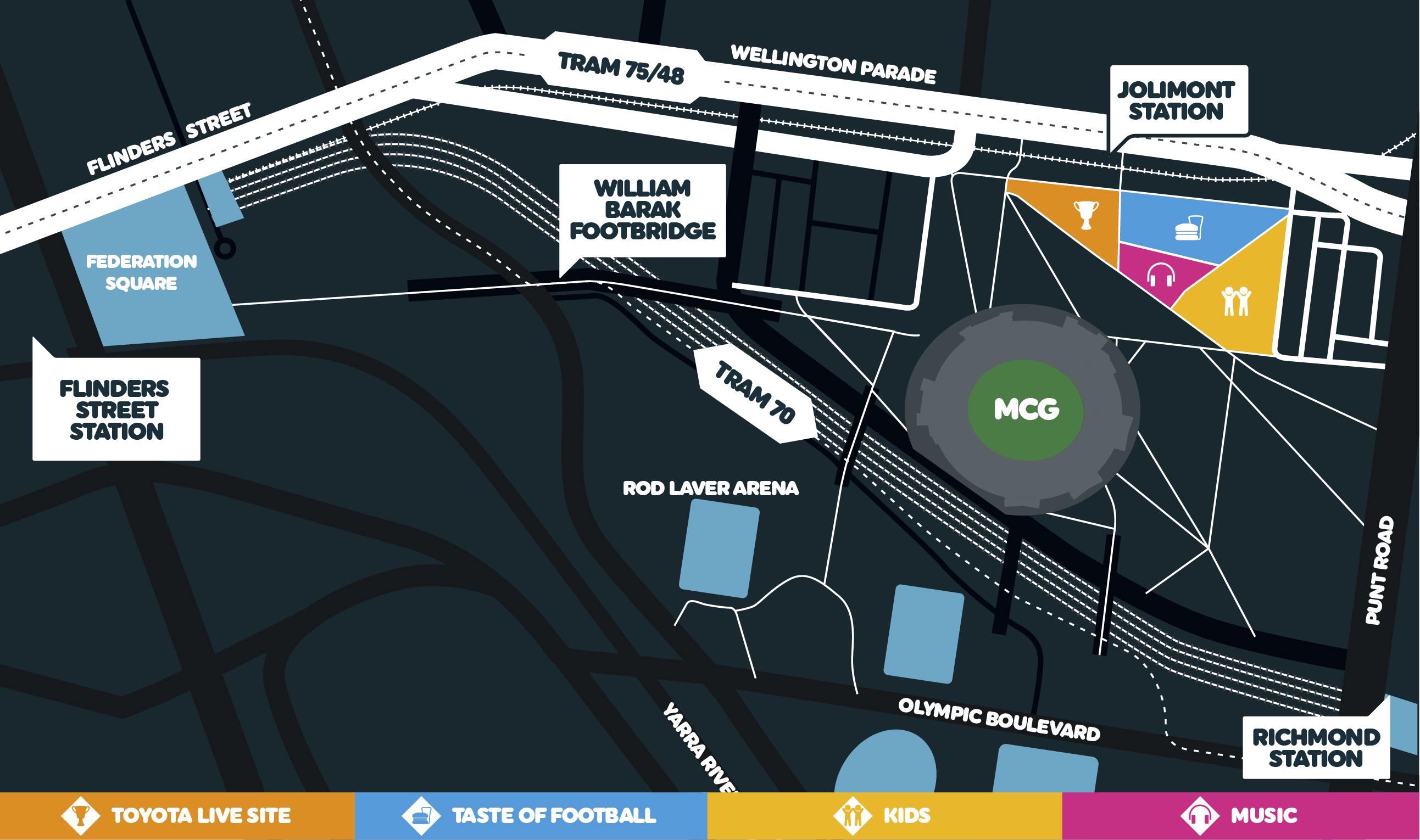 The Footy Festival is located within a park setting with sealed paths of travel provided from the transport locations and accessible parking to the park areas. Limited sealed paths of travel are provided throughout the park areas to access the activations. Access for people with disabilities has been considered with temporary flooring to be provided to an accessible seating area in front of the stage and to certain areas to assist with access over wood chipped area and wet ground.
In addition the AFL is a supporter of the companion card and it is recommended that people attend with friends, family or companions which may provide assistance where required. The companion card promotes the rights of people with a disability, who require a companion, to fair ticketing at events and venues. Companion card is a National program administered by the State of Victoria.
Parking
There is no accessible parking provided within Yarra Park however accessible parking is provided within the Melbourne Park Multi Deck Carpark which links back to the MCG and the Live Sites via the footbridge.
Public Transport
Yarra Park is serviced by accessible public transport inclusive of trains and trams. Jolimont Train Station is located directly adjacent to Lawn 17. A super stop is also located on Wellington Parade with appropriate sealed paths of travel linking the site.
Amenities
Two sets of sanitary facilities have been provided for the site for general public use. An accessible sanitary facility has been provided adjacent to each bank of toilets with an additional accessible sanitary facility positioned at the entrance to the accessible seating at the stage.