KEY POSITION prospect Tom McCartin is more than ready for the scrutiny that is bound to follow his early years as an AFL player if he's drafted later this month.
After all, the 17-year-old has spent the past three years watching his brother, St Kilda forward Paddy, deal with repeated injuries as well as external analysis about whether he was worthy of the 2014 No.1 draft pick.
At 192cm, McCartin is also a tantalising goal-kicking prospect, but has battled his own injury demons while he grows into a key position role.
He feels as though Paddy's experiences have left him well equipped to deal with such expectations as he hones his on-field strengths.
"It does take a while to develop players," McCartin told AFL.com.au.
"After seeing the scrutiny on Paddy, with the way he goes about it, I've been able to take a few leaves out of his book in a way.
"I've seen him go through all his injuries and it's pretty tough to watch.
"If it comes about for me, I'll try not to read into it or worry about it too much, which is something he does really well.
"I've really tried to take it on board, so I feel I'd be ready for it."
Like his brother, McCartin has experience in injuries that don't come with standard recovery periods.
While the St Kilda forward has battled with the fallout from six concussions since 2014, McCartin missed all of last season with a rare case of viral arthritis.
After getting through the pre-season, he started to feel tight in his back, which caused referred pain right down through his glutes.
It got to the point where he couldn't play at all, and led to a range of investigative measures that included a consultation with Tasmanian arthroscopic surgeon Michael Pritchard to see if it was a problem with his hips.
It wasn't, and the idea of a surgical repair was shelved.
Then, Paddy's links at the Saints threw up another option, with club doctor Tim Barbour willing to have a look at him.
"We were pretty desperate at that point," McCartin said.
Tom McCartin in action at the NAB AFL Draft Combine. Picture: AFL Photos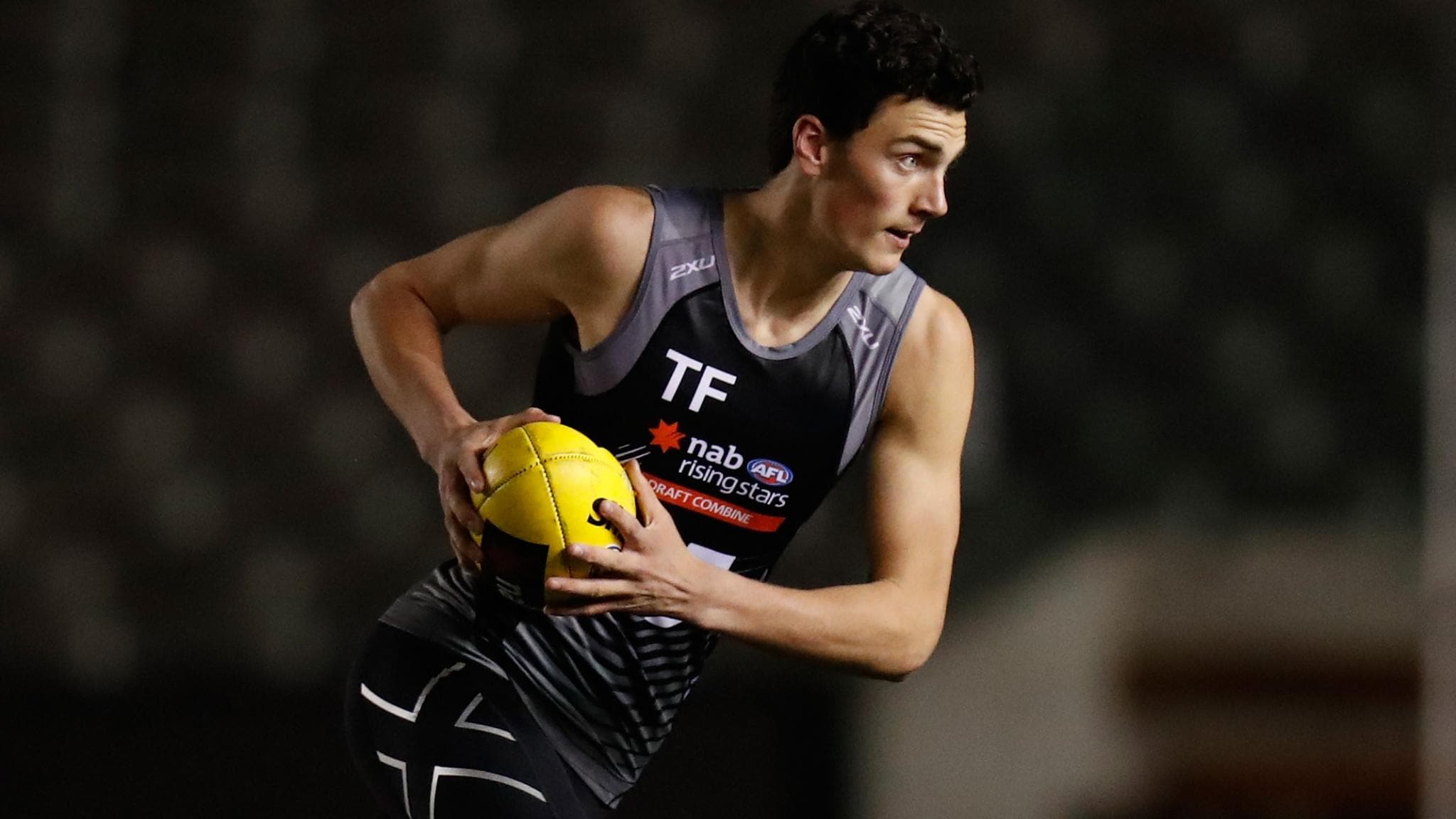 "I was lucky to get hold of Tim, and he was really good to us. We realised it was a bit of a virus thing.
"He said I'd had the worst of it, it was coming good, I had no structural damage and my mobility was really good.
"I was able to finally get out and have a run, because it wasn't going to get any worse, which was really good to hear – I just needed to know I couldn't make it worse.
"So, I went out and had a run with Dad over Christmas and just got back out there."
McCartin basically had to wait out the viral reaction, which is what he did over the summer.
He then managed a full pre-season, headed into the TAC Cup season feeling good, and adopted a key-position role ahead of the ball after previously spending time in the back pocket.
He sees his future in attack, although his aerobic ability means he's more of a Nick Riewoldt/Tom Lynch kind of player than a stay-at-home forward like his brother.
"I like taking marks and leading up the ground," he said.
"I like trying to kick goals … I haven't been too successful this year, but it's always good when you get on the end of one."
McCartin was the second-youngest invitee to the recent NAB AFL Draft Combine behind Jordan Butts – he'll turn 18 on December 30, just before Butts on the 31st.
He played 13 games for the Falcons this year, and while his performance in their thrilling two-point Grand Final win wasn't his most prolific, he helped change the game with two third-quarter contested marks.